MJ Akbar: BJP Rajya Sabha MP from Madhya Pradesh
Veteran journalist MJ Akbar, 65, is a Rajya Sabha MP from Madhya Pradesh. He was the editor of The Telegraph and The Asian Age. Akbar was part of Rajiv Gandhi's inner circle. He was elected from Kishanganj in Bihar on a Congress ticket in 1989. However, after Gandhi's assassination in 1991, he drifted away from the party and re-entered journalism. He joined the BJP ahead of the 2014 Lok Sabha elections.
SS Ahluwalia: BJP Lok Sabha MP from Darjeeling
 From being a minister in the PV Narasimha Rao Cabinet to a 'research scholar' for BJP on various key legislations, Surendrajeet Singh Ahluwalia has links cutting across party lines and is known to speak his mind. A member of the Lok Sabha from Darjeeling, Ahluwalia was previously a Member of Parliament representing Bihar and Jharkhand in the Rajya Sabha in 1986-1992, 1992-1998, 2000–2006, and 2006-2012.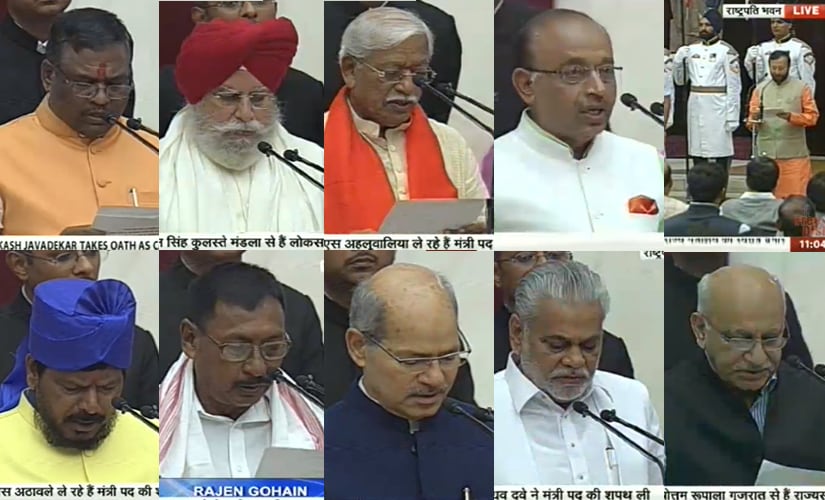 Ramesh Chandappa Jigjinagi: BJP Lok Sabha MP from Bijapur
Jigjinagi, 64, is a Dalit leader and  Lok Sabha MP from Bijapur, Karnataka. He has been elected to the Lok Sabha five times. He was among four names that the Karnataka BJP had recommended for a ministerial berth after the 2014 Lok Sabha election, reported Economic Times. A protege of former Karnataka CM Ramakrishna Hegde, he was previously associated with Janata Dal and the short-lived Lok Shakti party before joining the Bharatiya Janata Party in 2004.
Parshottam Rupala: BJP Rajya Sabha MP from Gujarat
Considered close to Modi, Parshottam Rupala, 64, is a Rajya Sabha MP from Gujarat. A member of the upper house since 2008, he is currently serving his second term. He has also been a three-time MLA. When Modi was the Chief Minister of Gujarat, Rupala was a minister for agriculture. He is considered as a powerful Patel leader from Gujarat, according to an NDTV report. The BJP attempts to tame the Patidar agitation by including him in the Cabinet.
Anil Madhav Dave: BJP Rajya Sabha MP from Madhya Pradesh
Anil Dave, 59, is a Rajya Sabha MP from Madhya Pradesh and is an environmentalist, having written several books on the subject. He has been a Rajya Sabha MP since 2009. Dave is a key member of the BJP's poll management committee in Madhya Pradesh. He is believed to have been the brain behind Digvijaya Singh-led Congress' defeat in the 2003 polls.
Arjun Ram Meghwal: BJP Lok Sabha MP from Bikaner
Meghwal, 65, is a Lok Sabha MP from Bikaner, Rajasthan. He was first elected to the lower house in 2009. A retired Indian Administrative Service officer of the Rajasthan cadre, Meghwal is currently the BJP chief whip in the Lok Sabha. He is a passionate crusader for increased use of local languages. Interestingly, he is known for cycling to Parliament when it is in session.
Vijay Goel: BJP Rajya Sabha MP from Rajasthan
Veteran BJP leader Vijay Goel, 62, is a Rajya Sabha MP from Rajasthan. Previously, he has been elected to the Lok Sabha thrice. He was a minister in the Atal Behari Vajpayee PMO. He was also a Minister of State for Youth Affairs and Sports in the Vajpayee government.
Rajen Gohain: BJP Lok Sabha MP from Nawgong
 
Gohain is a 65-year-old Lok Sabha MP from Nawgong, Assam. He joined the BJP in 1991. This is his fourth term in the lower house of the Parliament. He is known for championing the cause of tea planters. He belongs to the Ahom community, to which former CM Gogoi also belongs. The community is generally considered pro-Congress, and his inclusion may help BJP make inroads into the community.
Mahendra Nath Pandey: BJP Lok Sabha MP from Chandauli
Pandey is a prominent Brahmin face of the BJP in Uttar Pradesh, which goes to the polls next year. He holds a doctorate from the Banaras Hindu University. He is a two-term BJP MLA and a first term MP. He is considered close to both PM Modi and BJP chief Amit Shah, while his inclusion is aimed at reviving Brahmin support in the poll bound state, The Indian Express reported.
CR Chaudhary: BJP MP from Nagaur
CR Chaudhary is a Jat leader from Rajasthan. He is a first time MP from Nagaur. He has been inducted for his expertise in the field of rural development, with a degree in the subject from the University of Birmingham. He started his career as a lecturer in Barmer and Ajmer, later qualifying for the Rajasthan Administrative Services. He has also served as Chairman of the Rajasthan Public Service Commission.
PP Chaudhary: BJP MP from Pali
A veteran lawyer before joining politics, PP Chaudhary is a Lok sabha MP from Pali, Rajasthan. Chaudhary hails from Jodhpur, Rajasthan and belongs the OBC Seervi caste. The 63-year-old is a RSS ideologue and says he is a part of the organisation since he was eight years old. According to a India Today report, Chaudhary has an impressive attendance record in the House and has been awarded the Sansad Ratna award twice in his stint at the Lok sabha. Chaudhari also heads Seervi Mahasabha.
Ramdas Athawale: RPI Rajya Sabha MP from Maharashtra
A seasoned Dalit leader and a vocal Ambedkarite, Athawale is the lone Rajya Sabha member of his party, the Republican Party of India. He has also been elected to the Lok Sabha in 1998 and 2004. He was first elected to the Maharashtra Legislative Council in 1990, and was a minister in the Congress government in Maharashtra. He joined the BJP-Sena alliance in 2011. The leader has also pledged alliance to the BJP in the upcoming Mumbai civic body elections.
Subhash Ramrao Bhamre: BJP Lok Sabha MP from Dhule
Another Maratha leader, Bhamre is an oncologist and a practising doctor. He is a member of the Lok Sabha from Dhule constituency in Maharashtra. He has studied at the Grant Medical College, JJ Hospital and Tata Cancer Hospital, and is a first time BJP MP. According to a report in The Free Press Journal, Bhamre a first time BJP MP was elected in the Lok Sabha after defeating the Congress heavyweight Amrish Patel in the 2014 LS polls. His induction into the Cabinet may pacify BJP supporters in the Jalgaon-Dhule belt, who were unhappy over the exit of local strongman Eknath Khadse.
Jaswant Sinh Bhabhor: BJP MP from Dahod
Bhabor, a tribal leader, had been a part of Modi's cabinet when he was the chief minister of Gujarat and has handled several portfolios including the tribal affairs and environment ministry. He is known for having an impeccable image, low-key style and accessible nature. He is a Member of Parliament from Dahod constituency in Gujarat. A five-time legislator, Bhabhor has been elected as an MP for the first time.
Mansukh Mandaviya: BJP Rajya Sabha MP from Gujarat
Mandaviya is a Rajya Sabha MP from Gujarat. He is a former ABVP leader, and was elected to the Gujarat Assembly in 2002. He is also the general secretary of the Gujarat BJP, according to his bio on his Twitter profile. He is a native of Bhavnagar and is a prominent leader from the Patel community. He is also considered the "next generation leader" from the powerful community. Therefore, his induction in the cabinet can be seen as an effort to placate the agitating community, ahead of the Gujarat Assembly polls slated for December 2017.
Faggan Singh Kulaste: BJP Lok Sabha MP from Mandla
Faggan Singh Kulaste, who was embroiled in the infamous cash-for-vote scam in 2008 during the reign of UPA I, is a prominent tribal leader. As reported at the time in NDTV, Kulhaste was one of the three BJP MPs arrested after a video showed him accepting money for abstaining from voting in the trust vote faced by the UPA government. The BJP, however, had stood strongly behind him. Kulhaste was MoS, Tribal Affairs, in the previous Vajpayee government and hails from Barbati in Madhya Pradesh. His biodata on india.gov.in says he is an agriculturist, and a social worker besides being a politician. This is his fifth term in the lower house as an MP from Mandla, Madhya Pradesh. He has also served a term in the Rajya Sabha.
Ajay Tamta, BJP Lok Sabha MP from Almora
Tamte is also a Dalit leader from the hill state of Uttarakhand. The state, which presently has a Congress government, will go to polls next year. His inclusion in the cabinet is seen as an attempt by the BJP to broaden its base among the SC and ST communities in Uttarakhand. This is Tamta's first term in the Lok Sabha as he is elected from the Almora constituency. He was previously a minister in his home state between 2007 and 2009.
Anupriya Singh Patel, Apna Dal MP from Mirzapur
Anupriya Singh Patel is the daughter of the late Sone Lal Patel, a Kurmi leader with significant clout in Uttar Pradesh. She has been an MLA from the Rohaniya constituency in the 2012 elections. She is a first time Lok Sabha MP from Mirzapur in Uttar Pradesh. The BJP is seeking to sway the Kurmi votes in its favour in the upcoming UP state elections. The Kurmis are a sizeable community in the eastern belt of Uttar Pradesh.
Krishna Raj, BJP MP from Shahjahanpur
A first time MP, Raj is a Dalit leader from UP's Rohilkhand region. She has also been a two-term MLA from Mohammadi Assembly constituency and was elected to Lok Sabha from UP's Shahjahanpur in the 2014 elections. She is known for actively participating in debates in the Lok Sabha. According to The Indian Express, she has been included in the Cabinet with an eye on the state's Dalit votebank, in the run up to the 2017 polls.
With inputs from PTI
Firstpost is now on WhatsApp. For the latest analysis, commentary and news updates, sign up for our WhatsApp services. Just go to Firstpost.com/Whatsapp and hit the Subscribe button.
Updated Date: Jul 05, 2016 20:38:06 IST