Cabinet reshuffle likely soon: Modi may induct new faces from poll-bound states, Jaitley could retain defence
If media reports are to be believed, a Cabinet expansion right now will also give the BJP the right opportunity to reward newly acquired allies.
Speculations are rife that the Narendra Modi Cabinet is up for reshuffle and expansion in a few days time. With railway minister Suresh Prabhu offering to resign after two major train accidents within days of each other, the long overdue reshuffle of Cabinet portfolios seems imminent. Rumours suggest that a new incumbent in the Rail Bhawan is expected soon.
A report in The Economic Times states that Modi is highly likely to give the job to a senior minister with economic governance credentials. CNN-News 18, in their Wednesday's reportage, claimed that Union Transport Minister Nitin Gadkari may get the charge, given his reputation for pushing infrastructural developments efficiently.
A OneIndia report speculates that Arun Jaitley may be given full charge of the defence ministry, with both China and Pakistan needling India, while the finance ministry may go to power minister Piyush Goyal.
Another website India Samvad, stated that Vinay Sahasrabuddhe could be picked to head the defence portfolio, owing to his clean image and RSS backing, while Jaitley may retain finance.
Modi government has been running short of hands for a while now. The buzz around the reshuffle started when the country was left without a full-time defence minister after Manohar Parrikar was sent off to head the Goa government.
Jaitley has been filling in the post since March. Assam chief minister Sarabnanda Sonowal was also relieved of his portfolio after the Assam elections. Modi lost another key minister in M Venkaiah Naidu, who was chosen to become the Vice-President of India.
Besides this, other prominent ministries like environment are being run by ministers as additional charges, giving rise to speculations that new appointees may be inducted into the Cabinet. Environment ministry portfolio was reallocated to science and technology minister Harsh Vardhan after the sudden demise of Anil Madhav Dave.
Portfolios vacated by Naidu were also reallocated and not expanded. Information and Broadcast ministry was handed over to textile minister Smriti Irani, who's one of the first decisions was to sack controversial Censor Board chairman Pahlaj Nihalani. Irani is expected to retain the portfolio, Deccan Herald reported. Rural Development Minister Narendra Tomar took over the Urban Development Ministry after Naidu's election.
If media reports are to be believed, a Cabinet expansion right now will give the BJP the right opportunity to reward newly acquired allies. It is widely expected that the AIADMK, post its merger, may soon join the NDA; Nitish Kumar's JD(U) is another new addition to the BJP's list of friends. Both these parties are expected to be rewarded with plush portfolios for joining hands with the saffron party, as News18 analysis piece speculated.
Modi and BJP chief Amit Shah are also looking to realign the share each state gets in Cabinet posts. Two Union minister from the state of Uttar Pradesh might face the axe to accommodate allies and other states going for election next year, media reports said. Uttarakhand is also eyeing another Cabinet berth in the imminent expansion.
Since Modi became prime minister, he hasn't moved around key portfolios much, with the exception of the education ministry, which was taken away from Irani after the BJP leader was embroiled in a series of controversies. The prime minister has carried out only two Cabinet reshuffles and expansions so far: one in November 2014 and another July 2016.
The prime minister leaves for international visits to China and Myanmar on 3 September, and an elaborate expansion is likely before that.
In the last fortnight, Shah and Modi have been in marathon meetings with BJP ministers, chief ministers of BJP-ruled states, MPs and RSS top brass. These consultations are being seen as a part of the process to lay the groundwork for the last major reshuffle in the government and the organisation before the next General election in 2019.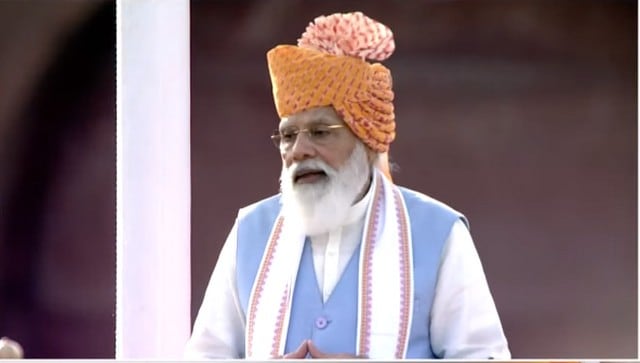 India
At the same time, Modi said, we should not forget the mantra of "Davai Bhi, Karai Bhi' (get vaccinated, strictly follow COVID protocols).'
India
As part of the celebrations, Union Health Minister Mansukh Mandaviya requested people to get themselves vaccinated and also help others to receive their jab
India
The 20-day mega campaign titled 'Seva aur Samarpan Abhiyan' will begin tomorrow (17 September) and will conclude on 7 October