By March 2012, UPA's options, electoral fortunes will shrink
Between now and early 2012, the UPA will have to make hard economic choices to get its economic policies right. If it misses the chance, the economic slide will continue all the way to 2014.
Mamata Banerjee's tantrums over the petrol price hike are unlikely to pose any serious threat to the longevity of the Manmohan Singh government, but UPA-2 has more or less run out of easy options.
In UPA-1, the government reached breakpoint with its allies over the nuclear deal about a year before the general elections were due. Manmohan Singh and Sonia Gandhi had to take a call on forsaking Left support and risking the government's majority when time was running out for the nuclear deal.
UPA-2 "nuke-deal moment" will arrive not one, but two years ahead of the next general elections. The Mamata threat is just an early warning signal.
Unlike UPA-1, where the dangers were largely political, UPA-2 challenges are both political and economic. In fact, bad politics combined with bad economics has fast-forwarded the day of reckoning to 2012 - and we are not talking about the Uttar Pradesh elections.
The fact is, in 2012 UPA-2 has to take critical calls on the economy where it will have to confront one or all of major allies (Trinamool and DMK, among them) over hard economic decisions. Between Mamata Banerjee and M Karunanidhi, Mamata looks the more likely danger to the UPA-2 on the economic front.
This is the politico-economic situation as it stands now.
- Oil company losses due to subsidies on diesel, kerosene and cooking gas are adding up to Rs 1,32,000 crore this year. The only solution is to raise the prices of diesel by around Rs 8-10, or borrow the amount and subsidise the oil companies.
- The fiscal deficit at half-time was already 71 percent of the annual budgeted total. Since then, the government has announced additional borrowings of Rs 53,000 crore, and tax revenues are nowhere near budgeted. Though gross collections of direct taxes are up 20 percent, the net collections (after refunds) are up just 7.1 percent up in the April-October period.
- Inflation is nowhere near coming under control. The consumer price index is already in double-digits (10.06 percent in September) and wholesale prices are just under 10 percent. And this is without taking into account the oil and power tariff hikes that may still come between now and March 2012. We just need a bad monsoon in 2012 to compound things.
- If power tariffs are not hiked, there will be a huge subsidy outgo from state exchequers - something that will reflect in demands for loans from the centre, since defaults here will damage the banking system. Rating agency S&P Crisil says the power sector's accumulated losses are already in excess of Rs 2,00,000 crore, and the financial sector's exposure to power companies exceeds Rs 4,80,000 crore. Any power sector bailout or tariff hike has huge political and economic significance.
- The planned Rs 40,000 crore raising from public sector disinvestment is stalled with little more than Rs 1,100 crore raised so far due to bad market conditions. The government is planning to force cash-rich public sector companies to buy back their shares to raise cash - but this will affect the values of shares and raise corporate governance issues.
- Sonia Gandhi and Rahul are planning to force the government to fork out Rs 1,20,000 crore in subsides to finance their hugely expensive and ill-thought-out Food Security Bill - which will be rolled out in 2012-13. If it has to be financed without letting the budget deficit rip, taxes will have to be raised. That is a big ask when growth is anyway slowing and tax collections are not exactly soaring.
- Apart from the Food Security Bill, the government is piling on further pressure on food prices by raising the minimum support prices (MSPs) for the next rabi crop. This means next year we are building up for a further round of food price increases, and we are not even considering the likelihood of further roaring increases in MSP in the run-up to the next elections.
-Interest rates are close to their peak, but if inflation does not start easing up soon, rats will stay high. This means infrastructure projects will not take off since high rates militate against long-gestation infrastructure projects and make them unviable. Due to slowing growth and high rates, businessmen are not investing. The Reserve Bank says "capital expenditure in 2011-12 is likely to be lower than the previous year".
Clearly, reversing any one of these negative economic signals means taking tough decisions - reducing subsidies, raising taxes, or revising the administered prices of energy steeply - that could anger allies in the UPA. The government has one of two options: just keep borrowing and let inflation rage and the country's credit rating fall like Greece, or it can summon up the courage to confront its allies and take politically-tough, but economically sound, decisions.
One of the defining moments of UPA-1 was when the government confronted the Left over the nuke deal. UPA-2's "nuke-deal-moment" is due in the next few months.
By March we will know whether UPA-2's record of bad politics leading to bad economics will be reversed or not. If it takes the right decisions, it has some hope of showing a better report card in 2014. If not, it will be consigned to the dustbin of history. There are few options available for administering bitter economic medicine after 2012.
Find latest and upcoming tech gadgets online on Tech2 Gadgets. Get technology news, gadgets reviews & ratings. Popular gadgets including laptop, tablet and mobile specifications, features, prices, comparison.
World
To Trump, one advisor said, the vice-president had entered 'Sessions territory', referring to Jeff Sessions, the attorney-general who was tortured by the president before being fired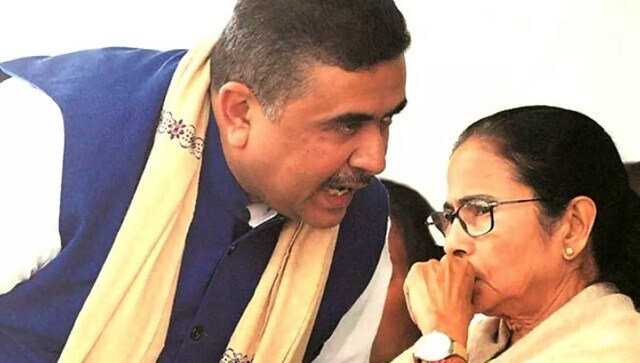 Politics
It is important to remember that Suvendu Adhikari barely got two MLAs to quit alongside him from his 'stronghold' and another three from other districts
World
Pompeo has been tagged by a number of officials and analysts with the dubious distinction of the worst secretary of state in American history