By-elections 2018: Officials say voting took place peacefully, some polls marred by complaints of EVM malfunction
Polling took place in several states across the country as people cast their ballots to decide the fates of one Lok Sabha and five Assembly constituencies.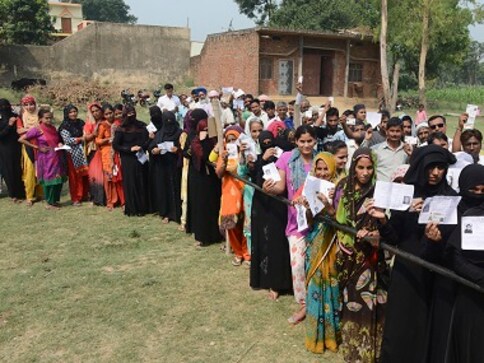 Polling took place in several states across the country as people cast their ballots to decide the fates of one Lok Sabha and five Assembly constituencies. The high-profile electoral contest for western Uttar Pradesh's Kairana Lok Sabha seat, where the ruling BJP is locked in a straight fight with a joint Opposition candidate, saw over 54 percent of the constituency's voters casting their mandate amid complaints of malfunctioning of EVM and VVPAT machines. Meanwhile, 61 percent polling was recorded for the Noorpur Assembly seat bypoll which was also held on Monday, an election commission official said. The polling was by and large peaceful.
At the end of polling, Kairana Lok Sabha constituency recorded a polling percentage of 54.17, while in Noorpur assembly constituency, the figure was 61 percent, Joint Chief Electoral Officer, Ramesh Chandra Rai, said.
"Malfunctioning was reported in 384 VVPAT (Vote Verifiable Paper Audit Trail) machines in the state. Of this, 29 were in Noorpur (Bijnor). Apart from this, three EVMs (Electronic Voting Machines) also malfunctioned in Shamli. Both, the malfunctioning EVMs and VVPATs were replaced," Rai told PTI. Election Commission officials said a re-poll would be ordered, wherever necessary.
In the Palghar and Bhandara-Gondiya Lok Sabha bypolls in Maharashtra, voting was marred by reported malfunctioning of EVMs in some booths. Bharip Bahujan Mahasangh leader and former MP Prakash Ambedkar said around 450 Electronic Voting Machines (EVMs) malfunctioned.
"There have been certain cases of failure due to the technical problem of EVMs and VVPAT (voter verifiable paper audit trail) machines during polling in Palghar and Bhandara-Gondia Lok Sabha constituencies which have been replaced," an election official said.
Besides, around 15,000 voters from Mali Ali, Mavanda, Navale and Nandanvan villages in Palghar's Vasai tehsil boycotted polling, citing lack of developmental works in their area.
Bahujan Vikas Aghadi leader Hitendra Thakur claimed that "the entire election commission machinery is working on behalf of the BJP in Palghar."
There were phone calls from the office of a local BJP functionary in Palghar to housing societies about making arrangements for snacks and refreshments for member-voters, Thakur said.
Bedsheets and fans were used to protect the EVMs from extreme heat, harsh sunlight or dust in Monday's bypolls held in Palghar and Bhandara-Gondiya Lok Sabha constituencies in Maharashtra, said Palghar Collector Prashant Narnaware.
Meanwhile, polling was completed peacefully in the bypoll to the Shahkot Assembly constituency in Punjab on Monday with over 73 percent voting reported till 7 pm, while a former minister was arrested for carrying a pistol to a booth, a senior poll official said.
Electors turned up in a big way to exercise their democratic right in hot and humid weather.
Punjab Chief Electoral Officer SS Karuna Raju told the media that vote percentage was 73 till 7 pm. The polling in the Assembly election in February last year on this seat was 78.6 percent.
Raju said former Minister of State for Home Brij Bhupinder Singh Lalli was booked and arrested following a complaint by the Congress that he had entered a polling booth in Malsian area with a pistol.
In Uttarakhand's Chamoli district, over 53 percent polling was recorded in the bypolls to the Tharali Assembly seat in Uttarakhand's Chamoli district. By the end of the day, 53.43 percent voters had cast their votes, District Information Officer in-charge of the election control room GS Bisht said. Though largely peaceful, the bypoll was boycotted at Devsari village in the Dewal area by voters to protest against their demand for a road not being fulfilled, he said.
Polling for the reserved (SC) seat went at a slow pace initially. Only 26 percent voters had cast their votes by 1 pm. However, it picked up a little late in the afternoon with 40.5 poll percentage recorded by 3 pm, Bisht said.
In the in northeastern and eastern states, the Lok Sabha and Assembly bypolls passed off peacefully on Monday amid tight security with 70 percent voters exercising their franchise for the lone parliamentary seat in Nagaland, election commission sources said. By-elections were also held for Assembly seats in Ampati in Meghalaya, Gomia and Silli in Jharkhand, Maheshtala in West Bengal and Jokikhat in Bihar.
According to election commission sources, there were no reports of any untoward incident from anywhere. They said, the voting percentage in Ampati was 90.42 percent, in Gomia and Silli it was 62.61 and 75.5 percent respectively, while 70 percent voting was recorded till 5 pm in Maheshtala, and Jokikhat registered 53 per cent polling till 5 pm. The polling figure in Maheshtala Assembly seat is expected to go up as the exercise continued till 6 pm.
In Kerala, braving downpour, about 74.60 percent of 1.99 lakh voters on Monday exercised their franchise in the bypoll to the Chengannur Assembly seat, officials said. In the 2016 Assembly elections, the poll percentage was 74.36.
Meanwhile in Bengaluru, amid tight security polling in Rajarajeshwarinagar assembly constituency here began at 7 am on Monday. The elections to the assembly segment were deferred due to the seizure of 9,564 Election Photo Identity Cards (EPIC) from an apartment at Jalahalli.
The polling officers had also found a huge cache of freebies belonging to a political party.
Following the directions of the Election Commission, police investigated the matter and registered a case against many people including the Congress candidate Munirathna.
With inputs from agencies
also read
India
As Prime Minister Narendra Modi inaugurates the new Parliament building on Sunday, a key part of the event will be the installation of a 'sengol', a golden sceptre. It was received by Jawaharlal Nehru on 14 August 1945 and symbolised the transfer of power from the British
India
The inauguration of the new Parliament building on 28 May by Prime Minister Narendra Modi has stirred a huge row between the Opposition and the BJP. Congress and others argue that it should be the President and not the PM who should be at the opening event. But what has been the norm in the past?
Explainers
Political parties are divided over the inauguration of the new Parliament building by Prime Minister Narendra Modi. While NDA allies and some other parties – Naveen Patnaik's BJD and Shiromani Akali Dal – will be present during the event, at least 20 Opposition parties have decided to stay away