By elections 2018: As BJP starts prep for 2019, Kairana and Palghar bypoll results could loom large in thinking
Though bye-election for two other Lok Sabha constituencies and 10 assembly seats also saw polling Monday, the most significant were Kairana in Uttar Pradesh, and Palghar in Maharashtra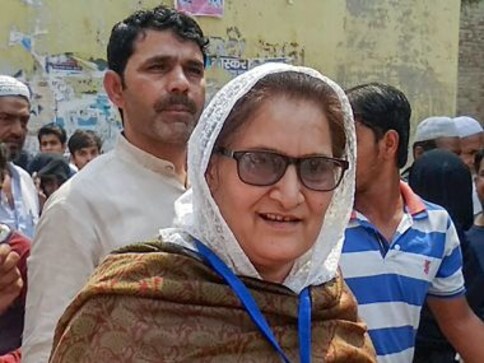 A fissure growing within the BJP-led NDA coalition? An added impetus to the grand alliance of anti-BJP parties? Observers are focussing attention on two Lok Sabha bypolls, voting for which took place on Monday, to try and discern if there is such a trend.
Though by-election for two other Lok Sabha constituencies and 10 assembly seats also saw polling Monday, the most significant were Kairana in Uttar Pradesh, and Palghar in Maharashtra.
In Kairana, the grand alliance against BJP is at play, with the Congress, Bahujan Samaj Party (BSP) and Samajwadi Party supporting the Ajit Singh-led Rashtriya Lok Dal (RLD) candidate Tabassum Hassan, who had won in 2009 on a BSP ticket, against BJP's Mriganka Singh, daughter of BJP winner in 2014 Hukum Singh whose death necessitated the bypoll.
In Palghar, the Shiv Sena, part of the NDA coalition with the BJP in the state and Centre, has fielded a candidate against the BJP. Kairana assumes significance as the BJP had lost the March by-election in Gorakhpur, the chief minister's stronghold from where he has won five times, and Phulpur, to a combined opposition.
Punctuated by faulty machines, clashes, violations
Much analysis will be done on the status of the NDA and the grand anti-BJP alliance, which held a massive photo-op in Bangalore just a week ago, when the results of these two and the other bypolls held Monday, punctuated by complaints of faulty electronic voting machines (EVM), clashes among supporters of the contesting political parties, and allegations of violation of poll code, are decided on 31 May.
As the BJP starts its preparations for the 2019 general elections, the Kairana and Palghar results could loom large in its thinking.
Kairana is a microcosm of the caste and communal polarisation that has been fuelled in Uttar Pradesh. The constituency had caused a major political controversy for the supposed exodus of Hindus from there allegedly due to fear of growing Muslim population in the area. It also has a significant Jat voter base, which the RLD is expected to exploit. Which is why it is being seen as an important test for the much talked about grand alliance to stop Narendra Modi's victory march before the 2019 elections.
Palghar in Maharashtra is seen as a big test for the BJP-led NDA alliance. Its long-time ally Shiv Sena has been particularly restive of late. Whatever rapport his father Balasaheb Thackeray had with the BJP, son Uddhav wants to rethink.
This poll is as much a test for Shiv Sena as it is a prestige fight for BJP chief minister Devendra Fadnavis, for whom too many things have gone wrong of late — the Dalit unrest in Bhima Koregaon, the farmers march, and his own antipathy towards the Shiv Sena, which has been openly talking about breaking off from the BJP and going it alone in 2019.
Shiv Sena and BJP
A victory in Palghar will bolster that line of thought and the contestants themselves are an interesting lot. Shiv Sena candidate Shriniwas Wanga, for instance, is the son of late BJP MP Chintaman Wanga whose death in January necessitated the bypoll, while the BJP has fielded Congress deserter Rajendra Gavit.
Palghar, taken together with Bihar chief minister Nitish Kumar's recent criticism of demonetisation, finds political observers seeing the BJP's main allies trying to reposition themselves before next year's elections. "Kairana in UP is one of the most important seats for BJP and the rest as it will bring out the mood of the people," said Jatinder Singh, Assistant professor of political science, Punjabi University.
"Shiv Sena's decision to contest the Palghar seat against BJP is because the party doesn't want to lose its space to BJP in the region. Today's bypolls in different states is an acid test for BJP and the other parties who are projecting for a grand alliance in 2019." The by-elections were spread over Uttar Pradesh, Maharashtra, Uttarakhand, Bihar, Meghalaya and Nagaland where BJP had formed governments either alone or in alliance with local parties.
Inevitably, complaints against the EVMs came in from every constituency. In Punjab, the Shahkot assembly bypoll saw Congress chief minister Amarinder Singh put up a strong challenge against the Akali Dal in its stronghold. Clashes between SAD and Congress supporters were reported, with former chief minister Sukhbir Singh Badal asking the Election Commission to check distribution of liquor in the constituency.
EVM, VVPAT and the Balllot?
The EVMs are now the favourite target of all parties. Serious questions were raised over malfunction of EVMs in large numbers at several crucial polling booths across the country. Political leaders from various parties raised questions over the Election Commission's preparedness. Reports of faulty EVMs and malfunctioning of VVPAT (Voter Verified Paper Audit Trail) units started pouring in from various polling booths UP, Maharashtra and Bihar as soon as voting started.
With BSP's Mayawati having raised the EVM bogey after her huge defeat in the assembly elections, the two UP constituencies which saw polling Monday — Kairana and Noorpur assembly seat — saw numerous complaints and allegations being made.
Rashtriya Lok Dal (RLD) candidate from Kairana, Tabassum Hasan told media persons that the EVMs in Muslim and Dalit dominated areas where BJP knows there is no hope of their victory have been tampered with. Samajwadi Party Chief Akhilesh Yadav tweeted about it. In Noorpur, polling was disrupted in more than 211 booths. The EC rushed engineers to fix about 140 EVM and VVPAT machines.
Samajwadi Party's state president Naresh Uttam Patel complained to the election commission highlighting the snags in the EVMs.
"It seems that the BJP led state government is trying to dislodge a strong opposition by planting EVMs that are not working properly," he wrote to the EC. "EVMs in at least 113 booths in Noorpur constituency developed snags in morning" the letter said.
In Maheshtala in West Bengal, voters from Maheshtala College informed the authorities that the machines were taking too long to register their votes. Though EC claimed to have fixed the problem, voters were not satisfied. Voting was delayed in Jharkhand's Gomia assembly constituency due to technical snags in EVMs at several booths.
In Chaukta of Bihar, polling booths were deserted as voters boycotted the polls after complaining of lack of infrastructure development, particularly roads and a bridge that hasn't been fixed for four years.
Several Muslim and Dalit-dominated areas reported EVM malfunctioning, RLD candidate Tabassum Begum has complained to the Election Commission, according to the Newslaundry.
BJP calls EVM tampering false alarm
Praful Patel of NCP (Nationalist Congress Party, Maharashtra) said about 25 percent of the machines were faulty and demanded re-poll at such booths. Shiv Sena's Sanjay Raut blamed the BJP for the EVMs malfunctioning. "They (BJP) are distributing money, switching off EVM machines," he alleged. "Earlier, people used to capture booths. Today they have the keys of the EVM. Election Commission is under tremendous pressure from the government. Returning Officer fears for his job and refuses to take cognizance of ill-practises by the BJP," Raut said.
The BJP hit back, saying the opposition were poor losers and blamed the EVMs for their electoral defeats. "Whenever the opposition knows it would lose it starts a false bogey of tampering in EVMs," said Maharashtra BJP media in-charge Harish Chandra Srivastava. "The BJP has requested the Election Commission to take corrective measures and hold re-polling wherever necessary."
Meanwhile, Chief Election Commissioner O P Rawat said that an assessment would be done after the polling is completed. "The polls are being conducted as per the Standard Operating Procedures (SOP) and a call would be taken in evening when the polling is held everywhere. Re-polling at any place would be decided only after consulting with the election officers analysing the ground situation" said Rawat.
The authors are are freelance writers and members of 101reporters.com, a pan-India network of grassroots reporters
World
The 175-page measure, dubbed the Lower Energy Costs Act, represents a top 2022 Republican campaign pledge to lower Americans' energy costs by scaling back Democratic President Joe Biden's climate policies and increasing oil and gas production through deregulation.
World
China hopes the two nations will work together to promote bilateral relations to overcome difficulties and return to healthy and stable developments, Qin said as he met U.S.- friendly organizations and business representatives in Beijing.
Opinion
The Congress leader wasn't dropping a 'truth bomb', he was name-calling and ridiculing a journalist who was trying to do his job