Budgam encounter: India's 'innocent' outrage industry is playing into Pakistan's hands
As the snow melts, blood has started flowing in Kashmir. The sequence of events in the latest counter-insurgency operation is fast becoming all too familiar.
As the snow melts, blood has started flowing in Kashmir. The sequence of events in the latest counter-insurgency operation is fast becoming all too familiar.
As soon as security forces act on specific information to cordon off an area in search of terrorists holed up either in a building or in forest areas, a flash mob — mobilised by sub-local intelligence networks — appear on the scene.
They pelt stones at jawans and cops, block their advances and make it easy for terrorists to escape the dragnet. This latest strategy is devastatingly effective. It buys the terror agents precious time to secure position or plan an escape.
The security forces, engaged with the crowd instead of armed terrorists, are vulnerable to counter-attack resulting in increased injuries or body counts.
Finally, any civilian death that occurs during the clash is cannon fodder for Pakistan's global PR operation and India's outrage industry.
The force of this strategy — which Lt Gen BS Jaswal of ex Northern Army Command calls ''agitational terrorism" — lies in its moral perversion. It is incumbent on the assumption that in this unequal battle, the Indian state will be bound by its Constitution and burden of morality in not launching any attack on civilians who could be used by separatists nonchalantly in the war.
And in case any accident happens, as it did at Durbagh Chadoora in central Kashmir's Budgam district on Tuesday, the burden of it will be on India. What's more, the misguided youths are useful even in their death.
Separatist leaders will use these occurrences to cripple the writ of state administration and shut down the Valley. The wheels have already been set in motion.
Pakistan puppet Hurriyat has called for a strike which is expected to continue till Friday in protest against the "brutal, inhuman killings". Examinations and public transport services have been halted. Nearly every sphere of normal life including shops, business establishment, petrol pumps, educational institutions have been hit in several districts of the Valley.
This is Hurriyat's muscle flexing to show that it is they, and not the elected PDP-BJP government in Jammu and Kashmir, who are in power.
This is a short-term measure. In the longer term, the "unarmed civilians" will be seen as martyrs and their bodies will be used as totems to radicalise more youths and spark fresher and deadlier insurgency operations.
Never mind that these "unarmed civilian protesters", reportedly in their 20s, were throwing missiles at security forces, interfering with operations and helping the trapped terrorists escape while being fully aware of the consequences of their actions.
Some commentators have questioned the action of security forces, claiming — as this Firstpost piece does— that security forces were indiscriminate in their firing and the civilian deaths apparently signify "miserable failure" of India's security apparatus in keeping protesters at bay.
This represents a denial and ignorance of the way Indian security agencies have acted to counter insurgency in the Valley and the way they have taken a hit in doing so.
As Times of India mentions in a report, the government on Tuesday informed the Parliament that 2,744 CRPF personnel were injured while dealing with riots and protests in 2016 — a figure 13 times higher than in 2014 and 2015. Most of these injuries, says the report, could be attributed to the riots which ensued in Jammu and Kashmir after terrorist Burhan Wani's death.
If the jawans were really "indiscriminate" in their actions, would they have taken such a hit?
This narrative, peddled with righteous indignation by a section of the media and civil society, completely ignores the conditions under which security forces operate and tries to transfer the moral blame of the insurgency from the separatists to the State.
If 'soft approach' had solved insurgency, the wound wouldn't have festered for so long. To claim that Indian forces have been callous in their approach is a terribly callous comment in itself.
Syed Ata Hasnain, retired Lieutenant General in the Indian Army, tackled this in a piece for The Quint: "The Indian Army has the reputation of not using out-of-proportion force for any of its operations. It has not used mortars in the jungles, nor helicopter gunships, in all 28 years of operations in J&K."
In another article for Swarajyamag, Hasnain, the former General officer commanding of India's Srinagar based 15 Corps, writes: "Separatist networks are well established. Their intelligence travels faster on these networks… There are paid rabble-rousers in different villages who will exploit the mosque's public address system and social media messaging to generate a flash mob in minutes. What our officers and troops find disquieting is that community members who pose as friends and supporters in everyday meetings suddenly turn out to be members of a mob. There is no black and no white in these situations."
The former Lt Gen knows what he is talking about.
While fulminating about civilian casualties, commentators would do well to remember that the stone pelters are Indian citizens. Unlike Pakistan, which crushes insurgency in Balochistan with brutal hands and mass buries bodies, India does not enjoy firing on its citizens.
However, security forces have a job to do and misguided youths interfering in a live situation violates Section 144 of the Criminal Procedure Code. Though, this is not just about the law.
After Tuesday's encounter, CRPF DIG Sanjay Kumar said forces had to fight both militants and the stone pelters. "The operation was really difficult, we had to fight on two different platforms, against militants and local people… Few people really made our day difficult. Lot of commotions, stone pelting, abusing and injuring our people," he told ANI.
It is one thing to lecture forces on how to flush out terrorists in a hostile environment when a gun battle is raging, quite another to understand the parameters under which they operate.
As Brigadier (retd) V Mahalingam wrote in Times of India, "Taking advantage of the 'people friendly operations', conscious of the fact that troops will not open fire on mobs, women and children, terror agents unleash assembled flash mobs as shields to foil the operations and distract the troops from their mission. This facilitates the escape of the holed up terrorists. Stone pelting mobs injure unsuspecting troops involved in carrying out their mission. Those in the thinly deployed 'stops' and 'cordon' risk being lynched by these mobs."
A report in Times of India after the Pampore clash pointed out that while the battle raged between forces and civilians, mosques in nearby areas started playing recordings eulogising the terrorists. Slogans like 'Jaago, jaago subah hui' besides pro-Pakistan ( Jivey, jivey Pakistan!) and pro-Azadi (' Hum kya chahatey: Aazadi') blared from loudspeakers.
There's no doubt that much of the rage that we see in Kashmir is localised. But why has it taken such a turn?
Indian security forces this month arrested at least 65 people, 11 group administrators, 54 members and uncovered 30 WhatsApp groups, which were allegedly passing around rumours to bring in crowds to encounter sites, according to a report in DNA. Some of these groups, says the report, had people with Pakistan phone numbers as administrators. The newspaper quoted Rayees Mohammad Bhat as saying that "many times, people did not know that they were part of such a group."
It is childishly innocent to think that Pakistan has nothing to do with this "agitational terrorism". Apart from funding and rearing terrorists and exporting them to India, it is also trying to localize the insurgency through digital media and in myriad other provocative ways.
The Pakistan army, for instance, released a song ahead of "Kashmir Day" on 5 February. As PTI reported, the song released by ISI's PR arm, was titled 'Sangbaaz (stone-pelters)'. It expressed solidarity with the youth of Kashmir and its lyrics urge India to leave Kashmir. The video shows that the song was likely picturised using actual footage.
We may either choose to live in denial or face up to the asymmetric war bring brought to our doorstep by Pakistan. Unlike Britain, where premier Theresa May had recently announced that British troops will no longer be subjected to motivated and "vexatious" human rights violation claims because all such laws will suspended on the battlefield to "end the industry", Pakistan knows our forces enjoy no such provisions.
All it needs to do is to carry on the asymmetric warfare. India's outrage industry will do the rest.
India
It is time we seriously examine our consumption and disposal of electrical and electronic equipment and make it environmentally conscious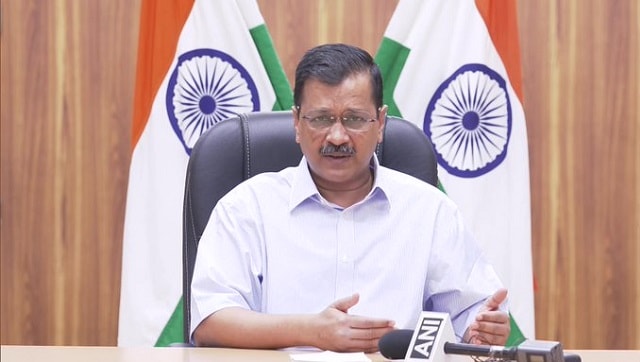 India
The Delhi chief minister had announced a similar kind of winter action plan to combat air pollution last year too, but to no avail
India
It is important that we Indians defer to the experience and wisdom of our ancestors on animal health