How Hooda took a page from Raja's book to benefit his chosen builders
During his roughly 10-year stint as chief minister, Hooda came out with as many as three master plans for Gurgaon — 2021, 2025 and 2031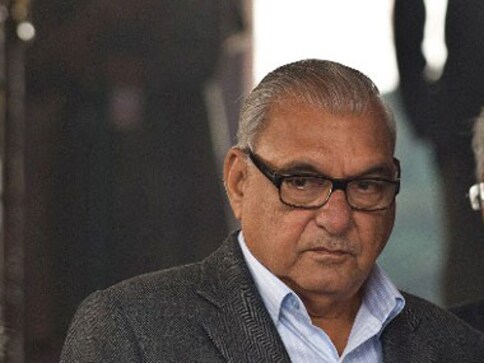 A Raja's telecommunications ministry handed out spectrum licences on a first-come-first-serve basis to a favoured few who came armed with prior information and predated demand drafts. That was the genesis of the 2G scam in 2008. Apparently, that was not a use-and-throw modus operandi in the UPA years.
Incriminating documentary evidence has surfaced of a similar cosy arrangement between policymakers and builders in Haryana during the chief ministership of Bhupinder Singh Hooda leading to windfall gains for builders.
During his roughly 10-year stint as chief minister, Hooda came out with as many as three master plans for Gurgaon — 2021, 2025 and 2031.
For each plan, a draft plan was circulated and huge changes of immense commercial benefit to builders were first disclosed privately and later made public once suitable changes had been incorporated in the final plan.
Hooda's master plans
Investigations by Firstpost have revealed new details of how certain builders were further accommodated, not just through these frequent changes in the plan, but additionally through the blatant flouting of its own re-scripted plan guidelines.
Arvind Walia, the promoter of the Ramprastha Group — who owns a clutch of roughly 60 companies and is also Hooda's nephew Sukhinder Singh alias Monu's business partner — became a key beneficiary of insider information and laid-down norms after the grant of Group Housing licences was violated to accommodate his commercial interests. Arvind and Monu are partners in Pheonix Infrastructure and Millenia Hospitality Pvt Ltd. Interestingly, both these companies were incorporated on 14 July, 2005 and 27 August, 2007 after Hooda assumed office.
On 4 September, 2012, a draft Development Plan 2031 for the Controlled Areas of Gurgaon-Manesar Urban Complex was notified. The final Development Plan 2031 was published on 15 November, 2012.
On the very next day — 16 November — the first day of submission of licence applications, Ramprastha and its associate companies Imperial Buildmart, Auster Infracon, and Silver Oak Real Con, applied for six licences within 15 minutes of the opening of the counter. These applications effectively gave the builder access to a whopping 73 acres of land or roughly 95 percent of the total 78 acres of total permissible density under group housing in Sector 95 A and 95 B in Gurgaon. These sectors were earlier designated as a Special Economic Zones (SEZ) in the 2021 and 2025 master plans.
Two licence applications filed by Ramprastha — LC-2766 and LC-2778 — were not approachable by a mandatory 22-foot road at the time of application. Instead of rejecting these invalid applications, the then state government went ahead to give these LoI's to Ramprastha. The company did not respond to questions emailed by Firstpost.
DLF Ltd, under the lense for its suspect deals with Robert Vadra which first surfaced in October 2012, was also privileged to be in a position to file two license applications for roughly 33 acres in Sector 79B on 16 November, itself. This used to be agricultural land that was converted to residential land use in the master plan 2031 which resulted in the value of the land appreciating three-fold.
Documents with Firstpost further show that another builder, Raj Buildwell Pvt Ltd, who willfully allowed the expiry of his licence dated 28 June, 2008 to develop an IT Park on 10.89 acres of land, was not penalised by having his licence revoked, but rewarded with windfall gains. Kanwar Singh Tanwar, the promoter of Raj Buildwell, who was in the Congress Party at the time, is now a BJP MP in the Lok Sabha.
Tanwar's licence expired on 28 June, 2010. He kept ignoring notices from the government for two years. But suddenly, five days before the notification of the 2013 master plan, he applied for the conversion of his licence for an IT park into Group Housing. This was strange since the government's move to delete the space earlier marked for public and semi-public purposes in Sector 71, Gurgaon, was only made public on 15 November. This move was strategic since it effectively served to raise the density for that sector (as housing is allowed more density than commercial).
By receiving insider information of what was to come, Raj Buildwell became a key beneficiary of the raised density. Further, the government accepting, rather than rejecting his request of 10 November, made before the announcement of the plan, ensured that no other builder could apply, since this single application exhausted the enhanced density created in the sector.
The de-licencing of Raj Buildwell from an IT project that had no takers, to a far more lucrative Group Housing project — in which the change of land use helped to instantly double the land value — was done even though there was no provision under the Haryana Development & Regulation of Urban Area Act 1975/policy to accommodate such delicensing, thereby rendering the licence illegal. The company did not respond to questions emailed by Firstpost.
That's not all
In the 2031 plan, roughly 18 acres of land in Sector 16, earlier meant for the building of a college/institution, was designated as a special zone. On 7 February, 2013, the Vatika Group applied for a licence to develop a commercial colony on roughly 12.13 acres of land in this zone. The Hooda-led government first admitted the application, and only later, on 6 August, 2013, a Council of Ministers meeting was held which approved the conversion of the land use of the special zone into commercial colony. The LoI was given to Vatika on 11 August, 2014 enabling it to launch one of the largest shopping mall projects in Gurgaon.
While avoiding answering how the Vatika Group was able to apply for a licence for commercial colony in this special zone, well ahead of the conversion of special zone to commercial colony, Vatika's cryptic response was: "The said area of 12.13 acres was part of special zone approved in the final Development Plan of Gurgaon Manesar Urban Complex 2031 and is still covered in the same special zone."
However, the truth is that a special zone consists of four components, namely, recreation; commercial; group housing and institutional area in a 20:30:40:10 ratio. Deviating from its own policy, the Hooda government made a special exemption to make Vatika's land 100% commercial.
Hooda's largesse to Vatika also involved overlooking the fact that there was no approach road to the plot which is a mandatory requirement for a commercial licence.
Undeterred in his intent, Hooda used his power as chairman, Haryana Urban Development Authority (HUDA) to give HUDA land for the approach road to Vatika's site. This is evident from a file noting which states: "CA, HUDA vide letter dated 09.07.2014, while forwarding the proposal approved by CM, Haryana-cum-Chairman, HUDA, has directed Administrator, HUDA/Estate Officer-I, Gurgaon to execute the approved proposal at site and entered into an agreement with the coloniser for transfer of this land to HUDA & allowing construction of 24-metre-wide road on HUDA land within 15 days."
Affordable Housing
The Hooda government then went on to announce its Affordable Housing Policy on Gurgaon-Manesar Urban Complex on 19 August, 2013.
The scheme was conceived in order to corner more land for builders since the density of 20 percent reserved in each sector under Group Housing Colonies had been exhausted in Gurgaon. In the Affordable Housing Policy, a density of five percent was now additionally reserved in all sectors with a cap of 10 acres.
Documents with Firstpost reveal that on the very next day — 20 August, 2013 — as many as 58 companies applied for licences in various zones of Haryana. And within 15 days of announcing the policy, another 25 companies applied for the licence.
The documents further show that these applications were accompanied by backdated demand drafts which go back 10 days to 2 months prior to the date the policy was announced:
The application from Sunrays Heights Private Ltd is stamped on 20 August, 2013. But the date of demand draft is 10 August, 2013.
Though the Department of Town and Country Planning, Haryana, received 141 licence applications, it issued 48 licences and 8 Letters of Intent (LoI's), of which as many as 16 licences and 5 LoI's were found to have been submitted with backdated demand drafts (see table below).
Questions emailed to Nani Resort & Floriculture Pvt Ltd went unanswered.
Dark history
Hooda is already under probe by the Justice SN Dhingra Commission for his role in the illegal grants of licences to hundreds of private companies, including Robert Vadra's land case, involving his company Skylight Hospitality and DLF.
http://www.thehindu.com/news/national/behind-robert-vadras-fortune-a-maze-of-questions/article3975214.ece
This expanding body of evidence makes Hooda's motivation in licencing a staggering 24,825 acres of land across Haryana, including 9,204 acres in Gurgaon during his 10-year tenure increasingly suspect. The licensing activity looks especially suspicious considering that in the 23 years preceding Hooda's tenure, licences for just a total of just 8,550.32 acres were granted.
Though the state administration has claimed otherwise, this 150 percent rise in land licensing activity during Hooda's term was clearly not motivated by a desire to drive planned development as policies were scripted and timed in the interests of builders while overlooking the needs of the middle class by discontinuing cooperative housing societies and neglecting Information Technology projects. The IT sector — that accounted for a mere 409.21 acres — got the lowest share of land in Hooda's tenure, despite it being an employment generator. This is because the margins on IT projects have lower margins.
These commissions and omissions in the state's land matters between 2005 to 2014 will increase the heat on Hooda, already under probe, because he had assumed complete control over all land-related matters after becoming chief minister. He had retained the portfolios of Town & Country Planning (TCP) (the real estate licensing arm), HUDA (the urban development authority) and the Haryana State Industrial Development Corporation (HSIDC), which is the industrial wing.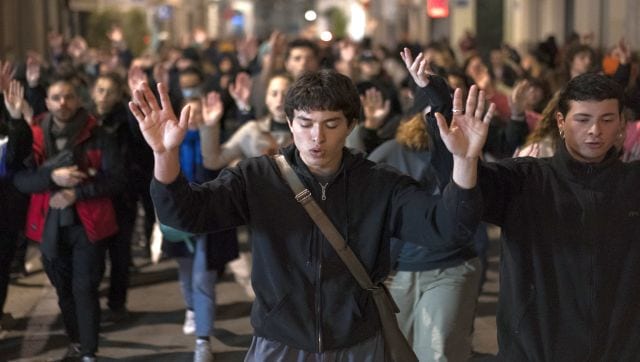 World
France has been seeing protests, which have turned violent in recent days, as the Emmanuel Macron government pushes pension reforms through parliament. In India too, there's a debate on the pension scheme, some arguing that the old method is fiscally unsafe
Politics
Punjab Police on Saturday launched a major crackdown against Amritpal and suspended internet and SMS services till Monday noon. It has arrested 78 members of 'Punjab Waris De', an outfit headed by him