Booed, shoved, roughed up: Gay activist experiences ugly side of Silicon Valley welcome for PM Modi
Silicon Valley also portrays the overwhelming presence of the Indian community. A community that I belong to. At least, legally, I still belong to.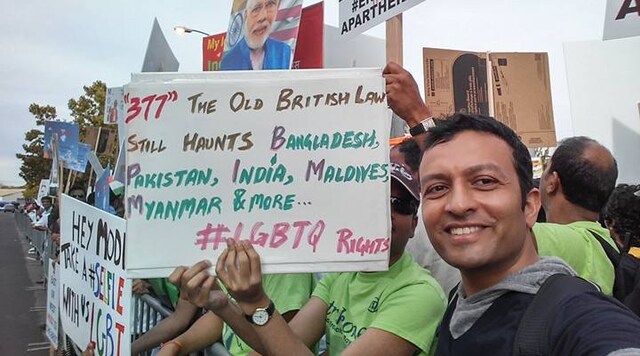 by Mohammed Shaik Hussain Ali
The mention of Silicon Valley brings the images of the glass buildings nestled in the midst of large open spaces filled with highly-skilled 'educated' professionals.
Silicon Valley also portrays the overwhelming presence of the Indian community. A community that I belong to. At least, legally, I still belong to.
Today, I witnessed a shattering of that idea. A demise of my expectations from the Indian community I was born into.
Trikone, the oldest South Asian LGBTQ organisation with its roots in Silicon Valley, was peacefully taking a stand to bring forth the attention to the missing LGBTQ rights when the Indian prime minister Narendra Modi came to San Jose, the first Indian prime minister to come here in three decades.
Section 377 criminalises me. My sole aim was to bring focus to the fact at a venue where fellow Indians have gathered.
All I, being the chairperson of Trikone, did was to peacefully take a stand on the public grounds of the city of San Jose holding the sign –"377" The old British law still haunts Bangladesh, Pakistan, India, Maldives, Myanmar and more… #LGBTQ Rights. We were definitely not in support of the Prime Minister. But categorically, we were not against him personally; we have and will always be against Section 377 and the inaction of the Government of India.
I was attacked. My fellow comrades holding equally neutral messages were attacked.
My sign was snatched, broken and thrown. I was dragged, pulled out by my collar, held on my neck and was yelled at – you don't belong here. The attackers were my fellow Indians. The attackers asserted their Indian majority status.
We were all very shaken up. When the law enforcement officers said that they will not be able to guarantee our safety amidst the crowd, we decided to leave. The police escorted us out. We plan to lodge a formal complaint some time this week. If nothing, it will at least put us on record.
Being a minority is not new for me. I was born in India. I was raised in India. I grew up in towns where I was taught not to mention my name out loud. Where I grew up, it was difficult to be a Muslim. We wouldn't be allowed to rent a place; we wouldn't be allowed to buy a place (not that we were able to afford at that time). All our landlords, kind enough to have us as tenants, asked us not to be too prominent lest they had to answer questions of the locality as to why they went against the 'norm'.
I was told not to ask for what's my worth. I was instructed not to question what's been told. To add to the mix, I am homosexual. In addition to all of the above 'not's I had to add the weight of the silence around my sexuality.
Setting foot in the United States of America, I assumed that I was away from all of the hypocrisy that I had to deal with in India.
The Indian majority made it clear for me today. I was, am and will remain a minority.
Collecting myself off today's moments, I am left with a haunting question – if the Indian majority, the 'educated' lot, standing on non-Indian ground, can resort to such means to drive their point across, what is the plight of the minorities on Indian soil?
Mohammed Shaik Hussain Ali is the chair of Trikone, the world's oldest organization for LGBT South Asians. Another version of this essay appeared on his personal blog.
Politics
Australia's former Prime Minister Morrison on Wednesday unsuccessfully argued against being censured by Parliament for secretly amassing multiple ministerial powers
India
On 25 November, Ravindra Jadeja conducted a road show to campaign for his spouse Rivaba.
First Cricket News
''Extremely delighted & proud to receive the Guinness World Record for the largest attendance at a T20 match when 101,566 people witnessed the epic IPL final at @GCAMotera's magnificent Narendra Modi Stadium on 29 May 2022. A big thanks to our fans for making this possible,'' Shah tweeted.