BMC Election Results 2017: With Shiv Sena taking the lead, here are key candidates for mayor
The Congress and the NCP are far behind the Sena and the BJP, leading in 22 and eight seats respectively, in the 227-member BMC.
As counting of votes concluded on Thursday, the Shiv Sena led with 84 seats, followed by BJP with 82 seats. The Sena and the BJP were locked in a battle to rule the Brihanmumbai Municipal Corporation (BMC). The Congress and the NCP are far behind the Sena and the BJP, in the 227-member BMC.
The question now arises who will be the next mayor? Since the mayor will be selected from open (male) category, the current mayor Snehal Ambekar will most likely not be able to retain her post.
Shailesh Phanse, who was one of the top contenders for the post, had a huge setback after he lost from Andheri (West).
Former MLA and mayor Milind Vaidya, who won from Dadar, is one of the top choices for the post of mayor. Vaidya, who faced a defeat in the last election, made a come back this year.
In the last election, MNS had won all the seven seats, however, this time Shiv Sena won six seats and one went to BJP.
Two-time Sena corporator Mangesh Satamkar's name is also being considered for the post of mayor. He contested and won from Sion Koliwada. The Sena unit head is also the former education committee chairman.
Corporator Yashwant Jadhav who won from Nagpada and Ramakant Rahate, winner from Worli, are two other contenders.
Meanwhile, earlier in the day, Sena MP Anil Desai told reporters at the Sena Bhavan, "The response of the people has been very good. There are several places where the Sena is leading. This is all due to the faith of people in the leadership of (late Sena supremo) Balasaheb (Thackeray) and Uddhav ji." "People of Mumbai, with their wisdom, are ready to bring the Sena to power on its own. There will be no alliance needed (with the BJP)," he said.
The BJP, on the other hand, appeared to be softening its stand against Sena, and said the latter will now have to take the first step to decide the future.
The stakes are high for Chief Minister Devendra Fadnavis and Shiv Sena president Uddhav Thackeray, who led their respective parties from the front and were involved in a high decibel and no-holds-barred campaign, relegating the opposition Congress, NCP and other players like the MNS and the AIMIM to the background.
The big poll focus is on the BMC, retaining control of which is vital for Shiv Sena as the city has remained its prime political space ever since the party's formation in 1966. The Sena has been in power in BMC for over two decades.
(With inputs from PTI)
Photos
The 10-day festival will see muted celebrations owing to the COVID-19 pandemic
India
The word Ganesha is formed by combining two Sanskrit words, with 'gana' meaning a multitude of people and 'isha' meaning lord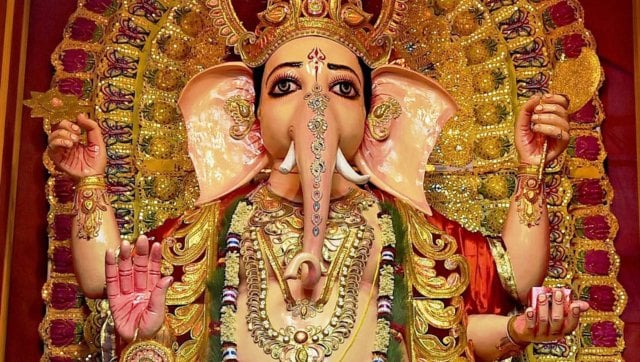 India
Narendra Modi wished the country, asking Lord Ganesh to bring "happiness, peace, good fortune and health" to everyone