BMC Election 2017: Shiv Sena to lodge complaint after 12 lakh names go missing from voter lists
More than 12 lakh Mumbaikars who showed up across the 227 wards on Tuesday to elect a new Brihanmumbai Municipal Corporation, had to return home disappointed as their names were missing from the voters' list provided by the Maharashtra State Election Commission.
Mumbai: More than 12 lakh Mumbaikars who showed up across the 227 wards on Tuesday to elect a new Brihanmumbai Municipal Corporation, had to return home disappointed as their names were missing from the voters' list provided by the Maharashtra State Election Commission.
The missing names account for more than 13 percent of the 91.8 lakh voters from the municipal corporation, which is huge and could be a game changer in the current election which witnessed 55 percent till voter turnout on Tuesday. The voter turnout had not exceeded 50 percent in the last five civic body elections. In fact, in 2007, the poll percentage was 42.17 percent while the 2012 civic election in Mumbai recorded a polling percentage in 44.57 percent.
On an average, each polling booth had more than 100 names missing, sources told Firstpost. There are 7,304 polling booths in the civic body election. In Jogeshwari, Andheri and Ghatkopar more than 200 voters were searching for their names in each booth.
Even though the voter turnout is a record by itself, the missing names left many voters annoyed and bitter about the electoral process.
"Several of the voters who had exercised their right in the Maharashtra Assembly Election 2014 and the BMC Election 2012 were unable to cast their vote this time," said Shiv Sena leader and MLC Anil Parab, adding that many voters returned without exercising their right from polling stations. "We have demanded a probe in the missing voters' names and will file a written complaint in this regard with the State Election Commission," he said.
The problem, according to sources, is likely to have been caused because of the new delimitation of wards. But that doesn't justify the fact the SEC spent Rs 10 crore printing the new voters' list yet 12 lakhs are missing.
Voters names were prominently missing from polling booths in Dahisar, Borivali, Malad, Jogeshwari, Ghatkopar, Mulund, Kurla, Worli, Dadar, Elphinstone Road, Colaba, Byculla, Bandra and some other parts of the city.
Many people have changed their residences, so old addressed names were cancelled. But due to new ward numbers, voters as sell as election staff were confused when it came to searching names of voters," a senior BMC official told Firstpost.
The official also confirmed that the election staff of the civic body was receiving lots of complaints of names missing from booths. "We could not help this time. Without a name in the voter list nobody can cast a vote," he said.
However, the State Election Commission has washed off its hands from the missing names in the voters' list, and instead blamed the voters for not checking their names in the initial list that was published on 5 January 2017.
Speaking with Firstpost, State Election Commissioner JS Saharia said, "We refer to the voters' list of Election Commission of India. The list of 5 January 2017 which they gave us is the list that we provided to the BMC. Voters may have cast their vote in the Parliment and Assembly elections in 2014 or the BMC election in 2012, but that does not mean his or her name will appear in the Election Commission of India list."
So who's at fault for the lakhs of voters missing from Mumbai? Saharia said that SEC is not responsible for the missing voter names. "Voters should have also cross-checked whether or not their names in the list that appeared on 5 January 2017," he claimed.
Initially, voting turnout was brisk, but as the day progressed, voting picked up with several politicians and film celebrities stepping out to cast their votes. The civic body election witnessed huge queues in suburban areas especially at polling booths in slum areas.
Till civic election began at 7.30 am at the 7,340 polling stations and was scheduled to close officially at 5.30 pm. However, in some booths, polling continued even after the cut-off time due to long queues.
Mumbai's famous and celebs step out to vote
NCP president Sharad Pawar was among the early voters in Mumbai, while Shiv Sena chief Uddhav Thackeray went to a polling booth near his residence in Bandra to exercise his voting rights along with his wife Rashmi and son Aaditya. BJP leaders, who cast their votes included party Mumbai unit chief Ashish Shelar, MP Poonam Mahajan, Education Minister Vinod Tawde and Shaina NC. Other leaders who were among early voters in Mumbai were former Maharashtra chief minister Manohar Joshi and MNS chief Raj Thackeray along with wife Sharmila and son Amit.
Several eminent personalities including former Mumbai Police Commissioner Julio Ribeiro, Joint Police Commissioner Deven Bharti, Election Commissioner KS Saharia and BMC Commissioner Ajoy Mehta also cast their vote in Mumbai.
Film personalities, including Shah Rukh Khan, veteran actress Rekha, noted lyricist Gulzar, well-known actor Paresh Rawal and his wife Swaroop Sampath, Ranveer Singh, Sonam Kapoor, Anushka Sharma, Varun Dhawan, Shraddha Kapoor, John Abraham, Vivek Oberoi and director Zoya Akhtar also stepped out to vote. Zoya expressed hope that whoever gets elected this year works towards improving infrastructure and environment.
"It is difficult to breathe on the roads, I hope people focus on cleaning the city. We cannot keep cutting trees... we need to take care of our city. We all need to make effort," she said.
Gulzar, meanwhile, urged people to vote. "I am sure the citizens will come out to vote, the youngsters especially," the poet said. However, some celebrities were not able to cast their votes for the civic poll due to work commitments.
No NCP candidate in BMC ward where Pawar voted
Interestingly, Pawar exercised his franchise in a municipal ward where nine candidates are contesting but none of them belongs to NCP. Pawar, along with son-in-law Sadanand Sule and granddaughter Revati, voted at a polling booth in ward no 214, which comprises landmarks like the Mahalaxmi Mandir, Jaslok Hospital and the historic Gowalia Tank ground.
There are nine candidates contesting from ward 214 in the BMC Election. Arvind Bane of Shiv Sena, Dhanraj Sahadev Naik of MNS, Kaushik Jasubhai Shah of Congress and Sarita Ajay Patil of BJP are some prominent candidates in the ward, where the number of eligible voters is 60,236.
Polling concludes in nine other municipal corporations
Besides, BMC, polling also took place in nine other municipal corporations namely Thane, Ulhasnagar, Nashik, Pune, Pimpri-Chinchwad, Solapur, Akola, Amravati and Nagpur. Elections were also held in 118 Panchayat Samitis in Ratnagiri, Sindhudurg, Satara, Sangli, Kolhapur, Pune, Solapur, Nashik, Amravati and Gadchiroli districts. Meanwhile, in Nashik, some voters whose names were found missing from voters' list in Mhasrul locality staged a rasta roko, police said.
A total of 3.77 crore voters voted on Tuesday to determine the fate of 17,331 candidates for 3,210 across the 10 municipal corporations in the second phase of polls, which is being seen as a "mini assembly election".
By 3.30 pm, about 41.32 voters had exercised their franchise for the 10 municipal corporations that went for polls on Tuesday including the cash-rich BMC. The elections, however, received brisk voting from the start of the day with just 17 percent turnout in the 10 civic corporations till 11.30 am. Whereas in 11 Zilla Parishads, around 23.9 per cent voting was recorded till 11.30 am.
(With inputs from PTI)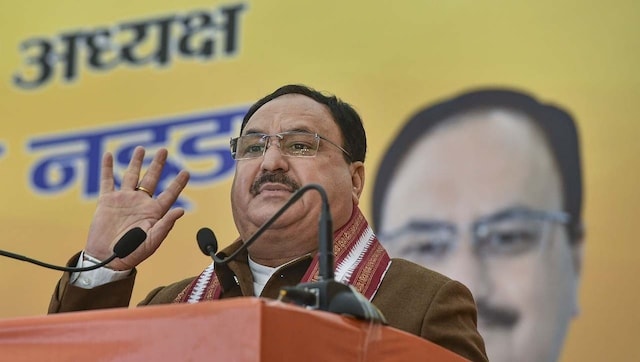 India
The party has decided to hold its national office-bearers meeting on 18 October while the meeting of the National Executive committee is likely to be held on 7 November.
India
The elderly woman's story was shared by Shikha Rathi, founder of the clothing brand The ReUp Studio, who was walking on the streets of Pune with her friend