BJP's latest jibe at Rahul Gandhi: 'Man who can't speak for 2 minutes without being tutored wants to be prime minister'
The viral clip shows Rahul Gandhi turning back to talk to people standing behind him before he gives an answer to the press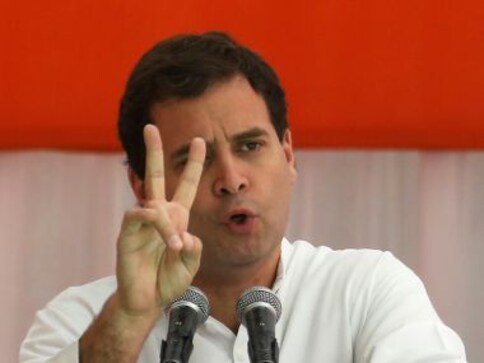 A day after the BJP mocked DMK over its 'Rahul Gandhi for Prime Minister' pitch, the saffron party took another dig at the Congress president when its I-T Cell chief Amit Malviya, on Tuesday, posted a video targetting Rahul and said that "A man who cannot speak for two minutes without tuition wants to be India's Prime Minister".
The viral clip shows Rahul turning back to talk to people standing behind him before he gives an answer to the press. Rahul along with Jyotiraditya Madhavrao Scindia and other Congress leaders addresses the media after the party announced farm loan waivers in Madhya Pradesh and Chhattisgarh.
Before Rahul speaks, Scindia gives him "advice" stating "you need to say what (Prime Minister Narendra) Modi (referring to waiving farmers loan) could not do....I have done."
The video was simultaneously shared by Union Textiles Minister Smriti Irani who said that the Congress President takes tuition to dream, to learn to speak and what not.
"Rahul takes tuition to dream and the current video shows that he does not trust his own words but relies on others who teach him what to speak. It is a warning for the people of this country to know that he is not eligible for any electoral post," said Irani to ANI.
This is not the first time that Irani had taken a jibe at Rahul. Inaugurating a Job Mela in Amethi in November, the Union minister had said, "I have come to know that Rahul is getting foreign banana seeds distributed among farmers. But he does not know that poverty cannot be wiped out by planting a couple of banana saplings."
In October, 2018 Rahul had again exposed himself to criticism when he referred to Mizoram as Manipur by mistake. Malviya had then taken to Twitter to saying "it is this ignorance about the Northeast that is so problematic." He then went on to write: "Rahul Gandhi go and write this a hundred times, Mizoram and Manipur are two different states in the North East of India..."
In October, 2018 again, Modi had compared Rahul a "stuck gramophone". In a video interaction with BJP leaders, Modi had said that Rahul keeps repeating things like a gramophone that is stuck but people would not accept his "childish claims and lies" against the government and that they make "fun of such remarks".
Opinion
Rahul Gandhi genuinely aspires to become India's Prime Minister no matter the method or the cost
Politics
The Congress leader gave the 10-point reply hours after a Delhi Police team knocked on his doors for the third time in five days. He also sought eight to 10 days to give a detailed response to the questions posed by Delhi police over his January 30 remarks
India
PM Modi's retort followed Rahul's recent lecture at the prestigious Cambridge University where he claimed that the basic structure of the Indian democracy was under attack