BJP's Kailash Vijayvargiya says surprised 'beef-eater' Congress MLA Arif Masood won polls in Madhya Pradesh
BJP leader Kailash Vijayvargiya stoked a controversy by referring to a Muslim MLA of the Congress in Madhya Pradesh a beef-eater
BJP leader Kailash Vijayvargiya stoked a controversy by referring to a Muslim MLA a beef-eater

Vijayvargiya found it surprising that the government stopped cow slaughter but a beef-eater won against a BJP candidate

In the November 2018 elections, Congress's Arif Masood defeated Singh by 14,757 votes
Bhopal: BJP General Secretary Kailash Vijayvargiya stoked a controversy on Saturday by referring to a Muslim MLA of the Congress in Madhya Pradesh as a "beef-eater" during a party event.
The BJP leader, known for making controversial statements, was talking about party candidate Surendra Nath Singh's defeat from the Bhopal (Central) assembly seat.
Speaking at the gathering of BJP workers here, Vijayvargiya said, "Your (Singh's) loss caused me the greatest anguish. It is surprising that a nationalist government which stopped cow slaughter was in power (in the state), but a beef-eater won against you. It is a matter of shame for all of us."
In the November 2018 elections, Congress's Arif Masood defeated Singh by 14,757 votes. The Congress ended the BJP's 15-year rule in the state in the polls.
Reacting to the comment, Masood said, "Vijayvargiya should produce evidence as to when I ate beef. I have never had a meal with the BJP general secretary. This (the remark) only shows his frustration."
Masood claimed he had never eaten beef in his life, and he won from a seat where Hindus are in a majority. "I was elected by all sections of society while the BJP only focused on dividing people," he said.
State BJP spokesperson Rajnish Agrawal said he was not aware of Vijayvargiya's statement and hence could not offer any comment.
Find latest and upcoming tech gadgets online on Tech2 Gadgets. Get technology news, gadgets reviews & ratings. Popular gadgets including laptop, tablet and mobile specifications, features, prices, comparison.
Politics
At a campaign meeting on Sunday in Gwalior's Dabra town, where the BJP has fielded Imarti Devi, Kamal Nath had said the Congress candidate was a "simple person" unlike his opponent who was an "item".
India
The three accused also blackmailed the girl by threatening to upload her objectionable video online if she resisted their advances, said the police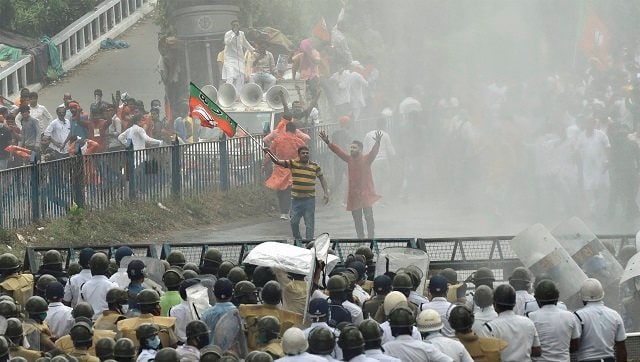 Politics
Protesters stormed barricades, hurled stones and set tyres ablaze during the march called by the party's youth wing BYJM. Police claimed that it recovered a loaded pistol from one of the agitators.