BJP will get absolute majority in Maharashta polls: Javadekar
Information and Broadcasting Minister Prakash Javadekar said BJP will get majority in the upcoming Maharashtra assembly elections.
Thane: Expressing confidence that BJP would get absolute majority in the next month's Maharashtra Assembly elections, Union Minister Prakash Javadekar on Tuesday said the party's fight is against Congress and NCP and their bad governance in the state.
When asked by reporters if the BJP would fight against its former ally Shiv Sena, Javadekar said, "Our fight is against the Congress and NCP, and the bad governance."
He, however, said his party has decided not to speak anything against the Sena and also not to react to any adverse comments made by their former 25-year-old partner, with whom the BJP split last week.
The party wants to root out the Congress and NCP, which had ruled the state for so long and only brought in problems, the senior BJP leader told mediapersons after inaugurating a party election office in Thane.
"Our party is confident that we will come to power and provide good governance to the state citizens who have been reeling under problems for so long," he said.
"Our only aim is to come to power in the state on our own and serve the state, as we have been doing at the Centre," he further said.
Javadekar also said the party would soon release its 'agenda' for the state.
To a question, the Union Information and Broadcasting Minister said he has been associated with Thane district for more than 25 years and is confident that the people here will bring in a revolution and make the BJP nominees victorious in the Assembly polls.
When asked about the controversy over a candidature form filled by Sena leader Anant Tare, who had revolted from his party and filed nomination as BJP candidate which was later rejected as he had filed a photocopy of the party's AB form, Javadekar said "it was past and we look at the future," he said.
The senior party leaders will hold meetings in next few days to ensure BJP's win in the October 15 Assembly polls, he added.
Bhiwandi BJP MP Kapil Patil, and party candidates, Sanjay Kelkar (Thane seat), Ashok Bhoir (Kalwa-Mumbra) and Sandeep Lele (Kopri-Panchapakhadi) were also present on the occasion.
PTI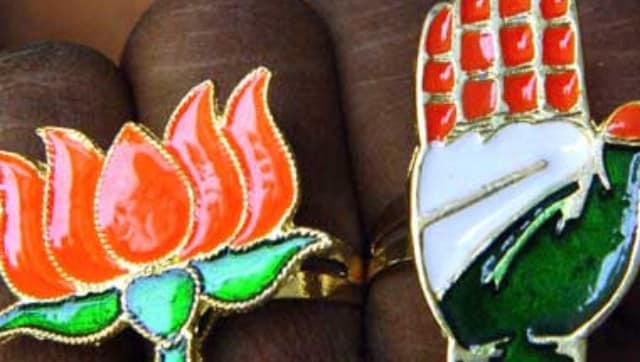 India
Cabinet minister Yashpal Arya and his MLA son Sanjiv Arya quit the BJP to join the Congress. MLA Rajkumar left the Congress to join the saffron party
India
Elections for the 403 Assembly constituencies in Uttar Pradesh will be held in seven phases starting 10 February, the Election Commission said
India
As seen in Punjab, the Congress is brazenly undermining the office of the Prime Minister and by doing so, also damaging the integrity of our democratic institutions