The Gujarat and Himachal Pradesh Assembly polls, whose results are slated for 18 December, saw heavy campaigning and fierce political discourse.
Exit polls have predicted a comfortable victory for BJP in Gujarat, while also anticipating an improvement in the tally of Congress as compared to its 2012 results. On a similar note, pollsters predict that the current Leader of Opposition in Himachal Pradesh, BJP leader Prem Kumar Dhumal is set to become the next chief minister of the state.
But how do the political parties and their respective politicians fare on social media? As per data provided by Facebook India, BJP has sustained its domination on the digital sphere as well, topping the charts in the 'Most Discussed Political Parties' list for both states.
These infographics, which collected data from 12 October to 12 December, have tracked the political interactions related to the elections on Facebook.
In Gujarat, the Chief Minister Vijay Rupani topped the list of the 'Most Discussed Candidates.' Alpesh Thakor from the Congress made some mark including Dalit and OBC activist leader Jignesh Mevani. As reported by Ajay Singh, it seems that new actors have been emerging in a prominent role in the western state.
It is not surprising that the central theme of discussion in the state that went to polls recently is the economy, considering the impact that GST and demonetisation had over the people. As reporter Darshan Desai has written, "The urban middle class made up of small and medium businessmen, traders and office-goers are visibly angry with the BJP over GST and demonetisation since they have suffered the most because of the twin blows. This is not an interpretation or analysis, but a pulse that is being heard loud and clear, even by the BJP." However, despite the unhappiness with GST and demonetisation, exit polls predict BJP has a very big chance of emerging victorious.
In Himachal Pradesh, BJP trumped Congress as the 'Most Discussed Political Party'.
However, for the 'Most Discussed Candidates' category, Virbhadra Singh and Prem Kumar Dhumal are neck-in-neck, clocking in 31 percent and 26 percent of the conversations respectively. Like Gujarat, economy dominated the poll discourse in Himachal Pradesh as well, as both BJP and Congress fought on the plank of development. Law and order was a close second, an issue that was reflected in the recent Himachal Pradesh Assembly as well.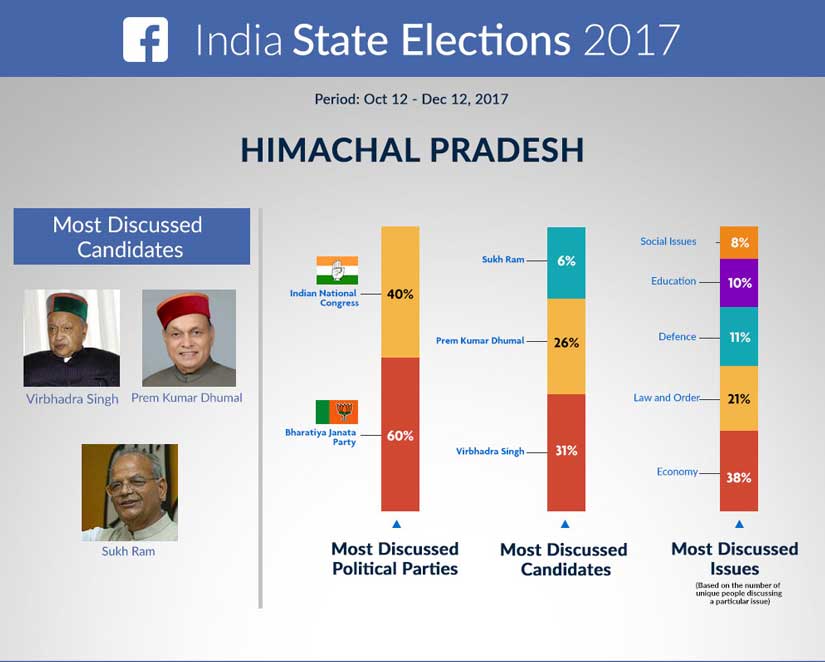 The data in these infographics depicts the top candidates, political parties and issues being discussed on Facebook and it is based on social media interactions. These rankings and percentages are based on the metrics of unique engagements in conversation related to candidates, political parties and issues.
The counting for Gujarat and Himachal Pradesh elections will be held on 18 December.
Click here for detailed coverage of Gujarat Assembly Election 2017
Firstpost is now on WhatsApp. For the latest analysis, commentary and news updates, sign up for our WhatsApp services. Just go to Firstpost.com/Whatsapp and hit the Subscribe button.
Updated Date: Dec 18, 2017 14:26:35 IST