BJP settled black money before note ban announcement: Mayawati
Mayawati claimed the Modi government took the demonetisation decision in a hurry with 'hundred percent' political interests of BJP in mind.
New Delhi: Under constant attack from BJP top brass that BSP has been the biggest loser post demonetisation, party supremo Mayawati on Saturday hit back alleging the ruling party at the Centre settled its black money days before the note ban was announced and said the "half-baked and immature" move will hurt it in the Uttar Pradesh elections.
She also claimed the Modi government took the decision in a hurry with "hundred percent" political interests of BJP in mind.
Addressing a press conference in New Delhi, she said hers is the "only party" in the country which has no ill-gotten money.
While agreeing that she accepts money from ticket seekers, she said it is used to strengthen the party organisation and fight elections.
"Money is taken from ticket seekers like it is received from party workers, MPs and MLAs. It is kept in bank accounts to strengthen the organisation and contest polls," she said.
She said if she would be accepting money for herself, then she would rather take Rs 200 crore offered by the rich to get one Rajya Sabha ticket. "Then I would not take it from 100 people...they claim I take Rs 1 crore for ticket," she said.
She also said that while BJP managed to settle its "do number ka paisa" (black money) in the past ten months when the demonetisation move was conceived, the decision was "so ill-conceived, half-baked and immature that it will lead the party to a permanent political exile in Uttar Pradesh in the coming assembly polls."
The former Uttar Pradesh chief minister said while BSP will emerge as the clear winner in UP polls, BJP and SP will fight for the number two and number three slot. "Congress in UP is already on ventilator," she said.
The BSP chief said the demonetisation decision has caused difficulties to 90 per cent of the common people.
She also asked how a decision which has caused problems to 90 percent of the people could be in interest of the
nation.
"Now to prove that his wrong decision is correct, the Prime Minister is getting emotional and shedding tears. What is this if not blackmail," she said.
Mayawati said since her party is the main challenge to BJP in the upcoming Uttar Pradesh elections, its leaders were making baseless statements against BSP.
"There is no doubt that the government of Prime Minister Narendra Modi has in a hurry and without proper preparation demonetised Rs 500 and Rs 1000 notes. This immature decision has been taken 100 per cent because of their political interests which has caused havoc across the country," she said.
Mayawati claimed the situation was like an "economic emergency which is condemnable".
She said that since BJP government at the Centre could not fulfil even one fourth of its poll promises in its two and a half years in office and to divert people's attention.
She added that Modi says that he "left his family for the country which is a good thing".
"But you cannot play with the interests of people," she said as she accused the Centre of being "dictatorial" in its approach.
The BSP leader also said that nearly 100 people had died and the Centre has not extended any economic support to them.
"How can a decision which has caused difficulties to 90 percent of the people be in public interest," she asked,
adding people have been forced to stand in queues to get their own money.
Politics
Prasada's induction will further wear away whatever's left of the Congress and the Gandhis in Uttar Pradesh, even if it does not yield dividends for the BJP
Politics
The newly-appointed RLD chief vowed that his party will not allow a communally polarised campaign to 'ruin' the Hindi heartland state in the run-up to the Assembly polls in 2022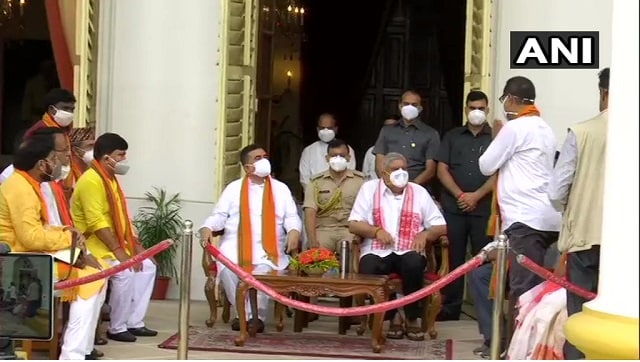 Politics
This is the second time when Adhikari met the governor in June. Earlier he met the governor and submitted a representation about unabated post-poll retributive violence