BJP quest to bloom lotus in Mizoram Assembly faces great wall of Mizo National Front in elections
Star campaigners from the neighbouring states of Assam, Tripura and Manipur are also campaigning in various constituencies of Mizoram.
Aizawl: Ahead of the upcoming Mizoram Assembly elections on 28 November, the Bharatiya Janata Party (BJP) is using all its might to win the last northeastern state where it is not part of the government. The anti-incumbency faced by ruling Congress makes it favourable for BJP to secure more seats in Mizoram — unless the influential regional outfit Mizo National Front (MNF) gets in its way.
In an attempt to solidify its chances, BJP has chosen Himanta Biswa Sarma — who successfully dethroned age-old left parties in Tripura earlier this year — to be the party's election in-charge in Mizoram.
Several national leaders have campaigned in Mizoram promising to bring the state into the mainstream fold. While Prime Minister Narendra Modi, BJP chief Amit Shah, defence minister Nirmala Sitharaman and Union minister Kiren Rijiju are scheduled to visit the state this week, home minister Rajnath Singh visited three constituencies earlier.
While campaigning in the Mamit district on Friday, Singh mocked the ruling Congress over the condition of roads: "Yaha road pe gaddha hai ya gaddhe pe road, samajh mein nahin aata." (It is difficult to understand whether the road is in the potholes or if there are potholes on the road)." Singh assured to develop all the roads within six months if BJP was voted to power. "The local government is obstructing us from developing the state. If we come to power, it will be easy for us to implement schemes," he says. Promising maximum central funds in Mizoram, Singh also vowed to improve transport, health, education and agriculture in the state.
The BJP released its manifesto on 20 November during party president Shah's visit to the state, which included promises such as inclusion of the Mizo language in the 8th schedule of constitution, releasing arrears as per the Seventh Pay Commission within three months of coming to power, providing rice at Re 1/kg, providing adequate banking facilities in rural areas and a house for all the homeless families under Prime Minister's Aawas Yojana within three years.
Focus on other ethnic groups in the state
Home to several ethnic communities, Mizoram shares its border with Assam, Tripura, and Manipur which means that the Mizo-majority state has a large number of voters from Manipuri, Chakma, Bru, Hmar, Reang and other ethnic groups. "Mizoram is one of the most difficult states for BJP after Tripura, due to the number of ethnic groups residing here. Language is a big barrier and we are trying to fix this by inviting our leaders from other states," says Pavan Sharma, BJP in-charge for Mizoram.
Star campaigners from the neighbouring states of Assam, Tripura and Manipur are also campaigning in various constituencies of Mizoram — including Sarma, Manipur agriculture minister V Hangkhanlian, and Tripura MLA Pramod Reang among others.
However, while its senior leaders are claiming that the BJP would form the next state government in Mizoram, grassroots leaders are of the opinion that the party would succeed in a fewer number of seats.
Hangkhanlian will cover the areas populated by Manipuri voters. "It is difficult for BJP to get an absolute majority in Mizoram. But, we are reaching out to our own people. Due to lack of development, there are fights among various communities. We are trying to convince them to come out and be a part of overall development," he claimed, adding that the party will win at least five of the 40 Assembly constituencies.
Workers of the party claim there is a positive trend favouring BJP in border area districts like Mamit, Kolasib, Lunglei and Lawngtlai.
Sarma, who is monitoring the campaign from the capital city of Aizawl, has ordered his team from Assam to cover all corners of the state. Assam's forest minister Parimal Suklabaidya and other senior leaders are likely to join 'Mission Mizoram'—to form the government in the state with an absolute majority.
"Three districts of southern Assam are important for Mizoram since most people here depend on these areas for the business and trade. There are issues with Bengali-speaking people but nothing hampers the trade relations between two states much. If BJP comes to power, this scenario will improve," claimed Suklabaidya.
The BJP has never won a single seat in Mizoram despite having contested five elections in the state. The party's vote share in 2013 was the highest ever at 3 percent.
Congress, MNF call out 'divisive agenda'
Congress and MNF leaders have slammed the BJP for using its "divisive agenda" for electoral gains. Former chief minister and MNF chief Zoramthanga says that the MNF had shied from aligning with the BJP in the polls as the party intended to disturb peace in the Christian-majority Mizoram. He, however, voiced his disagreement with the Congress over its opinion that the BJP will target dignity of Churches in Mizoram if they come to power. "BJP is ruling a large part of the country. It is not harming the dignity of Church anywhere," Zoramthanga says.
The Congress workers in Aizawl claim the BJP is focusing on non-Christian areas. They say the BJP is a cadre-based party with a common agenda of playing with religious sentiments of the people. They are reaching out to non-Mizo and non-Christian population and may be promoting Hindutva among these populations, the campaigners say.
Szarita Laitphlang, national media head of Congress and Mizoram campaign in-charge, says, "BJP is polluting the peaceful environment by injecting Hindutva ideology here. But, people of Mizoram will not be fooled into voting for BJP. Congress is winning at least 37 seats."
Sarma, when quizzed about allegations of pushing Hindutva in the state, denies the charge.
"Our party is in power in the Christian-majority state of Meghalaya. This explains things. Congress has no reply to our agenda of development. So, they are blaming us of playing the Hindutva card," he says.
The opinions of the Mizo people about the BJP are divided between those wanting to give the party a chance as they are fed up of the failure of the MNF and the Congress in developing the state and those who believe that the national right-wing alternative is not suitable for an ethnic state like theirs.
'BJP, Congress can't understand our issues'
Zoramthanga, too, thinks the saffron party is not fit for a state like Mizoram. "BJP has a clear ideology which is good for other parts of the country, but Mizoram is not their cup of tea. We are happy with the work they are doing in North East but in Mizoram, we are capable of ushering the state towards development, with our own effort," says the two-term chief minister.
Aligning with Zoramthanga's sentiments about self-sufficiency of the Mizo people, Lalrina of National People's Party (NPP) alleged that none of the national parties is capable of bringing a change in tribal states. "In states like Mizoram or Meghalaya, development can come only if local parties are voted to power. BJP and Congress leaders cannot understand our issues and people are aware of this fact. We won 19 seats in Meghalaya and now in Mizoram, we will win at least nine," Lalrina says.
Denying the allegations of promoting Hindutva, Tripura BJP MLA Pramod Reang says, "Our party was blamed in a similar manner in Tripura by the age-old left parties. But, voters nowadays are more intelligent. They chose development in Tripura and they are going to do the same in Mizoram as well."
India
Thirst for a public justice over ill-gotten wealth could be a very strong election plank. It will win over the poor and the middle classes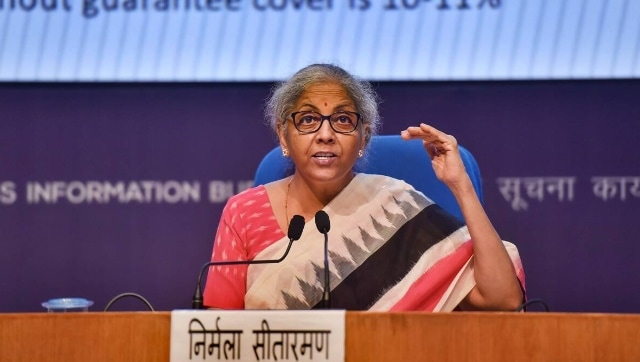 Business
Finance Minister Nirmala Sitharaman said, by classifying education and health as freebies, Delhi chief minister Arvind Kerjiwal is trying to bring in a sense of worry and fear in minds of poor
Politics
Prasad, who was the number two in the BJP-JD(U) government, took on Nitish Kumar a day after the JD(U) leader was sworn in as Bihar Chief Minister again with support from RJD and Congress