BJP policy to differentiate between Hindu and Muslim migrants: Assam minister Himanta Biswa Sarma
Responding to the queries on the dissenting voices on the Citizenship (Amendment) Bill in Assam, convenor of the BJP's North East Democratic Alliance (NEDA) and state minister Himanta Biswa Sarma said that it is his party's policy to differentiate between Hindu and Muslim migrants
The amendment to the Citizenship Act proposed by the NDA government has got mixed response in Assam with protests from different students' unions. On Tuesday, convenor of the BJP's North East Democratic Alliance (NEDA) and state minister Himanta Biswa Sarma said that it is his party's policy to differentiate between Hindu and Muslim migrants, reported The Indian Express.
"We clearly do. After all, the country was divided in the name of religion. Thus it is not a new thing," the newspaper quoted the minister as saying who was addressing the media on the sidelines of his book release – Anya Ek Dristikon.
Referring to the Bangladeshi migrants, Sarma said, "We have to decide who our enemy is. Who is our enemy, the 1-1.5 lakh people or the 55 lakh people?" While Sarma was referring to the 55 lakh Bangladeshi migrants, it was not clear who was Sarma referring to when he quoted 1-1.5 people.
Sarma further asked those opposing the Bill to find out which community threatened to reduce the Assamese to a minority.
Stating that the BJP wanted to protect the Bengali-speaking Hindu migrants and segregate them from the Bengali-speaking Muslim migrants, Sarma said, "We want the Bengali-speaking Hindus to remain with the Assamese people. That is the BJP's viewpoint. It has not changed. It has been the same, both before and after elections."
The proposed 2016 Amendment Bill of the Citizenship Act 1955 – currently under consideration of the Joint Select Committee of the Parliament – will make illegal migrants who are Hindus, Sikhs, Buddhists, Jains, Parsis and Christians from Afghanistan, Bangladesh and Pakistan, eligible for citizenship.
The All Assam Students' Union has been protesting against the proposed amendment for granting refugees from Afghanistan, Bangladesh and Pakistan citizenship. They have been taking out marches across the state since 18 October.
The Trinamool Congress termed it as an "attack on secular fabric of the country", had said it would oppose the proposed amendment to the Act tooth and nail in Parliament.
"If you are Hindu, you will be eligible and if you are Muslim, you will be kept out? Our Constitution does not allow this. The West Bengal government will also oppose it," TMC MP Saugato Roy had said.
With inputs from agencies
also read
India
On the day of the inauguration of the new Parliament building (28 May), Modi will be presented with the 'Sengol' by the 293rd head priest of Madurai Sri Harihara Desika Swamigal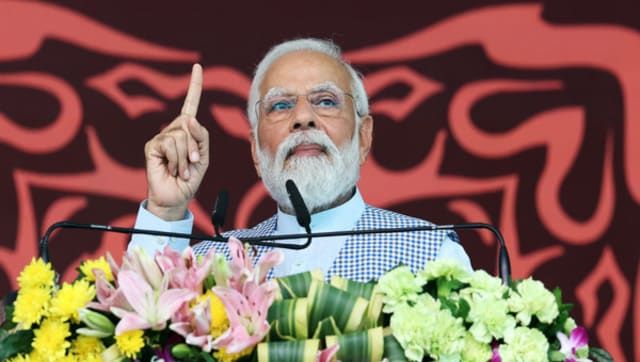 Politics
The rallies will be aimed at winning the 2024 general assembly elections from Uttarakhand by 51 per cent of votes
Politics
Krishnappa, a BJP worker who was allegedly hacked to death, while his wife and son were grievously injured in the attack after they protested against bursting of crackers outside their house in Bengaluru Rural district's Hoskote on Sunday