BJP-NDPP alliance seems set to form govt in Nagaland under Neiphiu Rio: Support from two new MLAs takes tally to 31
With support from two outside MLAs, the BJP-NDPP led People's Democratic Alliance's tally has increased to 31 MLAs, making it the most likely contender to form the government in Nagaland
The Bharatiya Janata Party (BJP) and the Nationalist Democratic Progressive Party (NDPP) coalition has emerged as the most likely contender to form the government in Nagaland.
The People's Democratic Alliance, which BJP and NDPP formed before the polls, won 29 seats. On Saturday evening, the coalition received support from two more MLAs — an independent and a Janata Dal (United) legislator — thus taking its overall tally to 31, one above the magic number of 30 seats required to form the government in the state.
Not long before this development, the ruling Naga People's Front (NPF) president Shurhozelie Liezietsu had said that while their party did not have the magic figure of 30, they would see what happens next. The NPF had suffered an exodus of leaders and workers last year when Neiphiu Rio, a former three-time chief minister of Nagaland, formed NDPP.
Some uncertainty prevailed earlier on Saturday when NPF was winning and leading from more seats than NDPP. At this stage, Union minister Kiren Rijiju had said that BJP would join hands with NPF if the alliance with the NDPP didn't work out, his statement giving rise to much speculation in Kohima.
While launching the NPF's poll campaign last month, incumbent chief minister TR Zeliang had revealed that BJP had asked for 15 seats, which the party did not agree to. State BJP chief Visasolie Lhoungu had also admitted that the party's preferred partner was NPF but disagreement over seat-sharing had forced it to join hands with NDPP.
Soon after the speculations surfaced, NDPP chief was pictured shaking hands with BJP's Ram Madhav, with the winning JD(U) MLA Kayto Aye in tow. Like Rio, Aye too is a former NPF member. He and the lone independent MLA in Nagaland, Tongpang Ozukum, who defeated NDPP's Alemteshir Jamir, have given in writing to Rio that they are willing to support the NDPP-BJP alliance.
Prime Minister Narendra Modi recognised the rise of the saffron party in Nagaland from mere one seat in the 2013 Assembly elections to 11 in the 2018 polls. He tweeted:
Thank you Nagaland for supporting @BJP4Nagaland and our valued ally. I assure my sisters and brothers of Nagaland that we will continue to work for the progress and prosperity of Nagaland. I applaud the tireless work of the local BJP unit.

— Narendra Modi (@narendramodi) March 3, 2018
A close call
The Nagaland Assembly election was a close contest in multiple constituencies with multiple candidates clinching wins by a very low margin of votes. For example, in Tenning, NPF candidate won by a margin of 32 votes, beating the sitting MLA who had won the seat in the last Assembly poll on an NPF ticket but was now contesting on an NDPP ticket. Likewise, the outgoing speaker of Nagaland Assembly, NPF's Imtiwapang Aier, too won his seat by a margin of mere 62 votes. Whereas, the party's MLA from Alongtaki, Benjongliba Aier, lost to BJP candidate Temjen Imna Along by 86 votes.
Alemtemshi Jamir, former Nagaland chief secretary and the working president of NDPP, contested the poll from two constituencies. He lost in both Mongoya and Angetyongpang seats by 348 and 950 votes respectively. Independent candidate Ozukum, who's now supporting the NDPP-BJP alliance defeated Jamir in Angetyongpang.
Rio won from the Northern Angami-2 seat unopposed.
No woman elected
The north-eastern state is yet to get its first woman MLA. At one point, NDPP's Awan Konyak was leading in Aboi assembly constituency by 1,320 votes but her fortune reversed quickly. The winner — the NPF's Eshak Konyak — had also won the 2013 poll with a 693-vote lead over Awan's father and NPF candidate Nyeiwang Konyak, on a Congress ticket. Nyeiwang was a four-time MLA and former education minister. He passed away on 31 January this year.
Awan was one of the five women candidates who had contested the Nagaland Assembly election. She says that she believed she could've become the first woman MLA from the state, adding that she would come back stronger the next time.
Awan praised the "fighting spirit of the BJP's Rhakila", who fought from Tuensang Sadar-II constituency for the third time but lost again. Rhakila was close to a win in 2008, ending up only 353 votes behind the winning candidate. She fought under the banner of BJP in 2013 and lost by 1,075 votes. Meanwhile, 81-year-old Kejong Chang of NPF got elected as an MLA for the fourth time after winning the seat in 1998, 2008 and 2013.
(The author is an Imphal-based independent reporter and a member of 101Reporters, a pan-India network of grassroots reporters)
Find latest and upcoming tech gadgets online on Tech2 Gadgets. Get technology news, gadgets reviews & ratings. Popular gadgets including laptop, tablet and mobile specifications, features, prices, comparison.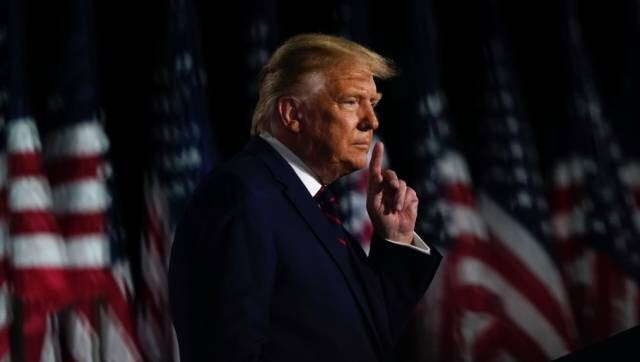 World
For all his rhetorical flaws, Trump has pushed back against aggressive campus feminism, critical race theory and other subversive forces within the US, says doctoral scholar on neo-realism, researcher and columnist Sumantra Maitra.
India
For those who worship Durga, Mahalaya rings in the festive flavour. Although this year, Durga Puja is still a month away, eminent personalities have extended regards and greetings on Mahalaya via Twitter
Politics
Several political parties, including NDA ally Shiromani Akali Dal, have dubbed the three farm sector bills as 'anti-farmers'. SAD has also quit the Union Cabinet protesting against the bills