BJP names Yogi Adityanath as the next chief minister of Uttar Pradesh; here's a brief profile of the CM
Yogi Adityanath, the firebrand BJP leader is the new chief minister of Uttar Pradesh.
Yogi Adityanath, the firebrand and controversial BJP leader, is set to be the next chief minister of Uttar Pradesh. His name has been doing the rounds ever since the UP Assembly election concluded on 8 March, according to IANS, and on Saturday, he emerged as one of the front-runners for UP's top job, alongside Manoj Sinha and Keshav Maurya.
He has been chosen as the UP BJP legislature party leader. He will take oath as UP CM on Sunday, Keshav Prasad Maurya and Dinesh Sharma deputy CMs of the state.
#WATCH Yogi Adityanath chosen as Uttar Pradesh BJP legislature party leader pic.twitter.com/OPnuON4BTg

— ANI (@ANI_news) March 18, 2017
The 44-year-old Adityanath is a five-time Member of the Parliament from Gorakhpur constituency. He has represented the constituency in the Lok Sabha since 1998. His style of politics is popular in the Gorakhpur belt and he is notoriously famous for his 'ghar wapsi' and 'love jihad' campaigns.
In the wake of the UP elections he had also claimed that the saffron party will pave the way for the construction of the Ram temple in the state. The fifth-term Lok Sabha member is the mascot of the party's Hindutva-wrapped agenda of development.
He is the present mahant or chief priest of Gorakhnath Mutt temple in Gorakhpur, Uttar Pradesh. He was appointed Mahant on 14 September 2014.
Yogi Adityanath also heads the 15-year-old Hindu Yuva Vahini (HYV), a Bajrang Dal-style militia, particularly effective in the east UP districts of Deoria, Kushinagar, Maharajganj, Basti, Sant Kabir Nagar and Siddharthnagar. According to The Hindu, the activists of this outfit have been known to convert minor incidents into communal conflagrations.
Born on 5 June, 1972, as Ajay Singh, in Panchur district of Uttarakhand, his guru, Mahant Avaidyanath Maharaj, was a religious leader who is known for his involvement in the demolition of the Babri Masjid. The diminutice shaven headed politician graduated from HNB Garhwal University, Srinagar, Uttarakhand with a B.Sc degree. He is known for his powerful oratory, though most of his speeches hinge on divisive lines and has been in the forefront in keeping the communal politics alive in the country.
He had floated Hindu Yuva Vahini, a right-wing outfit, in 2002. Ever since, the HYV has been largely instrumental in his meteoric rise — from a student leader to five-time MP.
Adityanath has rebelled against his party on several occasions, but because of the sway he holds over the 'Hindu'
voters, the BJP apparently could not ignore his 'leadership qualities.'
Political career 
In 1998, Adityanath at 26, was the youngest member to be elected to the 12th Lok Sabha. In 1998-99, he was a member of the committee on food, civil supplies, public distribution and its sub-committee-B on Department of Sugar and Edible Oils. He was also a member of consultative committee, Ministry of Home Affairs.
In 1999, he was re-elected to 13th Lok Sabha (2nd term) 1999-2000. He remained a member of committee on food, civil supplies and public distribution and member of consultative committee, Ministry of Home Affairs.
In 2004, he was re-elected to 14th Lok Sabha (3rd term) where he was promoted to being a member of committee on Government Assurances, member of committee on External Affairs and member of consultative committee, Ministry of Home Affairs.
In 2009 and 2014, he was re-elected and held positions in committees of tourism, transport and culture.
Controversies
When an undated YouTube video of BJP MP Yogi Adityanath allegedly telling Hindu supporters to marry a hundred Muslim women for every Hindu woman marrying a Muslim and forcibly made to convert to Islam surfaced, it created an uproar across the country, in wake of the 'love jihad' controversy.
In the clip found on YouTube, Yogi Adityanath was heard telling his supporters that the high court in Uttar Pradesh had questioned the state government on why so many Hindu girls were eloping with Muslim men to which the government had no answer. He further narrated what a youth from Gorakhpur said about the issue, "Probably in the rest of UP, Hindu women run away with Muslim but in Gorakhpur, Hindu men marry Muslim women and bring them home."
In 2005, Adityanath allegedly led a purification drive which involved the conversion of Christians to Hinduism. In one such instance, 1,800 Christians were reportedly converted to Hinduism in the town of Etah in UP.
In January 2007, an altercation involving a Hindu group and Muslims broke out during a Muharram procession in Gorakhpur which led to the hospitalisation of a young Hindu, Raj Kumar Agrahari.
The District Magistrate had made it clear that Adityanath should not visit the site as it may inflame tensions.
He initially agreed but after Agrahari died, he disobeyed the magistrate and travelled to the site with a group of his followers.
Adityanath then started a non-violent dharna on the site.
However, inflammatory speeches were made and some of his followers even set fire to a nearby mazar (Muslim mausoleum).
Curfew was imposed by the local police, but Adityanath broke it and was subsequently jailed.
He was arrested and remanded for a fortnight, on charges of disturbing peace. His arrest led to further unrest and several coaches of the Mumbai bound Mumbai-Gorakhpur Godan Express were burnt, allegedly by protesting Hindu Yuva Vahini activists.
The tensions escalated to riots across Gorakhpur leading to the burning of mosques, homes, buses and trains.
In 2015, according to Firstpost, Adityanath had notoriously claimed that the 'ghar wapsi' programme will continue unless conversions are banned and that India's problem was "not poverty" but "vote bank politics fueled by jihadi fervour".
"Conversions spoil communal amity in the country. It should be banned. If conversions continue, I feel 'ghar wapsi' programme will continue," he had said.
During the intolerance debate in the media, Adityanath compared Bollywood superstar Shah Rukh Khan to Pakistani terrorist Hafiz Saeed.
He had said, "Shah Rukh Khan should remember that majority population of the country made him the star, and if they boycott his films, he will also have to wander on streets. It is unfortunate SRK is speaking the same language that of Hafiz Saeed."
That he is not someone who minces words while expressing himself was was manifested when he came out full throttle for yoga in the midst of controversy over the issue saying that those who oppose Surya Namaskar can leave India.
He also made a request that those who see communalism in even Sun God should drown drown themselves in the sea or live in a dark room for the rest of their lives.
On 3 January, 2016, one day after the terror attack on an IAF base in Pathankot, Adityanath blamed the assault on Pakistan, claiming, "The Pathankot attack has once again proved that Satan could change for the better but Pakistan cannot.
Adityanath has had a strained relation with the BJP for more than a decade. With the emergence of a separate powerbase in eastern UP, he has been seeking greater power, causing further conflicts.
In December 2006, Adityanath had organised a three-day Virat Hindu Mahasammelan at Gorakhpur, during the same period when the BJP was holding its National Executive Meet in Lucknow.
The 2007 elections saw a conflict between Adityanath and the BJP leadership - he wanted more than hundred seats in this region to go to candidates selected by him, but the party leadership would not agree.
Subsequently, a compromise agreement was reached, possibly with inputs from the Rashtriya Swayamsevak Sangh, and eight of his candidates were fielded.
In March 2010, Adityanath was one of several BJP MPs who started the defiance to the party whip on the Women's
Reservation Bill.
Though known more for his rightist Hindu politics, it is to his credit that people in Gorakhpur, especially around the temple, hold him in high esteem irrespective of whichever caste or community they belong to.
Even Muslims around the temple are given protection by the Yogi.
Adityanath, who is a strong votary of construction of a Ram temple at the disputed site in Ayodhya, drove BJP's Hindutva campaign in eastern UP in the just concluded Assembly polls in the politically crucial state where it won three-fourths majority.
With inputs from agencies
India
Most of the 14 passengers on board were devotees from Ranchi, Jharkhand, police said. Three women and as many children were found missing while eight were rescued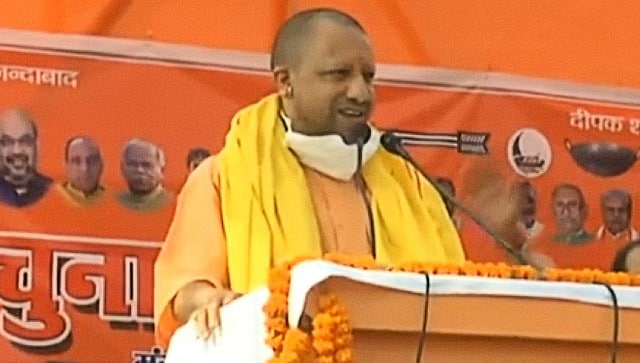 Entertainment
The seers alleged that Bollywood artistes consume alcohol, eat meat and involve in immoral activities due to which they can never represent pious characters of the Ramayana.
India
Ajay Kumar Lallu also said that governments led by BJP, BSP and SP that ruled Uttar Pradesh for the past 32 years failed to live up to the expectations of people