BJP must counter Rahul's charges of 'divisive politics' by dismantling partisan UPA-era policies
The BJP must provide the country with an alternative idea of India. It should be fighting against the 'divisive policies' of the UPA government which are still in place.
Congress vice-president Rahul Gandhi is on a lecture circuit these days in the United States. However, one can observe marked differences between his usual appearances back home and the ones he is delivering in America. He appears better coached. The number of gaffes has come down drastically. And he is making all the right noises on problems that the Modi government is not able to get a grip on—job creation and declining economic growth.
In his speech at the University of California at Berkeley last week, Gandhi even the disavowed United Progressive Alliance (UPA) government's policies which, more or less, were his mother Sonia Gandhi's brainchildren. "The vision that we had laid out in 2004 was designed, at best, for a 10-year period. And it was pretty clear that the vision that we had laid out in 2004… by the time we arrived in 2010-11, it was already not working," Gandhi said. He then went on to blame the Modi government for continuing to build on the failed architecture of the UPA.
One can't say which architecture or vision Rahul Gandhi is talking about. Is he referring to failed socialist economic policies such as the National Rural Employment Guarantee Scheme, the National Food Security Act, the fiscally irresponsible farm loan waiver in 2008, the reckless hikes in minimum support prices, or the Land Acquisition Act? One is not sure.
We can't even say if his admission of UPA's failure is an honest "mea culpa". For all we know, this might just be a feel good soundbyte prepared by some backroom operator to make Rahul look better and forward-looking in comparison to the previous UPA government. Remember, he tore and trashed the ordinance brought by his own government to protect convicted lawmakers. No one bought his theatrics then. This time might not be any different.
However, if we look closely, Rahul Gandhi has caught an affliction his mother suffers from—that of rapping the Bharatiya Janata Party (BJP) for indulging in divisive politics. This is his mother's favourite line of political rhetoric too. She accused the party of running a divisive, communal agenda in 2017, 2016, 2015, 2014, 2013, 2009 and even back in 2004. (This is what a cursory google search threw up. On more rigorous search, one can find that she sings the same song every year)
Elucidating the idea of the Congress, Rahul said, "Some people view India as a piece of land, but I view India as a set of ideas, we have many religions, many languages, every one of them living happily, that is due to the idea of the Congress."
"For thousands of years, India has had a reputation of peace and harmony. There are forces dividing India and ruining our reputation abroad. And it is very dangerous for the country." he added. On the one hand, he said that India has had a reputation of peace and harmony for thousands of years and on the other hand, he added that diverse communities are living in India happily due to the idea of the Congress, which was founded only 137 years ago! Perhaps for a moment, he got back to making gaffes.
It's not that the Congress doesn't engage in divisive politics. It raised the fake bogey of Hindu terror and used the government agencies including the ones entrusted with national security as a political tool to target BJP leaders. After coming to power, it extended reservations to other backward classes in education and jobs. It plays the minority card to perfection in its rhetoric, and at the state level, the politics of its leaders is as divisive as those of any other party.
Then how is it that the Congress is not perceived as communal, and the BJP is? It is simply because of a perception bias in politics. Corruption is to the Congress what communalism is to the BJP. The Congress is corrupt and the BJP is communal—this is the established thinking on Indian politics. However, the reality is not as black and white as this, and has shades of grey.
So, how should the BJP respond? It should quit fighting the losing battle of changing its perception among voters and accept the harsh reality that politics is inherently divisive. In a democratic setup, voters will always be divided and vote for different parties or candidates depending on their positions on issues. If you are in politics, you can't escape dividing people. Hence, it is futile to respond to the Congress' allegations by swimming against the tide. Divisive politics is neither bad nor good. It is what it is—a matter of fact.
However, what the BJP should be fighting against are 'divisive policies' of the UPA government which are still in place. Here's what it should do:
First, the BJP should dissolve the minority affairs ministry. All the schemes run out of this ministry are communal in nature, intended to benefit only six designated sections of the society. Giving scholarships, loans, skills training only to minority students or allocating public money for infrastructure development of districts where minorities are in sizable numbers are fundamentally wrong policies and shouldn't have any place in a secular society. The BJP should argue that the needy students must be given scholarships, not just the needy among the minorities. The unskilled must be given training, not just the unskilled minorities. All poor districts must get priority, not only those which have 25 per cent minority population.
Second, the BJP should repeal the 93rd constitutional amendment, through which minority education institutions are exempt from admitting students from weaker sections of society. This amendment was brought in by the Congress government in 2005. Finally, the BJP should move to reform article 30 (1) which gives rights to minority education institutions to establish and administer institutions "of their choice". This provision is a major obstacle to the establishment of the 'rule of law' in the education sector.
At present, the "rule of law" and "equal protection of law" are the biggest casualties of such divisive policies which have been enshrined in the Constitution and maintained through decades of faulty jurisprudence. These two principles must be resurrected by the BJP and celebrated as the fountainhead of constitutionalism if it is serious about ushering in a new India by 2022.
Repealing and replacing these divisive policies with secular ones is the only effective and productive way to counter the Gandhis. The BJP must provide the country with an alternative idea of India. If it doesn't do so, it will always keep reacting to opposition's charges and end up proving Arun Shourie right. Shourie, it may be recalled, had termed the current dispensation as "Congress+ cow-corruption".
Subscribe to Moneycontrol Pro at ₹499 for the first year. Use code PRO499. Limited period offer. *T&C apply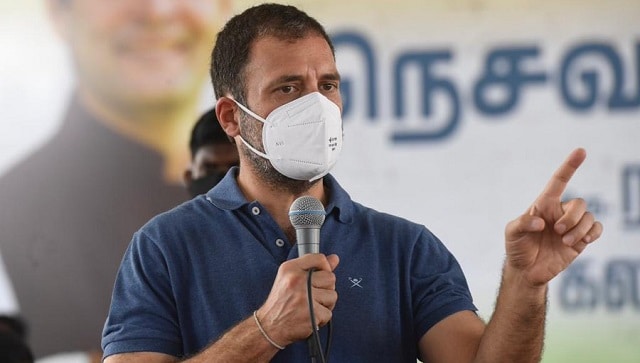 Politics
Gandhi alleged that the RSS is doing something 'fundamentally different' and filling up the institutions of the country with its people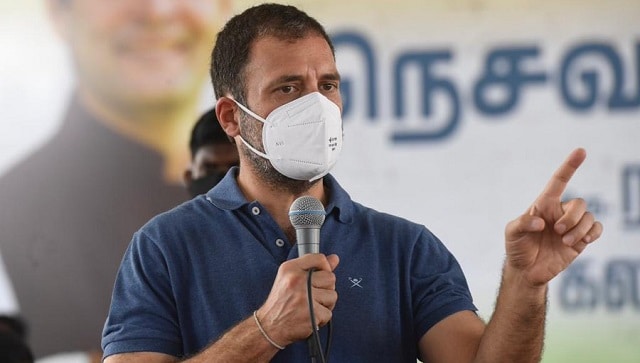 Politics
Speaking at a press conference, Randeep Singh Surjewala said, 'The North-South divide is a toolkit being adopted and sold by the BJP to the news channels and the public'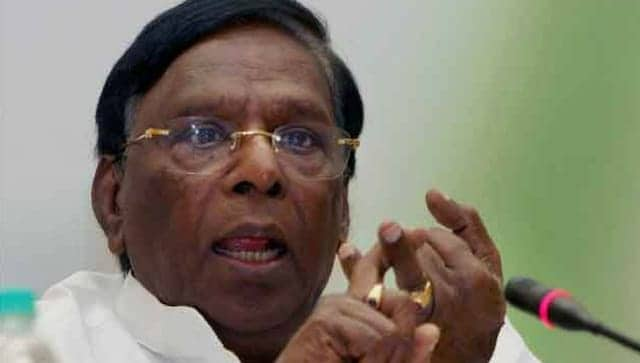 Politics
The collapse of the V Narayanasamy-led government in Puducherry led to a war of words over Rahul Gandhi's leadership of the Congress party and the BJP's 'corrupt politics'