BJP leader Sanjeev Kamboj to Firstpost: Only tweeted about new notes, not ban on Rs 500, Rs 1,000
Arvind Kejriwal on Saturday claimed that 'Sanjeev Kamboj, head BJP Legal Cell Punjab tweeted the picture of Rs 2000 notes on 6 November.' Speaking to Firstpost Kamboj rubbished the claims made by the Delhi CM and said, "I had only written that new notes would soon be introduced. But nowhere I had mentioned banning of the old notes."
In a fresh attack on the BJP government, Delhi Chief Minister Arvind Kejriwal on Saturday alleged that BJP had informed its 'friends' beforehand about its decision to demonetise Rs 500 and Rs 1,000 currency notes, to help them fix their black money.
Addressing a press conference in Delhi, Kejriwal claimed that "Sanjeev Kamboj, head BJP Legal Cell Punjab tweeted the picture of Rs 2,000 notes on 6 November."
"How is it possible that these notes were in his possession before 8 November, the day when the prime minister made the announcement of banning the existing Rs 1,000 and Rs 500 notes?" asked Kejriwal
Firstpost spoke to Sanjeev Kamboj who rubbished the claims made by the Delhi Chief Minister saying, "I had only written that new notes would soon be introduced. But nowhere I had talked about or even mentioned banning of the old notes."
"There were various news reports about the probable introduction of new notes. What was new in that?" Kamboj added.
A lawyer by profession, Kamboj said that he understands the legal consequences of doing any such thing. "I know I can land up in big trouble if I do something so foolish. What Kejriwal is doing is nothing more than dirty politics. He will see what will happen to him in Punjab."
Kejriwal also added that it is being alleged that wads of same Rs 2,000 notes were seen in pictures taken during the wedding of the daughter of Uttar Pradesh BJP Chief, Keshav Prasad Maurya. "But let me tell you that Keshav Prasad Maurya, in fact, does not have any daughter. He only has two sons. This is all a deliberate attempt by AAP and other adversaries to create suspicion and mistrust," said Kamboj.
Jalandhar-based Kamboj claims that Kejriwal is feeling frustrated as his black money has been blocked ahead of elections in Punjab.
Furthermore, Kambhoj denied that the image on Twitter belonged to him. He had received the photo as a forwarded message in the Whatsapp group. He was, however, tight-lipped when he was asked that it was the BJP person who was holding the bundle of Rs 2,000 notes. He said that it could possibly be an employee (bank) holding the note.
When asked that how does he react to Kejriwal's allegation that those in BJP with black money had been informed beforehand and had managed to fix it, Kamboj said, "The government that is working under Modiji is doing great work and will never indulge in such activities. Whoever is wrong will be caught."
He added that he has never met Modi or anyone else. "I think Kejriwal has now given me this opportunity, so hopefully I will be able to meet them," said Kamboj.
also read
India
"Inaugurated the East Delhi Campus of GGSIP University. Built at a cost of Rs 387 cr, primarily through self-financing by GGSIPU (Rs 346 cr) & Rs 41 cr from Govt, the project was initiated in 2013 & foundation stone was laid in Dec 2014 by the then Union HRD Minister," LG tweeted.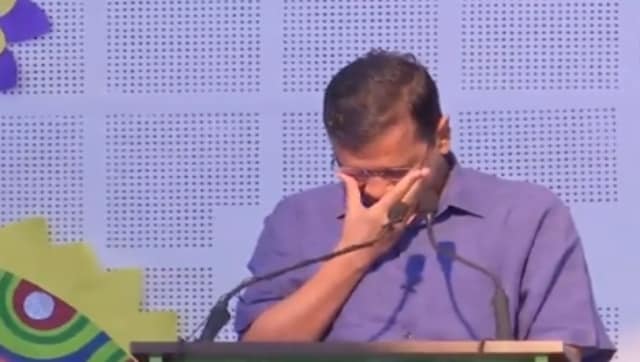 India
Delhi Chief Minister Arvind Kejriwal on Wednesday got emotional as he spoke about the contributions of jailed AAP leader and former minister Manish Sisodia during the inauguration of a new school building in the national capital
India
Following the murder, Delhi Government on Tuesday announced a compensation of Rs 10 lakh for the family of the minor girl