BJP, JD(U) announce seat-sharing agreement for Lok Sabha polls; both parties to contest equal number of seats in Bihar
The announcement by the BJP and JD(U) comes a day after a show of Opposition unity in Bihar ahead of the Lok Sabha polls.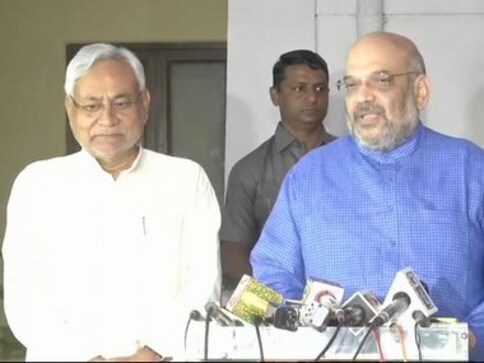 The Bharatiya Janata Party and Janata Dal (United) announced that they will fight an equal number of seats from Bihar in the 2019 Lok Sabha election. BJP president Amit Shah and JD(U) chief Nitish Kumar made this announcement in a brief interaction with the media on Friday.
Shah also assured that Upendra Kushwaha and Ram Vilas Paswan will remain a part of the alliance in 2019. The BJP chief also said that apart from the saffron party and the JD(U), other members of the alliance will also get a respectable seat share, and the numbers will be announced in a few days.
Sources in the National Democratic Alliance (NDA), which includes the BJP and its partners, said the BJP and the JD(U) may contest 16 seats each, with six and two to be left for parties led by Paswan and Kushwaha respectively.
The announcement followed a meeting Kumar had with Prime Minister Narendra Modi at the latter's residence earlier in the day.
It marks a climbdown by the Bharatiya Janata Party, which had contested 30 of the state's 40 seats in the 2014 general elections and won 22, while its two other then allies, LJP and RLSP, had won six and three seats respectively out of seven and three they had fought.
Shah made it clear that the number of seats of all NDA parties in Bihar will come down to accommodate the Janata Dal (United), which had joined the alliance last year after severing ties with the Congress and the Lalu Prasad-led Rashtriya Janata Dal.
The JD(U) had fought the 2014 Lok Sabha polls on its own
Earlier, there were reports that Upendra Kushwaha's RLSP was unhappy with the BJP's seat-sharing formula for the polls in Bihar.
The announcement by the BJP and JD(U) comes a day after a show of Opposition unity in Bihar ahead of the Lok Sabha polls. This was at a rally in Patna, which was attended by the CPI, Congress, CPM, NCP and Loktantrik Janata Dal.
With inputs from PTI
India
The confirmation about the death of tourists stranded near Kapkot's Sunderdhunga glacier came on a day when Home Minister Amit Shah conducted an aerial survey of the rain-hit areas
India
Modi tweeted his greetings and lauded his contribution to the BJP and the government.
Politics
Security was beefed up across Kashmir ahead of the home minister's visit that comes in the wake of the spate of civilians, particularly non-locals and minorities, being killed.