BJP hits back at Rahul Gandhi over Rafale deal, calls his remarks against Narendra Modi 'shameful and irresponsible'
Ravi Shankar Prasad alleged that by demanding that details of the Rafale aircraft be made public, Rahul Gandhi is 'playing into the hands of Pakistan and China.'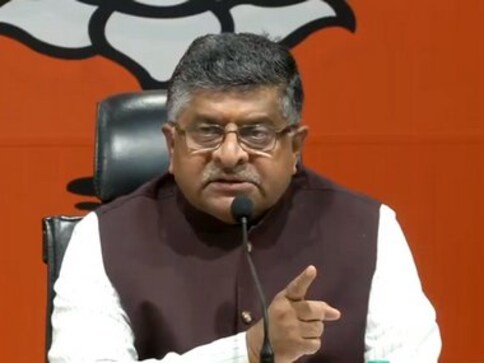 Barely two hours after a combative Rahul Gandhi sought the response of Prime Minister Narendra Modi on the Rafale controversy, the BJP dismissed the Congress president's charges in a press conference. Union Law Minister Ravi Shankar Prasad termed Rahul's remarks—calling the prime minister a 'thief'—'shameful and irresponsible.'
Terming the Gandhi family as the 'source' of corruption, Prasad remarked, "I can understand the pain of Rahul Gandhi. Under the Narendra Modi-led government, the doors have been closed for brokers and middlemen."
The law minister further said, "There is evidence available that a proper Memorandum of Understanding existed between Dassault and Reliance as early as on 13 February, 2013, that is one year and four months before we came to power."
Prasad also said that the government bought only 36 jets as the rest would be made in India. The law minister added that this would create employment opportunities in different parts of the country.
With respect to the price of the Rafale aircraft, Prasad asserted, "The price negotiated by the NDA is 9 percent less for the basic aircraft and 20 percent less in case of fully loaded aircraft, as compared to the UPA's price."
Referring to former French president François Hollande's statement that Dassault had no choice in selecting its Rafale deal partner, Prasad said, "We do not know what his compulsion was. It is none of our concern."
The law minister also alleged that by demanding that details of the aircraft be made public, the Congress president is "playing into the hands of Pakistan and China."
Earlier in the day, Rahul said there was "clear-cut" corruption in the Rafale deal and asked Modi to clear his position on the issue.
Rahul's blistering attack on Modi came a day after Hollande was quoted as saying that the Indian government proposed Anil Ambani's Reliance Defence as the partner for Dassault Aviation in the Rs 58,000 crore Rafale jet fighter deal.
With inputs from PTI
India
The third day of the yatra saw an encouraging turnout of people like the previous two days of the Kerala leg of the foot march which is set to cover 3,570 kilometres from Kanyakumari to Kashmir over a 150-day period
India
The National Commission for the Protection of Child Rights stated that it has received a complaint alleging that Rahul Gandhi and the Jawahar Bal Manch are targeting children with political intentions and forcing them to participate in political activities
Politics
The response that Rahul Gandhi received for his ongoing 'Bharat Jodo Yatra' is a good reason to persuade him to return as the Congress President, senior party leader Salman Khurshid said on Wednesday.