BJP govts announce sops in Assam, Gujarat: Has the season of freebies started ahead of 2019 elections?
BJP cannot deny that farmers issue and the agrarian distress will be the biggest poll issue that they will be fighting the 2019 Lok Sabha election on, and hence can't be left far behind.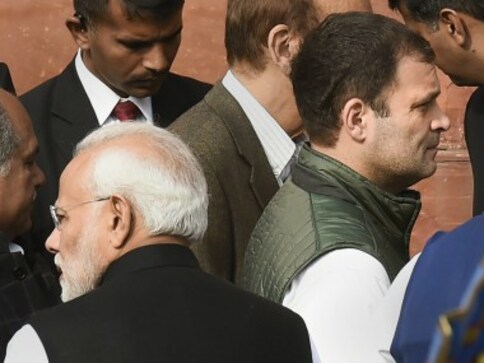 Freebies and elections go hand in hand and with the major state Assembly elections all wrapped up now, the pitch for the 2019 Lok Sabha elections has already begun. In fact, Prime Minister Narendra Modi's visit to Uttar Pradesh's Raebareli, which also happens to be UPA chairperson Sonia Gandhi's stronghold, to flag off the Humsafar Express and oversee preparations made for Kumbh mela, is being dubbed as the opening act of the upcoming general elections.
As far as attracting voters go, it's not that political parties waited for the state elections to conclude: luring voters with varieties of freebies is not a new trend. However, for the past year or so, political parties have focussed on farmers and waiving off their loans which has pretty much dominated the political discourse during all elections.
Waiving off farm loans started as an easy way for governments to pacify agitating farmers, which became a poll issue and soon the poll issue for major political parties. Taking a cue from Maharashtra, soon other states followed suit: Madhya Pradesh, Chhattisgarh, Uttar Pradesh, Tamil Nadu, Karnataka, Jammu and Kashmir, Punjab, Andhra Pradesh, Telangana and Puducherry. In the next few months, expect the others to join in.
The BJP promised to waive farm loans in Odisha if it wrested power from the BJD. And the BJP government in Assam said that it would waive 25 percent of all farm loans, up to a maximum of Rs 25,000. The scheme will benefit 8 lakh farmers.
In Maharashtra, Modi on Tuesday laid the foundation stone for two Metro lines and affordable housing projects worth over Rs 33,000 crore. The BJP plans to showcase the success of its already launched Jalyukt Shivar Abhiyan, a massive water conservation scheme that aims to make the state drought-free by 2019.
However, as argued in this piece, dishing out freebies is not enough to win elections and, in fact, complicates finances of the State rather than helping the situation. Farm loan waivers are not new to the Indian economy. In 2008-09, the UPA-I government announced a farm loan waiver of Rs 60,000 crore. It hit the exchequer and although the banks were insulated, it distorted the credit culture of the country since it discouraged farmers from paying their dues.
Congress president Rahul Gandhi, in fact, made the farm loan waiver one of the main attractions of the 2019 elections when he promised a nationwide waiver of farm loans if voted to power in the 2019 general elections which are less than six months away, and accused Modi of not "waiving a rupee of farmer's loans in the last four years." "We will not let the prime minister sleep till he announces a loan waiver," Rahul said.
After winning in three states in the recently-concluded elections, Madhya Pradesh chief minister Kamal Nath cleared a proposal for waiving farm loans up to Rs 2 lakh and the Chhattisgarh government waived short-term agricultural loans of farmers and hike the MSP for paddy to Rs 2,500 per quintal. Soon after, Assam and Gujarat governments announced similar benefits for the electorate.
The Bharatiya Janata Party (BJP) governments in Gujarat and Assam on Tuesday decided to waive rural electricity bills and farm loans respectively, to the tune of Rs 650 crore and Rs 600 crore. In fact, Rahul taunted the two governments on Twitter:
The Congress party has managed to wake the CM's of Assam & Gujarat from their deep slumber.

PM is still asleep. We will wake him up too.

— Rahul Gandhi (@RahulGandhi) December 19, 2018
Several things are at play here:
Congress is in high-spirits after an electoral victories in three BJP-ruled states.
Congress is also on the back foot after the Supreme Court nixed its claims of corruption in the Rafale deal and the Delhi High Court awarded a life sentence to Sajjan Kumar for his role in the rioting that led to the killing of 3,000 Sikhs in 1984.
BJP cannot deny that farmers issue and the agrarian distress will be the biggest poll issue they will be fighting the 2019 Lok Sabha election on, and hence can't be left far behind.
As per the Registrar General of India and 2011 census, farmers or cultivators make up 118.7 million of the populace and agricultural workers/labourers make up 144.3 million: which comprises 31.55 percent of the total rural population. No national party can ignore this influential bloc of voters. Reports quoted analysts who expect the Centre and various BJP-governed states to provide tangible results of fueling the rural economy and the small and medium enterprises (SMEs). The Centre is, in fact, already working towards doubling farm income by 2022.
As expected, this one up-manship over freebies has kick-started a sort of a populist tug-of-war. Even though there is no escape from the freebie spree during election season, observers have noted that sops are hardly the solution to any problem, and are, in fact the road to serfdom.
India
The flood situation in Assam remained grim on Wednesday as 12 more people were killed and 55 lakh people affected across 32 districts with the rising Brahmaputra and Barak rivers inundating new areas
Politics
The Opposition should not just behave like a government in waiting, but also play a restraining role in the latter's functioning as well as draw up its own comprehensive governance plan
Politics
Protests against the Centre's 'Agnipath' scheme for hiring jawans on a short-term contractual basis were reported from various parts of the country on Thursday