New Delhi: The internal security situation in the wake of the Hyderabad blasts, series of scams including the chopper deal, economic slowdown and relations with Pakistan will be some of the issues that will figure prominently at the BJP conclave to be held in New Delhi from Friday.
The BJP National Executive and Council will meet for three days to chalk out its strategy for the forthcoming assembly and general elections and thrash out details of how to take on the UPA government by highlighting its 'failures' on the economic and security front.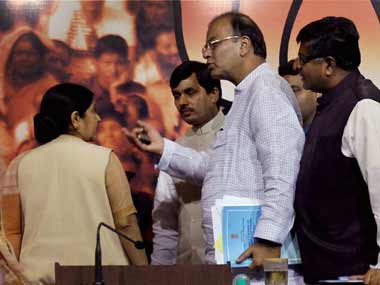 This conclave is crucial as it will be the first such meeting after the election of Rajnath Singh as the BJP chief.
Sources said significant decisions like appointment of the new team of central office-bearers and elevation of Gujarat Chief Minister Narendra Modi and his Madhya Pradesh counterpart Shivraj Singh Chouhan to the Central Parliamentary Board are likely to take place after the conclave. But these issues may come up for discussion informally during the meet.
The National Council will pass two resolutions. There will be a resolution on the political situation prevailing in the country and will deal with the 'policy paralysis' within the UPA government and the 'grim' internal security scenario.
It will mainly focus on terrorism in the wake of the Hyderabad blasts. Other issues will include the slew of scams and corruption cases including the Italian chopper deal, relations with Pakistan especially after the beheading of an Indian soldier and violence in Assam.
The government charge of BJP and RSS sponsoring saffron terror and the Ram Setu issue are also likely to figure.
The Economic Resolution will point out the 'wrong economic policies' of the Manmohan Singh government and insist that this has led to continuing price rise, fall in GDP growth to 5 percent, plight of farmers who have been driven to suicide, lack of foreign investment in multi-brand retail sector despite the UPA decision, among other issues.
PTI
Updated Date: Feb 27, 2013 21:38 PM