BJP candidate for Ramanagara bypoll L Chandrashekar makes U-turn, returns to Congress two days before polling
In a major embarrassment to BJP's Karnataka unit, L Chandrashekar, stepped away from the election and rejoined Congress, declaring support for JD(S)'s Anitha Kumaraswamy
Bengaluru: In a major embarrassment to BJP's Karnataka unit, the party's candidate for the Ramanagara bypolls, L Chandrashekar, stepped away from the election and rejoined the Congress on Thursday, declaring support for his rival candidate — JD(S)'s Anitha Kumaraswamy, wife of Chief Minister HD Kumaraswamy.
"The BJP leaders have not honoured their commitment. There is no unity among them. They did not participate in the campaign. I was fed up of their attitude, so I decided to retire from the contest," Chandrashekar said in a statement. He claimed that the negligent and perfunctory attitude of BJP leaders was the main reason for his decision.
Son of C Lingappa, a Congress MLC currently in-charge of the party's campaign committee for the Ballari Lok Sabha bypolls, Chandrashekar had quit the Congress and joined BJP on 10 October
in the presence of BJP state chief BS Yeddyurappa in Bengaluru.
Angered by Chandrashekar's decision to retire from the contest, Yeddyurappa on Thursday alleged that Congress leaders bought him with money. "Let God do good to Chandrashekar," he said, while refusing to comment further.
Congressman father says 'no interference'
Congress MLC Lingappa claimed he had no clue about his son's defection. "I tried to convince him against joining the BJP when he had told me about his decision. He assured me that he would remain in the Congress, but joined BJP the very next day. I have not spoken to him for more than 20 days. If I supported his decision, why would I canvass for the Congress candidate in Ballari instead of ensuring my son's success in Ramanagara?" he asked, adding that his son is mature enough to take his own decisions.
"Nowadays, children who are in their 20s do not listen to their parents. How can you expect my 50-year-old to listen to me?" Lingappa reasoned, explaining there are no political discussions at home. "My wife looks after the house. I do not intrude into the lives of my sons and daughters-in-law at home. They mind their business, I mind my own. No interference,'" he said.
When questioned about how a Congress leader like him had no prior inclination of the incident, Lingappa said, "You have to ask the leaders who admitted him into the Congress. I think all the Congress leaders are busy with the election campaign. They forgot to inform me."
'Carried Congress culture of betrayal'
Many BJP leaders, including Union Minister for Statistics and Programme Implementation DV Sadananda Gowda, expressed shock over the baffling political move. "I am pained by Chandrashekar's decision to retire from the contest. I had extended support and worked for him. I think God will not forgive him for betraying the BJP at a crucial time," Gowda said. He also said that BJP leader CP Yogeshwar had brought Chandrashekar to the saffron party since he was unhappy with the Congress.
"Many leaders joined the BJP during Assembly elections. Some of them would have joined the party with vested interests," Gowda said, "We thought Chandrashekar's entry would strengthen the BJP in Ramanagara. I supported him when he applied for a BJP ticket to contest from Ramanagara. I think Chandrashekar carried the Congress culture of betrayal and backstabbing with him while joining the BJP. He has now shown his true colours. People will teach him a lesson. I am sure that he has no future in politics," he added.
Speaking to the media, BY Raghavendra, the BJP candidate from Shivamogga, said he was aware of Congress and JD(S) leaders' manipulations. "They were discussing the plan of ensuring a win for JD(S) candidate Anita Kumaraswamy from Ramanagara. Now, they have executed it by using money power,"' Raghavendra said.
Speculation is rife about the role played by Minister for Irrigation DK Shivakumar and his brother DK Suresh, an MP from Bengaluru Rural, in ensuring that Chandrashekar stepped down from the contest and returned to the Congress. Refuting the allegations, Suresh said, "BJP leaders are responsible for their candidate withdrawing from the contest. I have no role in this matter."
Speaking with media persons at Tumakuru, Deputy Chief Minister G Parameshwara claimed that the incident took place since the BJP has no cadre in Ramanagara. "They fielded the candidate after knowing their weaknesses in Ramanagara. The BJP candidate has announced his retirement after realising that defeat is imminent in the upcoming by-election," he said.
The Ramanagara bypoll was necessitated after the chief minister vacated the constituency following his victories in both Ramanagara and Channapatna constituencies. Along with Ramanagara, by-elections will also be held in three Lok Sabha constituencies and one other Assembly constituency in the state on 3 November 3. Results to the by-elections will be declared on 6 November.
The author is a Bengaluru-based freelance writer and a member of 101Reporters.com, a pan-India network of grassroots reporters
India
The BJP leaders have termed the MVA government in the state as brutal for booking Lok Sabha MP Navneet Rana and her MLA husband Ravi Rana in a sedition case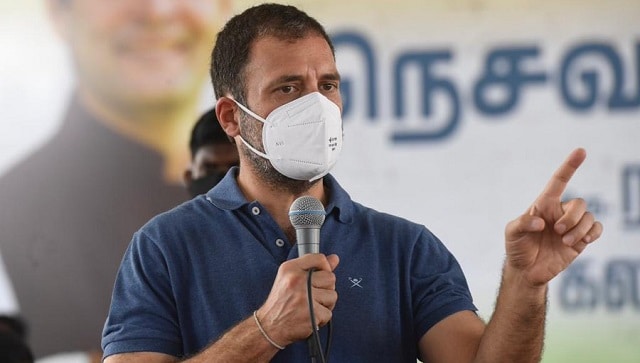 India
Congress leader Rahul Gandhi said there is a fight between two ideologies in the country
India
The Prime Minister said that the BJP-led government, after taking over in 2014, revived the spirit of innovation in India's youth