BJP attacks Congress after report states Rahul, Priyanka Gandhi leased out farmhouse to NSEL scam-accused Jignesh Shah's FTIL
Rahul Gandhi and Priyanka Vadra reportedly leased out a farmhouse in early 2013 to Financial Technologies (India) Ltd, a firm promoted by Jignesh Shah, who was arrested by CBI in a case of alleged cheating. This took place while FTIL was under investigation by Congress-led UPA government for fraud.
"Congress ka haath, corruption ke saath," Union minister Piyush Goyal tweeted on Monday after a report claimed Rahul Gandhi and Priyanka Gandhi had leased a farmhouse to a corruption accused in 2013.
Goyal's comment comes after an Indian Express report claimed that Rahul Gandhi and Priyanka Vadra leased a farmhouse in Mehrauli in 2013 to Jignesh Shah's Financial Technologies (India) Ltd.  This took place when the CBI under the Congress-led UPA government was investigating National Spot Exchange Ltd (NSEL), a company promoted by FTIL, for alleged market irregularities.
An 11-month lease to rent the Indira Gandhi Farm House at a monthly rent of Rs 6.7 lakh was signed by FTIL, the report claimed. An "interest-free deposit of Rs 40.2 lakh divided into two separate cheques of Rs 20.1 lakh" was provided by FTIL. According to the agreement, the company wanted to use this farmhouse as a guest house for its guests and officials.
The rent agreement between FTIL and Rahul and Priyanka is dated 1 February, 2013, nearly 10 months after NSEL received a show-cause notice for alleged violation of norms. In July 2013, the alleged irregularities surrounding the NSEL became public. The rent agreement ended in October 2013, two months before the lease would have expired on 31 December, 2013. Both FTIL and the Congress, however, clarified to The Indian Express that this was nothing but a "routine business transaction".
The BJP also had a press conference regarding the matter, stating that corruption and Congress are synonymous.
Calling Rahul 'Ali Baba', BJP spokesperson Sambit Patra said, "There have been so many corruption scams and scandals in his reign. He surely is a scamster — Alibaba — and these people are his chaalis chor. And yet they talk about how Prime Minister Narendra Modi has been faring in curbing corruption."
This period of one year was the period of bribe exchange," he said, adding, "But after sending the show cause notice, the government did not act on it for almost one and half years."  He said that the NSEL was st up without any regulations by the UPA government in 2007.  He also said that Shah deposited Rs 40.2 lakh into the bank account of Rahul Gandhi which was the corruption in installment. "Two cheques each of value of Rs 20.1 lakh interest-free was deposited in Rahul's account. We want answers from Rahul Gandhi over the issue," he said.
Earlier on Sunday, the BJP accused Congress of "threatening" investigation agencies following raids against people linked to Robert Vadra.
Politics
The BJP's announcement comes on the heels of criticism from Opposition parties like the TMC and Congress, who pointed to the rising COVID-19 cases in the state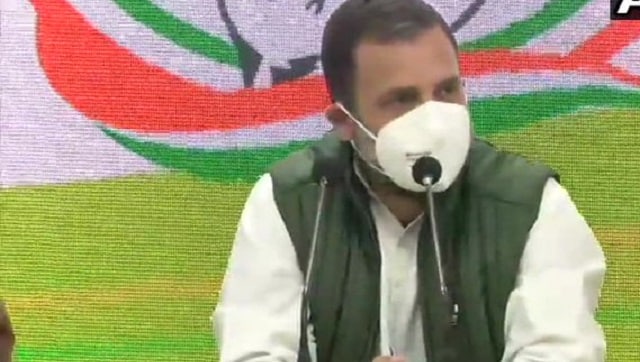 Politics
The Congress leader also exhorted all political leaders 'to think deeply about the consequences of holding large public rallies under the current circumstances'
India
The Congress leader's remarks come after reports that China has refused to pull back its troops from Hot Springs, Gogra and Depsang in eastern Ladakh