It's an unusual poll debate ­on whether Prime Minister Narendra Modi was scheduled to hold rallies in Bihar on 16 October, the day second phase of polling is held.
The JD(U)-RJD claim that Modi was to address three rallies in Bihar — Buxar, Paliganj and Vaishali — on Friday in areas which go to the poll in third phase but sensing a defeat he chose it prudent to cancel these public meetings. JD(U) general secretary KC Tyagi says he had definite information that rallies were planned for Friday and by cancelling his rallies, Modi has conceded defeat. A JD(U) leader, requesting anonymity, claimed that the BJP and central agencies had already informed the Bihar chief secretary and DG police about Modi's program as per the security protocol but said he didn't have any documentary proof.
Five days ago, a day ahead first phase of polling JD(U)-RJD-Congress had petitioned Election Commission urging it to restrain Modi from holding rallies in areas going to second phase on the day first phase of polling (12 October) was on and if his rallies were to be held the media, TV news channels be directed not to broadcast live. The Election Commission had dismissed their plea.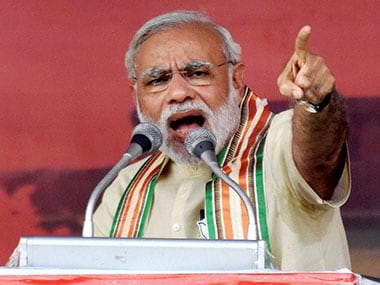 The BJP terms these claims as rubbish and says PM rallies were never scheduled for this date. Party general secretary and in-charge of rallies Anil Jain told Firstpost that no rally was ever planned for 16 October. "How come there are three PM Modi rally and I am not aware of that. We have done very well in first phase and can tell you with great deal of confidence that polling in 32 seats of second phase which goes to poll today would again be hugely favourable to us."
Another senior leader said the next phase of polling is on 28 October and Navratra festivities were on in the state. PM Modi also keeps fast during Navratra and survives only on plain water and Nimbupani. It's not prudent to burden him with campaigning in Bihar during these 10 days of puja period. He would of course come after Dusshera and take up extensive campaign, he said.
Why did the Modi campaign on 12 October, when first phase of polling was on?
Anil Jain says that was because the campaigning for the second phase was to end on 14 October evening and it was pertinent that the PM campaigned for areas going to polls either on October 12 or on October 13.
The timing of debate on Modi's rallies is intended to influence floating voters when they go out to vote.
Interestingly, Mahagathbandhan leaders till Thursday had been claiming that by proposing to hold around three dozen rallies Modi was showing signs of desperation. They also argued that Modi should honour his Prime Ministerial position and thus refrain from addressing public meetings in kasbas, blocks etc. The turnout at Modi's rallies in all parts of the state continued to be very impressive and the crowd clearly responsive.
Now, the JD(U)-RJD leaders say the news of Modi cancelling his rallies on 16 October is a sure sign that he has 'conceded defeat' in these elections and by cancelling rallies he is trying to minimize the damage for self, not for the party he belongs. Politics is an interesting mind game, information of disinformation, arguments and counter arguments used to demolish the rival players positioning. PM Modi is at the fulcrum of electioneering in Bihar. Mahagathbandhan strategists pitched Modi against Nitish and have now with a unique argument ­more rallies means Modi is showing signs of utter desperation and less rallies means that he has conceded defeat.
Be it 2014 parliamentary elections or in subsequent assembly elections Maharastra, Haryana, Jharkhand, Jammu and Kashmir and Delhi, Modi has displayed remarkable keenness and energy to go on extensive campaigning. In Bihar he is doing the same and that has spiced up electioneering.
The Election Commission and security agencies are working hard to ensure free and fair poll in areas going to the polls today in six Naxal-hit districts Kaimur, Rohtas, Arwal, Jehanabad, Aurangabad and Gaya.
Your guide to the latest election news, analysis, commentary, live updates and schedule for Lok Sabha Elections 2019 on firstpost.com/elections. Follow us on Twitter and Instagram or like our Facebook page for updates from all 543 constituencies for the upcoming general elections.
Updated Date: Oct 16, 2015 12:25:04 IST