Bihar political crisis: A look at the tweetstorm surrounding Mahagathbandhan's demise
In July 2015, Nitish Kumar and Lalu Prasad Yadav put aside their differences and joined hands with the Congress to form the Mahagathbandhan.
On Wednesday morning, many hours before news of Nitish Kumar's resignation as Bihar chief minister broke, Prime Minister Narendra Modi took to Twitter and congratulated Kumar for taking a stand against corruption:
भ्रष्टाचार के ख़िलाफ़ लड़ाई में जुड़ने के लिए नीतीश कुमार जी को बहुत-बहुत बधाई।
सवा सौ करोड़ नागरिक ईमानदारी का स्वागत और समर्थन कर रहे हैं

— Narendra Modi (@narendramodi) July 26, 2017
देश के, विशेष रूप से बिहार के उज्जवल भविष्य के लिए राजनीतिक मतभेदों से ऊपर उठकर भ्रष्टाचार के ख़िलाफ़ एक होकर लड़ना,आज देश और समय की माँग है — Narendra Modi (@narendramodi) July 26, 2017
Even to the casual observer, the timing of Modi's tweets are both interesting and instructive. It hints that much has been going on in the corridors of power, out of public view.
After Nitish resigned, Lalu Prasad Yadav took to Twitter, accusing him of hypocrisy:
हमारे ऊपर भ्रष्टाचार के तथाकथित आरोप पहले से ही थे। क्या गठबंधन करते और सरकार बनाते वक़्त नीतीश कुमार नहीं जानते थे?

— Lalu Prasad Yadav (@laluprasadrjd) July 26, 2017
Congress leaders Salman Nizami and Digvijaya Singh also slammed Nitish:
#NitishKumar betraying d mandate of an election is the biggest corruption.The Bihar mandate ws against the BJP &RSS. U just corruptd urself! — Salman Nizami (@SalmanNizami_) July 26, 2017
नितीश जी का क़दम निराशाजनक है।क्या महागटबंधन करने के पहले लालू जी के परिवार के बारे में उन्हें इसकी जानकारी नहीं थी?

— digvijaya singh (@digvijaya_28) July 27, 2017
But many say this split was inevitable. Ever since Nitish and Lalu put aside their differences and joined hands with the Congress to form the Mahagathbandhan in 2015,  tensions have been bubbling under the surface. This Grand Alliance, projecting Nitish as its face, was a wall built specifically to stem the tide of the Modi wave ahead of the Bihar legislative elections. It was a matter of survival.
And it paid off, big time. The Grand Alliance routed the BJP, winning 178 out of 243 Assembly seats.  But right off the bat, tensions ran high.
A series of unfortunate events for Grand Alliance
In January 2016, RJD national vice-president Raghuvansh Prasad Singh hit out at the chief minister, blaming him for the state's deteriorating security situation.  In September 2016, just minutes after politician Mohammad Shahabuddin was released from jail, he took a shot at Nitish, calling him a "chief minister of circumstances".
The chief minister responded to the verbal dig and quipped that the people of Bihar had given him a mandate and that they knew whom they had lent their support to. In a move that raised eyebrows, at the end of September, Nitish broke with his comrades and praised the Centre's surgical strikes.  
In November 2016, Nitish bucked the Grand Alliance yet again, calling demonetisation a direct strike on black money and saying that he supported Modi's move.
In January 2017, Modi returned the compliment when he shared a stage with Nitish, praising him for the prohibition drive and calling it an inspiration. Nitish responded by praising Modi as "our honourable prime minister" and complimented him on keeping Gujarat a dry state.
In March, JD(U) leader Ajay Alok took to Twitter, slamming the alliance partners RJD and Congress for the lack of development in Bihar:
182 project ? Not a single penny spent!! 11000 cr lapsed ,do u know most dept from Cong and Rjd but responsibility is ours @NitishKumar — Dr Ajay Alok (@alok_ajay) March 28, 2017
 Things began heating up in May, when Nitish skipped lunch organised by Congress chief Sonia Gandhi for Opposition leaders to discuss their presidential candidate and instead had a meeting with Modi. He deputed senior JD(U) leader Sharad Yadav to attend the Opposition lunch in his stead.
In May, Lalu's son Tejashwi and BJP leader Sushil Kumar Modi traded barbs on Twitter after Sushil raised questions over two RJD leaders protesting the Grand Alliance. Sushil tweeted:
राजद के MLA सरोज यादव तथा राजद के प्रवक्ता मृत्युंजय तिवारी आमरण अनशन पर हैं।कैसा महगठबँधन है ?राजद को कोई पूछ नहीं रहा। — Sushil Kumar Modi (@SushilModi) May 29, 2017
Tejashwi replied:
हमे कोई नहीं पूछ रहा तो आपके पेट मे मरोड़ें क्यों उठ रहे है? चचा,दोहरेपन की कोई सीमा है कि नही?कभी हमे Super CM बताते हो,कभी कोई पूछता नही😂 https://t.co/KpzTPpym68 — Tejashwi Yadav (@yadavtejashwi) May 29, 2017
On 30 May, Tejashwi, taking umbrage at allegations of corruption levelled against his family by Sushil, slammed the BJP leader on Twitter and challenged him to choose any seat in municipal or ward polls and said "any person nominated by Lalu Prasad would trounce him".
अपने काले कारनामे छुपाने के लिए सुमो दूसरों का नाम जपते है ताकि उस शोर में इनके परिवार की रियल इस्टेट कंपनियों के काले चिट्ठे छिपे रहे। pic.twitter.com/1WKyJDIc9N — Tejashwi Yadav (@yadavtejashwi) May 30, 2017

In June, Nitish decided to back Ram Nath Kovind for president and called to inform Sonia and Lalu that he was doing so because he shared a great rapport with Kovind. In July, the CBI raided Lalu's Patna home, among a dozen other places in an alleged land scam and named his wife Rabri Devi in their police complaint.
The very next day, Lalu's daughter Misa Bharti saw Enforcement Directorate (ED) raids conducted at three different places owner by her in connection with a Rs 1,000 crore benami scam. Two days later, the RJD chief held a meeting of party legislators in Patna and ruled out the resignation of his son Tejashwi as the Bihar's deputy chief minister.
Sonia then reportedly called both Lalu and Nitish over the phone — at the urging of JD(U) leaders who did not want the crisis to spiral out of control — in an attempt to save the Grand Alliance.
On 18 July, Tejashwi, along with his brother Tej Pratap and Congress minister Ashok Choudhary, attended a Cabinet meeting chaired by Nitish.
While it was not clear exactly what transpired during the meeting, it seemed that the Grand Alliance was intact. However, after the closed-door meet, JD(U) leaders stated that corruption charges against Tejashwi were not discussed and that the party was still awaiting for his explanation.
On Wednesday, Lalu emphatically stated that Tejashwi would not resign and stated that Nitish had not asked for his resignation.
Later that day, Nitish quit the Grand Alliance and tendered his resignation as chief minister. Lalu responded by alleging that Nitish had broken the Grand Alliance and had signed up with the BJP because he was facing trial for murdering a man in 1991.
India
The glaring gaps in security must not be seen as an isolated event. It reeks of a larger sinister plan to create unrest in Punjab and the rest of India
India
As seen in Punjab, the Congress is brazenly undermining the office of the Prime Minister and by doing so, also damaging the integrity of our democratic institutions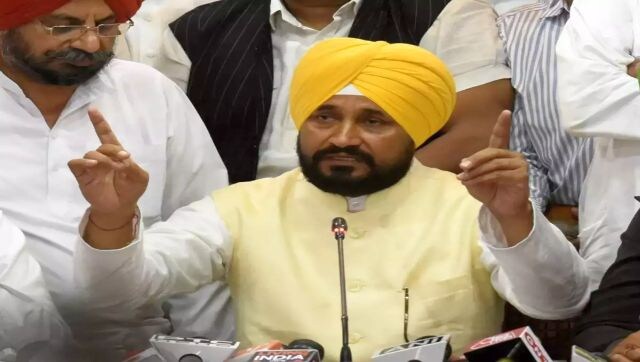 India
The committee comprising Justice Mehtab Singh Gill (retired) and Principal Secretary, Home Affairs and Justice, Anurag Verma will submit its report within three days