Bihar political crisis: JD(U) wants RJD to respond to corruption charges to protect mahagatbandhan
Tejashwi Yadav and other RJD leaders, against whom the CBI has started a probe, should come out with a substantive rejoinder to maintain the Grand Alliance's image, JD(U) leader Pavan Varma said
Kolkata: Deputy Chief Minister Tejashwi Yadav and other RJD leaders, against whom the CBI has started a probe into the land-for-hotels case, should come out with a substantive rejoinder to maintain the Grand Alliance's image, JD(U) leader Pavan Varma said on Saturday.
"They (RJD) must come out with a rebuttal as part of the coalition 'dharma' so that the 'mahagatbandhan's' (Grand Alliance) image in terms of public probity is not damaged," he told PTI in Kolkata.
This must be done in the interest of maintaining probity and integrity of the coalition in the public eye, Varma said.
"We have made our position clear. The RJD leaders against whom allegations have been made must give a public rejoinder which is substantive and factual," he said.
"Our commitment to the 'mahagatbandhan' remains. We are confident that the RJD will respond to the request that has been made," Varma said.
The JD (U) leader was in the city to attend the Indian Chamber of Commerce's 89th Annual General Meeting.
On the CBI probe, Varma said, "An FIR has been registered. If Tejaswi Yadav or other members of Lalu Prasad's family, who believe they have been targeted as these charges are false or politically motivated, then they need to place in the public realm a factual and point-by-point rebuttal."
The JD(U) had on Friday, asked the RJD to come clean on the allegations against Tejashwi, the son of its supremo Lalu Prasad, with facts and not "display arrogance" of having 80 MLAs.
Asked to comment on the CBI acting in cases in non-BJP run states, Varma said, "We support the fight against corruption and Chief Minister Nitish Kumar has always stood for integrity in public life. But we do believe that the BJP-ruled states are not on the CBI (list)."
He cited the Lalit Modi case in Rajasthan, the PDS scam in Chhattisgarh, the investigations into the Vyapam scam in Madhya Pradesh and the land scam in Gujarat in this regard.
The JD(U) has always fought against corruption and this fight should not be "selective", Varma said.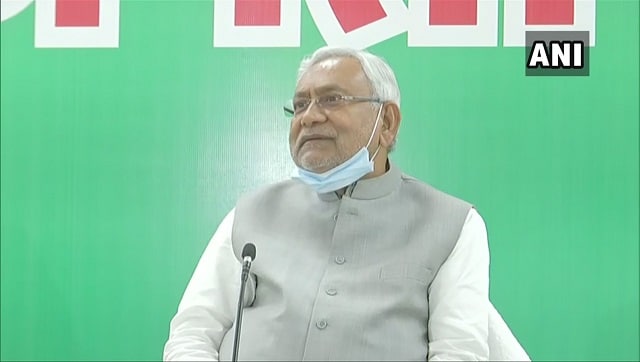 Politics
Highlighting the importance of the caste Census, the chief minister said that it would enable the government to work for the development of various sections of the society
India
In a big nationwide crackdown across 40 locations, the CBI has detained 10 people for taking bribes on behalf of non-profits for allegedly facilitating violations of rules in receiving foreign donations. We take a look at why NGOs keep running into trouble over overseas funds
Politics
The CBI once again raided Karti Chidambaram's homes and offices over fresh allegations of taking a Rs 50 lakh bribe to facilitate the visa of 250 Chinese nationals for a power project. The Congress MP is no stranger to controversy. He's been investigated in the INX Media case and the Aircel-Maxis deal