Bihar crisis: History will record Nitish Kumar as an opportunistic politician, not as a guardian of pure politics
In history books, Nitish Kumar would be mentioned in a footnote as someone who promised greatness but embraced opportunism, bringing about his own political demise.
Nitish Kumar has made a historical blunder by cosying up to the BJP. While the entire country was looking up to him to lead an anti-BJP alliance in the 2019 elections, he has chosen to betray his own destiny by becoming a minion of India's ruling clique, giving up the opportunity to become the leader of its opposition and a possible shot at greatness.
Several decades later, when the history of Indian politics is written, the current chapter of politics is revisited in the light of facts — not fiction or hyperbole — Kumar would be mentioned in a footnote as someone who promised greatness but embraced opportunism, bringing about his own political demise.
Kumar's decision to resign as Bihar's chief minister, though understandable, is shocking. It smacks not just of hypocrisy but also of opportunism on steroids. That he decided to quit as Bihar's chief minister and then return within a few hours with the support of the BJP points at a scripted drama whose denouement was decided in consultation with his one time rivals to the detriment of his current allies.
Why exactly did Kumar quit? Is the charge of corruption against Lalu Prasad Yadav and his family the new god particle of our times -- a phenomenon that was believed but never proved till the Large Hadron Collider proved its existence? When Kumar stitched together his Mahagathbandhan, Yadav was the only prominent leader to have been barred from public office because of indictment for corruption. Back then too, the RJD was considered an avatar of Yadav's politics of graft, casteism and dynastic privileges.
When he had walked out of the NDA, he had objected to the BJP's politics of Hindutva, arguing famously that this is India where you have to wear both the topi (skullcap) and tilak, setting himself up as a patron of secularism. He had broken up with Narendra Modi ostensibly to protest, belatedly though, the riots in Gujarat, refusing even to accept cheques sent by Gujarat in 2010 for flood relief.
So, what exactly has changed since then to push Kumar back into the BJP's eager embrace? Perhaps the realisation that a Bihar in hand is better than two Delhis in the bush. The creeping realisation that his ambition of becoming India's prime minister was like the proverbial bridge of Arnhem, a target too far. That he may lose what he has in the hand because of his quest for what he once had on his mind. Or, just the freedom to run Bihar without the overbearing influence of Lalu Yadav & Sons.
Lalu Yadav's politics of parivarvad (dynastic politics) and patronage is, of course, to be blamed for his own predicament. The charges against his son Tejaswi Yadav, Kumar's deputy, were indeed serious. Investigations into transactions of the Lalu family pointed at serious irregularities, misuse of power. His heft and bullying in the face of graft charges were not just politically puerile but also indicative of the family's reluctance to learn from Lalu Yadav's incarceration and subsequent downfall because of his role in the fodder scam. If Kumar had asked his deputy to quit while the probe was pending, Lalu Prasad should have reined in his hubris and putra-moha (love for son) and obliged the chief minister.
But, what exactly does Kumar gain by running into the BJP's embrace? No doubt he will now have a free hand to run Bihar. He will become Lalu Prasad's regional foe once again after a few months of being one-half of what journalist Sankarshan Thakur describes as The Brothers Bihari. And, he will also enjoy the privilege of being offered the front seat in the NDA regime, the honour of being the primus among pares in the pantheon of chief ministers. But, is this what Kumar would be happy with?
When he beat the BJP in the 2015 assembly elections in Bihar, Kumar's politics was seen as the model for anti-BJPism in India. He was seen as a Modi's rival in 2019, the fulcrum of opposition unity with his pioneering idea of Mahagathbandhan, a grand alliance to beat the BJP's divisive politics. In many ways, he was seen as the exact ideological rival of Modi's brand of politics. With age, integrity and mandate by his side, he was destined to be the alternative India may have considered. That moment, with Kumar's acceptance of the BJP's lifeline, is gone.
For many, Kumar could be to Indian politics what Philippe Petain was to the French in World War II. When the French were beaten and bruised by the Germans, they asked Petain to lead the war because of his credentials as a hero of World War I. The French believed Petain would resurrect the French morale and lead a fightback. Instead, when Paris fell, Petain became the head of the Vichy government, playing an active role in the persecution of Jews and advancement of Nazi interests. Though Petain later claimed he was playing a double game for the benefit of the French, he lost his credibility, aura and freedom.
Kumar was similarly propped up by the opposition to lead the offensive against a rampaging BJP. Just a few months ago, he was the principal architect of the opposition's blueprint for finding a presidential candidate. And now, like Petain, he is comfortably ensconced in the BJP's lap.
Kumar may like to argue that his resignation and subsequent return is aimed at guarding his image of Mr Clean and waging a war against corruption. But, his volte face after, ironically, fighting the election in an alliance with a tainted, convicted politician is just an opportunistic realignment aimed at securing his present at the cost of jeopardising his future.
History recognises either the victors, or their arch, uncompromising rivals. Kumar, by virtue of sometimes being Modi's rival, sometimes his acolyte, is destined to be neither.
Arts & Culture
The library, started in 1891 by eminent personality Khuda Bakhsh Khan, a bibliophile from Bihar who had painstakingly built the collection, is a jewel of art, culture and academia.
Politics
Forty-four assembly seats are going to polls in the fourth phase of the Assembly polls in Bengal on 10 April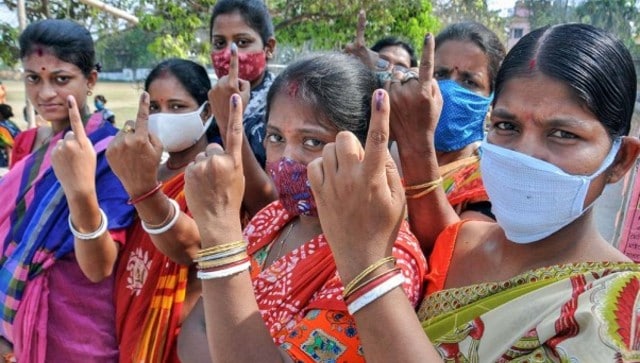 Politics
In this phase, elections will be held in parts of rural Howrah, the Sunderban region, the Diamond Harbour and Baruipur belts in the South 24 Parganas, and parts of the Hooghly district