Bihar cabinet expansion to take place at 5 pm today, over 10 MLAs from BJP likely to be inducted
The Bihar cabinet reshuffle of the two-day old Nitish Kumar government will take place on Saturday at 5 pm
The cabinet reshuffle of the Nitish Kumar government will reportedly take place on Saturday at around 5 pm. The new ministers will be inducted from the ruling Janata Dal(United)-Bharatiya Janata Party alliance, adds the report.
According to an India TV report, 12 BJP MLAs will join the cabinet. Some BJP MLAs who are likely to be inducted in the cabinet are Nand Kishore Yadav, Prem Kumar, Mangal Pandey, Ram Narayan Mandal, Arun Sinha or Nitin Navin, Gyanendra Singh Gyanu or Niraj Kumar Singh Bablu and Anil Singh or Rajneesh Singh. One MLA each is also likely to be considered from the Lok Janshakti Party (LJP) and Rashtriya Lok Samata Party (RLSP).
From JD(U), the MLAs who are likely to be inducted in the cabinet are Lalan Singh, Shravan Kumar , Bijendra Prasad Yadav, Jaikumar Singh, Madan Sahni, Niraj Kumar and Khursheed Alam or Ghulam Rasool Baliyavi.
A day after Nitish Kumar won the trust vote in the Bihar Assembly, preparations are underway at the Raj Bhawan in Patna for swearing-in of new ministers.
On Friday, Kumar comfortably won the crucial trust vote 131-108, after a vitriol-filled debate.
The result of the floor test, held a day after he took office for the sixth time after jettisoning the RJD and embracing former ally BJP, was a foregone conclusion given the numerical superiority of the bloc supporting his government.
Four members in the 243-member house could not vote, reducing the total strength of the house during the trust vote to 239.
Soon after Kumar moved the motion seeking confidence of the House, a rancorous debate ensued, with his former deputy Tejashwi Yadav mounting an all-out attack on him, calling his decision to join hands with the BJP "dhokha" (betrayal) with the people of Bihar.
Yadav's speech was repeatedly punctuated by the word as he blamed Kumar for the disintegration of the grand alliance in the state which also included the Congress.
"Nitish Kumar made me a 'mohra' (pawn) to build his image. The entire action (of seeking his resignation) was just an excuse so he could go with BJP," Yadav, who along with his father and RJD chief Lalu Prasad, and mother Rabri Devi have been made an accused in the hotels-for-land scandal case, had said.
With inputs from PTI
Politics
The announcement was made in Delhi during a press conference by the BJP, which had won 303 of the 403 assembly seats in the last elections in 2017 in Uttar Pradesh
Politics
The BJP has set up teams to supervise the on-the-ground campaigning as part of its strategy to reach out to voters ahead of the upcoming assembly polls.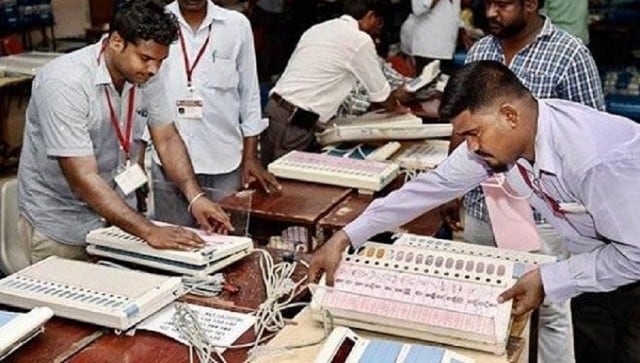 Politics
The party's first list of 34 candidates had similarly excluded Utpal, former chief minister late Manohar Parrikar's son. Utpal Parrikar subsequently quit the BJP and announced that he would contest from Panaji as Independent