Bihar bypolls: JD(U) will not contest Araria, Jahanabad and Bhabhua seats in upcoming in March bye-elections
The ruling JD(U) in Bihar on Saturday announced that it would not field its candidates from any of the three seats where bypolls are scheduled to be held next month
Patna: The ruling Janata Dal (United) in Bihar on Saturday announced that it would not field its candidates from any of the three seats where bypolls are scheduled to be held next month.
The bypolls are scheduled to be held to one Lok Sabha and two Assembly seats.
"State party president Bashishtha Narain Singh has announced that we will not be taking part in the bypolls to the Araria Lok Sabha seat and Jahanabad and Bhabhua Assembly seats," a senior JD(U) leader said.
The bypoll in Araria was necessitated by the death of RJD MP Mohammad Taslimuddin. The BJP had finished second in the seat in the 2014 Lok Sabha polls, closely followed by the JD(U), which had contested the parliamentary polls separately.
The Jahanabad seat has fallen vacant after the death of RJD MLA Mundrika Yadav. The JD(U) had fought the 2015 Assembly polls in alliance with the RJD and the Congress.
The party is now an NDA constituent.
In Bhabhua, the bypoll has been necessitated following the demise of BJP MLA Anand Bhushan Pandey.
Meanwhile, RJD leader Tejashwi Yadav took potshots at JD(U) president Nitish Kumar, saying, "The decision not to contest any seat in the bypolls is indicative of the chief minister's capitulation before the BJP."
"It is just a matter of time before Nitish Kumar decides to merge his party with the BJP and conveniently settle down for a gubernatorial assignment. JD(U) MLAs, though, would be left in the lurch," he tweeted.
नीतीश कुमार हुए बीजेपी के सामने नतमस्तक।जदयू को किसी भी सीट पर नहीं लड़ने दिया जाएगा चुनाव। बताइये, प्रदेश के मुख्यमंत्री की पार्टी की एक भी सीट पर लड़ने की औक़ात नहीं है। जदयू में होगी भारी भगदड़। थोड़े इंतज़ार का मज़ा लीजिए।

— Tejashwi Yadav (@yadavtejashwi) February 10, 2018
Kumar had walked out of the Grand Alliance last year, following corruption cases against Tejashwi Yadav, who was then the deputy chief minister.
India
People blocked roads, pelted stones in Jehanabad district, after a man arrested in liquor trade died in judicial custody in Aurangabad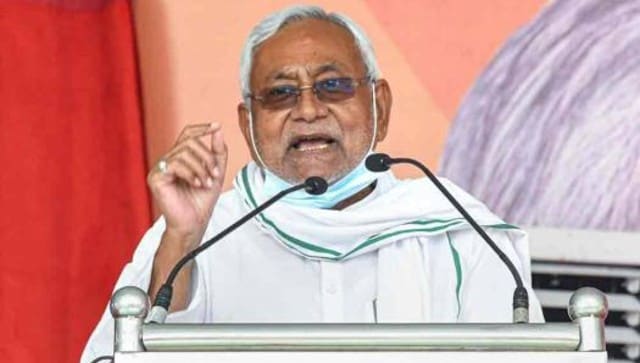 India
The Bihar chief minister said the state Assembly has passed unanimous resolutions twice in 2019 and 2020 in favour of a caste-based census.
Politics
The officer alleged that the police did not lodge an FIR despite repeated attempts and he was made to wait for hours even to get a receipt of his written complaint