'Big money' is backing Modi to end resistance, says Arundhati Roy
'Now, we have a democratically elected totalitarian government. Technically and legally, there is no party with enough seats to constitute an opposition', says Indian-author and activist Arundhati Roy in an interview to the Dawn newspaper.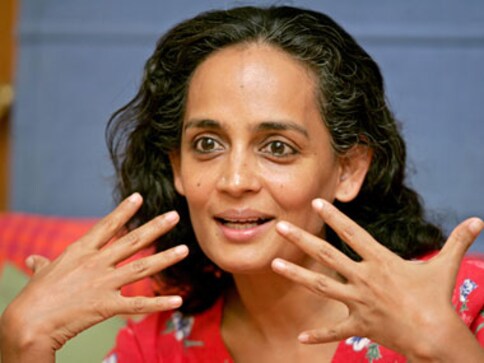 "Now, we have a democratically elected totalitarian government. Technically and legally, there is no party with enough seats to constitute an opposition", says Indian-author and activist Arundhati Roy in an interview to Pakistan's Dawn newspaper.
The booker-prize winning author who has previously made waves by calling Maoists "Gandhians with guns" and talked about secession in Kashmir, has now pointed the dangers of a Modi government.
The surprise lies in what she says Modi may not do: massacre Muslims. Roy says Modi's campaign saw massive money being poured in from corporate houses because they see him as the man who will carry forward their agenda of development. "What he [Modi] will be called upon to do is not to attack Muslims, it will be to sort out what is going on in the forests, to sweep out the resistance and hand over land to the mining and infrastructure corporations. He has been chosen as the man who does not blink in the face of bloodshed, not just Muslim bloodshed but any bloodshed."
But she pulls her punches here. She claims that ending the resistance to this kind of development won't always mean mass massacres."It can also be achieved by putting them under siege, starving them out, killing and putting those who are seen to be 'leaders' or' 'instigators' into prison," she notes.
She adds,"The resistance has to be crushed and eradicated. Big money now needs the man who can walk the last mile. That is why big industry poured millions into Modi's election campaign."
According to Roy, the model of development promised by Modi is pro-corporates and one that is dependent on making sure that resources such as land, water, etc, are easily handed over to them. Modi's model of development is akin to the colonisation model that was followed by Western Europe on its path to 'progress' which relied on usurping resources from other countries, she says, adding, "India has no option but to colonise itself." 
Roy has been critical of how governments have handled the Maoist insurgency in India's central states such as Chhattisgarh, Jharkhand, etc in the past. She has also been fairly vocal about her opposition to the growing influence of corporates in the country. In 2012, she had written a 13-page essay in Outlook magazine highlighting how land acquisition was being carried out in India.
She had written about how, "the land of millions of people is being acquired and made over to private corporations for 'public interest' — for Special Economic Zones, infrastructure projects, dams, highways, car manufacture, chemical hubs and Formula One racing. (The sanctity of private property never applies to the poor.)"
Recently, when Wendy Doniger's book was pulped by Penguin, Roy had written a scathing letter to the publishing house questioning their decision. She had said in the letter, "The elections are still a few months away. The fascists are, thus far, only campaigning. Yes, it's looking bad, but they are not in power. Not yet. And you've already succumbed? What are we to make of this? Must we now write only pro-Hindutva books? Or risk being pulled off the bookshelves in 'Bharat' (as your 'settlement' puts it) and pulped? 
Of course, Roy is not the only voice that has come out and questioned the rise of Narendra Modi to the post of India's PM. Gopalkrishna Gandhi, the grandson of Mahatma Gandhi had written an open letter to Narendra Modi, in The Hindu noting that Modi must dispel the doubts faced by minorities.
He wrote, "All religious minorities in India, not just the Muslim, bear scars in their psyche even as Hindus and Sikhs displaced from West Punjab, and Kashmiri Pandits do. There is the fear of a sudden riot caused with real or staged provocation, and then returned with multiplied retribution, targeted very specially on women. Dalits and Adivasis, especially the women, live and relive humiliation and exploitation every minute of their lives. The constant tug of unease because of slights, discrimination, victimisation is de-citizenising, demoralising, dehumanising. Address that tug, Mr Modi, vocally and visibly and win their trust. You can, by assuring them that you will be the first spokesman for their interests."
Arundhati Roy's latest outpouring of angst adds to the voices of speculation on what Modi will do even before he does anything.
India
The government told the Supreme Court on Monday not to invest time in examining the validity of the sedition law as it has decided to reconsider the provisions by a 'competent forum'
India
In a major road accident on Sunday, nine people were dead in a head-on collision between a lorry and a minivan in the Kamareddy district of Telangana while 17 others sustained injuries
Politics
What Narendra Modi has gone through and accomplished for India is immensely poignant and deeply transformative