Religion as the wellspring of terror — it's one of those redundancies we have held on to for too long. It's an accidental connection that has been hyped too much. It's time to bury it.
Globally, the understanding of terror, particularly Islamic terror, has undergone a massive change during the decade after 9/11. It's increasingly clear now that the actors involved in terror activities may belong to a particular religion but they in no way represent the cause of the religion, neither are they authorised by anybody to do so.
Terrorism, the way we see it now, is largely a secular phenomenon with individual players or groups of them out to achieve goals that have little to do with religion they belong to.
In India, which has been targeted by terror outfits persistently, there's a palpable change in the public perception of terror over the last few years. There is certainly less of communal finger-pointing after terror incidents and still less of flared up communal passion these days.
A whopping percentage of respondents across religions in a CNN-IBN & CNBC-TV18 state of the nation survey believed terror had no religion and a terrorist can belong to any faith. However, between 2009 and 2011, there has been a slight dip in the number of people thinking that way. In 2009, 53 percent of respondents did not believe terror had any link with religion; the number was down to 47 percent in 2011.
Interestingly, 52 percent of urban Hindus and 59 percent of all Muslim respondents did not believe religion and terror were closely linked. Only 30 percent of Hindus and 17 of Muslims believed there was a link. As the numbers suggest, a big majority of Muslims are not convinced that the terrorists had anything to with their religion.
The change in the national mood has been visible for some time, the numbers vindicate the trend. The efforts from now on should be to strengthen it. It would save the country the spiral of violence it has been periodically witness to.
Table 1: Perception on terror and religion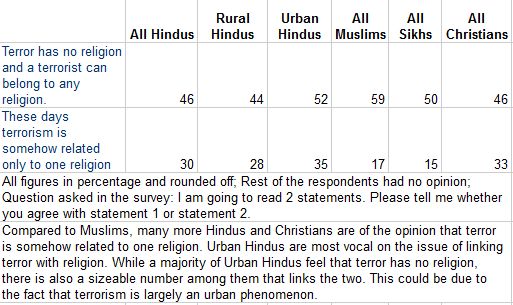 Table 2: Terrorism not linked to religion but...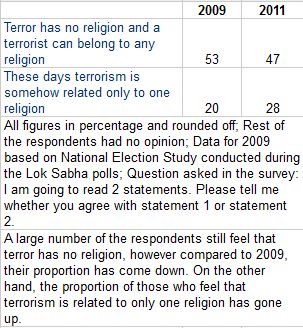 Updated Date: Aug 11, 2011 20:51 PM