Bharat Mata Ki Jai: Here's why 'secular' parties are suddenly jittery about AIMIM leader Owaisi
Theoretically, Owaisi has the potential to damage the prospects of SP, BSP and Congress — the so-called secular parties — in 2017 UP Assembly polls
Two days ago in his farewell speech, noted lyricist and nominated MP of Rajya Sabha, Javed Akhtar, hit hard at Lok Sabha MP Asaduddin Owaisi: "Ek saheb hain who thinks that he is a national leader even though the fact remains that he is a mohallah leader of city of Hyderabad in the state of Andhra Pradesh in India. He said he would not say Bharat Mata Ki Jai because the Constitution does not ask him to say so..."
Akhtar was heard in rapt attention and was greatly applauded by leaders cutting across party lines. Some thumped the desk, some made cheerful, supportive noises. His impassioned speech and Bharat Mata Ki Jai chants hit the headlines and went viral on social media.
A day later, Waris Pathan, MLA of Owaisi's party All India Majlis-e-Ittehadul Muslimeen (AIMIM), was suspended from the remainder of ongoing Budget session in Maharastra Assembly for his refusal to utter Bharat Mata Ki Jai. Pathan's suspension was moved by the minister of state for home, Ranjit Patil, and was supported by the BJP, Shiv Sena, NCP and Congress. It was thus adopted without any discordant voices from any corner of the House.
Another 24 hours later, the Akhilesh Yadav government in Uttar Pradesh denied Owaisi the permission to land in Lucknow to address a public meeting and blocked the AIMIM leader from attending other programmes in different parts of the state on Thursday and Friday.
Even as the UP CM was busy obstructing Owaisi, senior Congress leaders spent the past two days accusing the BJP and AIMIM both inside and outside the Parliament of being "hand in glove" and "complimenting each other's interests".
The Congress leaders seem to have been struck by temporary amnesia because Owaisi had for long been a Congress ally (from outside) in UPA 1 and UPA 2.
It was only in the last stages of UPA 2 that AIMIM withdrew its support both at the Centre and in the then united Andhra Pradesh government. Till then, he would proudly sit on the dais with all due honours in UPA government's anniversary functions held at Manmohan Singh official residence, 7 Race Course Road.
Owaisi often asks: "how could it be that I was secular when I was supporting the Congress and became communal after I withdrew my association?"
The question to ask is this: If Owasi is only a mohallah leader in Hyderabad, why is the Congress or the SP so concerned about him? Why are the Congress leaders giving statements against him on a daily basis? Why has Akhilesh Yadav denied him the permission to land in UP? Have they suddenly woken up to his "communal politics"?
The fact remains Owaisi is what he was. He has not changed a bit. He is making the same arguments that he used to make earlier. What has changed now is that he now has bigger aspirations — Owaisi wants and is now working hard to spread beyond confines of Hyderabad. He wants to go national.
The AIMIM leader is now focusing on UP, politically the most important state in northern India. Let's have a look at what he was scheduled to do on his proposed two-day tour (which has now been cancelled):
Owaisi was scheduled to address a public rally in Lucknow, then have an interaction in influential Darul Uloom Nadwatul Ulma (popularly called Nadwa); travel to Faizabad for a public thanksgiving; onwards to Azamgarh and the much talked about Sanjaypur village (some of those killed in Batla House encounter belonged to this place) and meet the families of the deceased; offer Friday namaaz in local mosque. From there, the AIMIM leader was scheduled to visit Tanda, Ambedkarnagar, the place which was recently in news for communal tension.
Azamgarh is the hotbed of Muslim politics in eastern UP. It is also SP chief Mulayam Singh Yadav's parliamentary constituency. Nadwa and Deoband are two most prominent Islamic institutions which command substantive influence in the community. Owaisi is trying to make his presence felt in Azamgarh, Gorakhpur and Devipatan divisions. This time, he was trying to register his presence in heart of its capital, Lucknow.
The latest controversy around Owaisi has come in handy for the SP-led state administration to deny permission to him. SP's move makes perfect sense because the party is jittery over Owaisi's ability to divide the Muslim votes. The AIMIM leader is trying to cut into the constituency of the two most prominent parties of the state — SP and BSP. He is seeking a Dalit-Muslim constituency.
In last month's bypolls in Muslim-dominated Bikapur constituency of Faizabad, Owaisi's AIMIM fielded a Dalit, Pradeep Kori, as its candidate.
Samajwadi Party won the elections but what is noteworthy is that Owaisi's candidate got 11857 votes, four times more than Congress's tally: 2945. Peace Party, which was formed to claim that it would represent Muslim community interests, got 2800 and BJP tallied 11933 votes.
Mayawati's BSP didn't file a candidate.
Irrespective of its loss, AIMIM's performance became a critical talking point in the region and has startled all political parties. Recordings of Owaisi's speeches are being played out in public meetings and in private audiences. Theoretically, he has the potential to damage the prospects of SP, BSP and Congress — the so-called secular parties — in 2017 UP Assembly polls.
Owaisi has already created new political waves for himself and his party which won two seats from the 24 candidates that he had fielded in 2014 Assembly elections. AIMIM MLA Waris Pathan continues to be in news.
There's no denying that AIMIM failed to put up an impressive show in Bihar. But it is also true that when Owaisi had made up his mind to fight some of the Assembly seats in Bihar and talked about Muslim-Dalit unity, the JD(U)-RJD-Congress combination became very jittery.
JD(U) MP KC Tyagi, who was seen supporting Javed Akhtar's impassioned targeting of Owaisi, had made a number of visits to convince the AIMIM leader not to enter the poll arena in Bihar. Owasi was also persuaded by several other leaders of his community. He took lot of time in deciding in whether to fight or not. He paid a stiff price for his dithering in Bihar. Those who were initially attracted to him deserted him to achieve their larger goal, that of defeating the BJP.
Each election though is a different election. Owaisi is now being attacked but the AIMIM leader has so far thrived on controversies. The shrillness around Bharat Mata Ki Jai has given him free publicity and is adding to his appeal in his core social constituency.
Find latest and upcoming tech gadgets online on Tech2 Gadgets. Get technology news, gadgets reviews & ratings. Popular gadgets including laptop, tablet and mobile specifications, features, prices, comparison.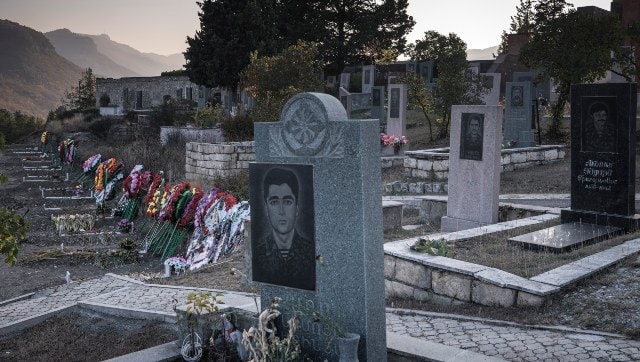 World
For the region's populace, the war is a continuation of on-off violent strife over both territory and history, with roots going back more than a century
India
One person was killed and over two dozen people were injured in firing and stone-pelting during a Durga idol immersion on Monday in Bihar's Munger
India
Raut's remarks came on the heels of criticism from the BJP against Uddhav Thackeray for not venturing out of his house during the pandemic