We were beaten, manhandled: Yadav, Bhushan ousted from AAP amid ugly allegations of violence
Yogendra Yadav and Prashant Bhushan have been ousted from the Aam Aadmi Party National Executive amid scenes of high drama.
Yogendra Yadav and Prashant Bhushan have been ousted from the Aam Aadmi Party National Executive amid scenes of high drama.
Yogendra Yadav's supporters Anand Kumar and Ajit Jha were also dropped.
According to Firstpost reporter Tarique Anwar who is at the venue of the meet, "soon after Kejriwal's address to the AAP's NC meet, a resolution undersigned by 200 members have been moved in the meet to oust the Bhushan-Yadav duo from National Executive. Out of the total 354 members, 300 took part in the move. All the demands put forth by the dissenting leaders were rejected."
The resolution was reportedly then passed by a show of hands.
Speaking to reporters outside the venue soon after the resolution was passed, a visibly upset Yogendra Yadav alleged that the voting had taken place amid violence and heckling. "This is a murder of democracy", Yadav said. "There were some video cameras, I hope they recorded it".
AAP leader Mayank Gandhi said that they were dragged out of the meeting and physically attacked by bouncers, while other NC members made similar allegations. AAP member Ramzan Choudhary said, "I was only asking for a debate in the NE meet, and bouncers beat me. I also have fractures".
Yadav went on to allege that the entire spectacle had been scripted, including the violence. He further alleged that Kejriwal had stood by and watched as his MLAs behaved like 'goondas', shoving and beating up people who were trying to oppose the resolution. "He was pretending to be helpless", Yadav said.
Prashant Bhushan made similar allegations. "There was no neutral factor, Lokpal was absent, our voices were suppressed, we didn't get a chance to answer", he said, adding, " gundagiri hui hai, hamare logon ko pitaa gaya. Jo Arvind ney kal sting mey kahaa, vahii hua, shadyantra tha, pre-planned tha"
Meanwhile AAP's Parliamentary leader, Dr Dharamvir Gandhi, who was inside the hall, has called the entire excercise a mockery and a sham, and came outside with the Yadav-Bhushan duo in protest. "This was gundagiri. This is death of democracy, not the party that we worked in, there was no voting even", he told reporters.
Yogendra Yadav also 'apologised' to the people. "Some of us were prevented from even coming out, this is what is happening here, I'm ashamed, I apologize to all volunteers and supporters. This is not the party we tried to build", Yadav said.
Both Yadav and Bhushan will hold a press conference at 2pm.
Meanwhile in a new development, ANI News reported that AAP is going to lodge a complaint with the party Disciplinary Committee against Prashant Bhushan and Yogendra Yadav for anti party activities. If found guilty they will be expelled from the party.
As of now, Bhushan and Yadav are still members of the party, despite their ouster from the National Executive.
In the first reactions from the Kejriwal camp meanwhile, party spokesman AAP said that the media should not buy the "cooked up story" of manhandling & presence of bouncers, adding that Yadav and Bhushan were spreading lies.
India
Yadav said that with the Haryana police remaining 'adamant' on its stand, the farmers have decided to stage a dharna till the issue is resolved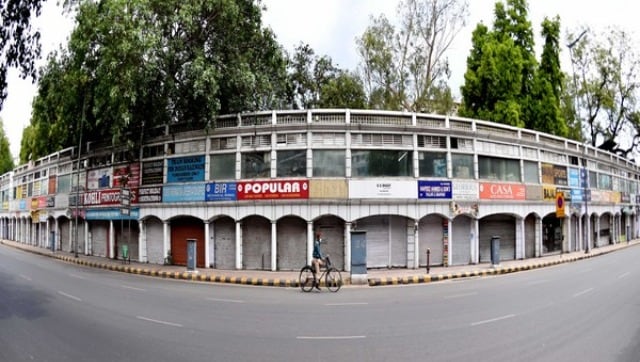 India
Phased reopening of Delhi started with allowing construction and manufacturing activities from 31 May, in view of declining numbers of coronavirus cases and positivity rate
India
The AAP and BJP have traded accusations about the initiative since 6 June, when CM Arvind Kejriwal wrote to Narendra Modi asking why the doorstep delivery scheme had been stalled by the Centre