Battling political challenges galore, E Palaniswamy completes one year as Tamil Nadu CM
Senior party leader and AIADMK spokesperson, B Valarmathi, said Palaniswamy has 'learnt' from former chief minister J Jayalalithaa, the nuances of troubleshooting especially that of 'fighting against all odds.'
Chennai: Assuming the mantle of responsibility amid a power struggle in the AIADMK, Chief Minister K Palaniswamy seems to have proved his mettle in his one-year-rule by overcoming challenges and effectively implementing the 'Amma' government policies.
The former MP hailing from Edapadi in Salem, who will be completing one year in office on Friday, has been credited with deftly handling crisis after crisis that threatened the survival of the AIADMK government in its post Jayalalithaa era.
Senior party leader and AIADMK spokesperson, B Valarmathi, said Palaniswamy has "learnt" from former chief minister J Jayalalithaa, the nuances of troubleshooting especially that of "fighting against all odds."
"He has done really well in the past one year, leading the party and government well as per the wishes of supporters and people. He has been fighting against all odds, in true Amma (Jayalalithaa) style," she told PTI on Thursday.
Jayalalithaa was often lauded for her determination in facing political and governance-related challenges and issues. Valarmathi, a former minister, said Palaniswamy has been "bravely facing so many problems," apparently referring to Palaniswamy's tussle with sidelined party leader TTV Dhinakaran.
Political observers feel Palaniswamy has delivered "effective governance" in the past one year even as AIADMK accuses the opposition of launching a "campaign of falsehoods" against the ruling dispensation.
Another party spokesperson, RM Babu Murugavel, said Palaniswamy, along with his deputy O Panneerselvam, has ensured effective rule in the state.
Tamil Nadu was leading in many social and economic parameters including women's safety, education and law and order, he said, adding, this was proof of the chief minister's good governance.
Following the Panneerselvam storm last year owing to his differences with deposed and jailed party leader VK Sasikala and his subsequent revolt against her, the latter had nominated Palaniswamy for the chief ministerial post.
Touted to be a Sasikala loyalist then, Palaniswamy won a crucial confidence vote days after taking over as chief minister even as Panneerselvam continued his tirade against the government. However, a twist in the script came in August last year when hectic backroom parleys led Palaniswamy and Panneerselvam to bury the hatchet and merge their respective factions.
A key demand of the Panneeerselvam faction to order a probe into Jayalalithaa's death as a condition for merger was also met by Palaniswamy. The merger and subsequent elevation of Panneerselvam as deputy chief minister had angered Dhinakaran whom the chief minister-led cabinet had earlier sidelined.
During the year gone by, Palaniswamy also faced a revolt by 18 AIADMK MLAs owing allegiance to Dhinakaran that threatened the government though they were subsequently disqualified by assembly speaker P Dhanapal.
Many political pundits initially gave little chance to Palaniswamy in the wake of the Panneerselvam episode and later during his tussle with Dhinakaran.
However, they now seem to acknowledge that the leader, known for his calm demeanour, is a hard nut to crack, thanks to his political experience of nearly four decades.
State ministers, including D Jayakumar, now firmly assert that the government will not only live through its term ending 2021, but also continue in power thereafter.
In line with the AIADMK's 2016 poll manifesto, the government has commenced the process of shut down of state-run liquor shops. Palaniswamy's initial orders as chief minister was to close down 500 such outlets.
The government also recently unveiled the subsidised two-wheeler scheme for working women with an annual income of Rs 2.5 lakh which has elicited a huge response.
Entertainment
Other announcements include Amol Palekar and Barun Sobti's ZEE5 original film 200, and child actor Alexa Swinton's casting in the Sex and the City revival.
India
Tamil Nadu HSC (+2) Result 2021 Updates: Students who are not satisfied with their results can appear for a special examination if the situation improves during September or October, said the state education minister Anbil Mahesh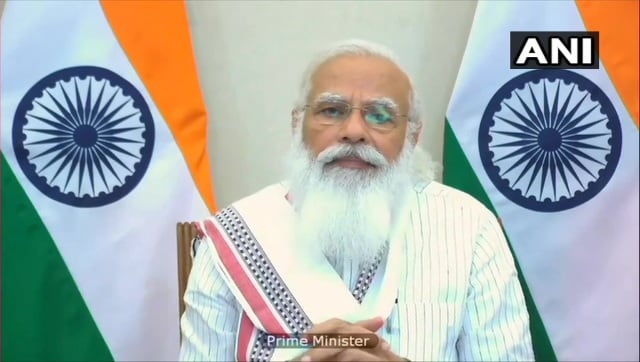 India
During an interaction with CMs of Tamil Nadu, Andhra Pradesh, Karnataka, Odisha, Maharashtra and Kerala, Modi said that 80% of the new COVID cases last week were from these states