Battle of Uttar Pradesh: Samajwadi Party lines up back-to-back meets under shadow of bitter feud
With the spectre of bitter infighting looming large over it, the ruling Samajwadi Party has lined up back-to-back crucial meetings to gauge the mood of party workers at a time when Uttar Pradesh Assembly elections are just a few months away.
Lucknow: With the spectre of bitter infighting looming large over it, the ruling Samajwadi Party has lined up back-to-back crucial meetings to gauge the mood of party workers at a time when Uttar Pradesh Assembly elections are just a few months away.
A meeting of all district presidents has been convened at the SP headquarters in Lucknow on Friday by state party chief Shivpal Yadav, while the party' state executive will meet on Saturday. Besides Shivpal, party supremo Mulayam Singh Yadav and national general secretary Ramgopal Yadav are expected to be present.
Mulayam, who has been seen standing with brother Shivpal, has also convened a meeting of party legislators and ministers on 24 October to "gauge the mood" of partymen and people of their area. "After the meeting, Mulayam might take some tough decisions in the run up to assembly polls. The objective behind the exercise is to show unity within the party but in the present circumstances, it did appear to be happening with Akhilesh and Shivpal supporters stiff on their stands," a senior SP leader said on Thursday.
After the chief minister announced his decision to take out his solo 'Rath Yatra' on 3 November, SP MLC Udayveer Singh wrote a letter to Mulayam demanding that Akhilesh Yadav be made the national president. Another party MLC Ashu Malik sent a missive in favour of Mulayam, saying he was peeved over fingers being pointed at the "great leader".
"SP state president Shivpal Yadav and other members of his family have misled you (Mulayam) and hatched a conspiracy against CM Akhilesh who should be made party national president and given all the powers," Udayveer said in a four page letter to Mulayam.
Defending expelled youth leaders, including MLCs, he said, "They were expelled on false grounds and it is against social justice."
The MLC also attacked Shivpal for supporting gangster-turned-politician Mukhtar Ansari's Quami Ekta Dal (QED) and making allegations that party leaders of Mainpuri were involved in land grabbing and illegal liquor business.
He alleged that Mulayam was "motivating" Shivpal to make such allegations and not acting when an MLA and Mainpuri district unit chief issued a press notes making objectionable comments against SP national general secretary Ram Gopal Yadav.
"A conspiracy was hatched against Akhilesh in 2012 within the family and Shivpal contacted various leaders to stop Mulayam from making him the chief minister," he alleged.
Udayveer also dubbed SP's RS member Amar Singh as "chatur and chaalbaaz" (cunning). Interestingly, during the feud between Shivpal and Akhilesh, Amar was seen as the one who had engineered it.
"While leaders like Gayatri Prasad Prajapati are favoured, dedicated ones like SRS Yadav and Naresh Uttam are sidelined in a deliberate insult to Akhilesh," Udayveer alleged.
His barb came in the wake of Shivpal nominating the controversial minister as the coordinator of the party's Silver Jubilee celebrations on November 5.
Akhilesh will embark on his 'Vikas Rath Yatra' alone from 3 November which might make him skip the party's silver jubilee celebrations.
Apart from reaching out to people and galvanising party workers, his yatra is being seen as a move to truncate the influence of Shivpal, who had been appointed the new state party president in his place.
Advising Mulayam to declare Akhilesh as his "political heir and not an alternative", Udayveer said Akhilesh should be given power to distribute tickets.
However, soon after this letter, another MLC Ashu Malik came out in favour of Mulayam, stating that he was "peeved over people pointing accusing finger at the great leader".
"...people insulting netaji (Mulayam) today will certainly do the same with Akhilesh tomorrow," he said in his Facebook post.
"Those writing letters advising and insulting 'netaji' (Mulayam) in sycophancy did not have the capacity of getting even 500 votes," he said, adding he has seen love between father and son - Mulayam and Akhilesh.
"Akhilesh is an ideal son and Mulayam has always performed his duties as a father. Both of them have clarified that there is no dispute in the party and those sycophants, who are writing letters are insulting both," Malik said.
Meanwhile, as the letter-war heated up, the chief minister took exception to the missives and said workers need not write about him to his father and stop writing such letters altogether.
As infighting continued unabated with Mulayam siding with Shivpal and his cousin Ram Gopal throwing his weight behind the chief minister, the distribution of tickets is likely to create more bad blood in the Mulayam clan.
India
The two Pak-trained terrorists, who were arrested on 14 September, revealed that he had allegedly arranged their transportation to Pakistan and radicalised them to be part of the terror module
India
Uttar Pradesh Chief Minister Yogi Adityanath has ordered strict compliance with COVID-19 instructions issued by the state government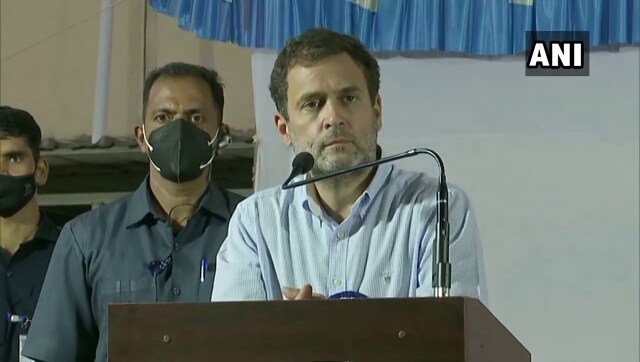 India
Earlier, taking to Twitter, Gandhi posted, "Jo nafrat kare, woh yogi kaisa! (What kind of a Yogi propagates hate)."