Battle of Bhawanipore: Why Mamata Banerjee's seat has become the centre of all attention
The fifth phase is on 30 April (Saturday) and it is only on Monday that Mamata Banerjee held her first rally in Bhawanipore.
Politics is a fickle mistress.
Last December, during an informal interaction with Firstpost at his office in the Writers Building, Aroop Biswas, minister for housing and youth affairs, exuded silent confidence in his body language and conversation. The assembly polls were just over three months away and the All India Trinamool Congress was looking forward in hope. Eyeing a future in Lutyens' Delhi. Bengal was a foregone conclusion.
In a measure of how much the dynamics have changed since that evening, Mamata Banerjee is now facing a tough fight even in her own seat.
She can no longer take for granted even Bhawanipore, the constituency under which her Kalighat residence falls and which has never failed her since she entered the state assembly in 2011 by winning from here with a big margin. Since 1991, Mamata has won the south Kolkata Lok Sabha seat six times on the trot and nearly always by over one lakh votes.
But times have changed. An unprecedented alliance between the Left Front and Congress which was borne out of desperation has since gained in strength and is now giving Mamata sleepless nights.
CPI(M)'s tallest leader Buddhadeb Bhattacharya and Congress vice-president Rahul Gandhi engaged in open courtship on a public platform on Wednesday. Momentum, that inexplicable yet crucial ingredient for success, seems to be on the alliance's side. Even the BJP shows no signs of giving up its ghost without a fight and in Bhawanipore, it is on a strong turf.
Four phases of six out the way, the West Bengal Assembly election bandwagon now reaches the Chief Minister's doorstep and it is here that the opposition — both Left front-Congress alliance and BJP — have decided to launch the bitterest of battles, leaving no stone unturned to give Mamata Banerjee a bloodied nose.
In its symbolic importance, intensity and desperation, the battle of Bhawanipore reflects accurately the tense war that is under way within the confines of Bengal. The script has suddenly become so tight that even the bravest of pundits are keeping cards close to their chests.
If TMC has didi (elder sister), Congress has unleashed boudi (sister-in-law) to counter her. The wife of Congress heavyweight Priya Ranjan Dasmunshi — the former information and broadcasting minister who now remains permanently comatose from brain damage — Deepa Dasmunshi has proven to be a formidable challenger. One of the most prominent figures in Bengal politics, former Union minister Deepa has launched a door-to-door campaign ever since being nominated.
The Congress star candidate has also benefited immensely from the Left Front's organisational strength. From flags, festoons to rallies attended by top CPI(M) leaders, the Left Front has gone the extra mile to make the alliance a success.
The girl-next-door, as Deepa identifies herself to Bhawanipore voters having been born and brought up here, has made corruption and lack of jobs her polling plank. She is crisscrossing the wards with tireless enthusiasm and driving home the message that this time it is a fight between "democracy and despotism."
From questioning the integrity of Mamata over the Sarada and Narada scams to skewering her for the lack of big ticket industry in Bengal, Deepa, who lost the 2014 Lok Sabha polls from Raiganj to CPI(M)'s Mohammad Salim, has shown she isn't intimidated by the scale of her challenge.
Bhawanipore, the birthplace of Satyajit Ray, Shyama Prasad Mookerjee and Subhas Chandra Bose, is as cosmopolitan a constituency as it gets. Bengalis are almost a minority here. The Marwari and Gujarati communities have a strong presence, amounting to almost 65000, a sizeable 25 per cent of the voter base. Punjabi and Bihari communities, too, have an equally muscular attendance. Wards 63, 70, 72 and 74 are considered to be BJP bastions and if the saffron party manages to hold on to its voter base (though it is far from certain), the BJP may turn out to the game-changer in Mamata Banerjee's seat.
In the 2014 general elections, though TMC's Subrata Bakshi eventually beat BJP's Tathagata Roy in south Kolkata seat by over 136,000 votes, Bakshi trailed Roy by 185 votes in the Bhawanipore Assembly segment. In last year's city civic polls, the ruling party lost one of the wards to BJP.
Mindful of the demographics, BJP president Amit Shah held a rally in Bhawanipore on Wednesday and issued a clarion call, asking voters to help BJP win "just one seat". The one here. The rest will take care of itself.
"On my way to Bengal today, I met a youngster at the airport. I thought that he was out to click a selfie with me. He just asked me where I was headed. When I replied that I am on my way to Kolkata, he said that we need 150 seats to bring about a change. I told him there will be change even if we manage a single seat. Bhawanipore it is," Shah said on Wednesday.
In this season of overt and covert alliances, Shah also accused the TMC of striking some sort of an understanding with Left Front and Congress.
"Mamata Banerjee appears to be fighting against the Congress and the Left, but when it comes to the AugustaWestland scam, she doesn't utter a single word against Sonia Gandhi," quipped Shah.
Though the BJP has fielded a rookie candidate in Chandra Kumar Bose, the grand nephew of Subhas Chandra Bose, the party is banking on its traditional strength in this part of the city and has pulled out all stops to make itself count. Towards that end, Shah met members of the Punjabi community after the rally.
Bose, who lobbied hard for declassifying the Netaji files, has not managed to rent even an office space in the locality, instead operating out of his residence, Netaji Bhavan. The new BJP inductee has put all his eggs in the non-Bengali basket.
"Mamata Banerjee has created a façade. She is certainly a mass leader. But unfortunately, she has miserably failed to keep the commitment that she had made during the 2011 elections which brought her to power. She's not a person for governance," said Bose.
The fifth phase is on 30 April (Saturday) and it is only on Monday that Mamata Banerjee held her first rally in Bhawanipore. It is a testament to the difficulty she is facing in this election where virtually all her trusted generals are suffering from a stunning lack of credibility, having tangled themselves in either the Sarada or the Narada scams.
Mindful of the corruption fire that threatens to engulf her party, Mamata has thrust herself as the "only candidate" in all 294 seats, which also meant that she had to roam around every inch of the state to canvass for votes, leaving her with little time for own constituency.
But the chief minister is still confident that Bhawanipore won't fail her.
"I am your candidate. This is my neighborhood and I am sorry I haven't been able to come here before. Never has Bengal seen such a long election — three months. I have been travelling across the 294 constituencies and there are still some left. I have come here as soon as I could, and I have come here to ask for your blessings," she said.
If the leaders are restive, so, too, are the cops. The troops are ready to lay down their lives for Didi and the Election Commission has its job cut out. After a stellar show in the fourth phase which almost went off without a glitch, Bhawanipore has caused more than a few creases on Lalbazar forehead.
Most of the history sheeters have been taken in preventive custody. The known toughs will be under surveillance of about 2800 security personnel. The battle of Bhawanipore has begun!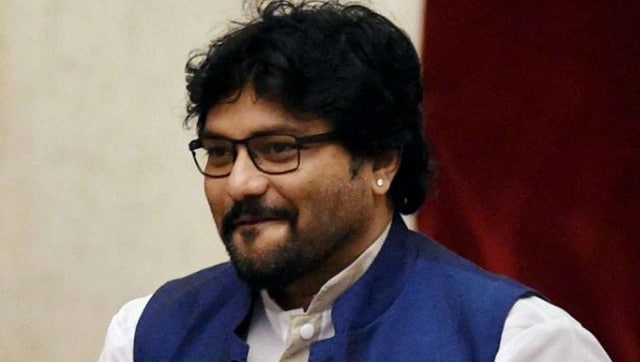 Politics
Mamata Banerjee is an iconic leader and she has shown the country that she definitely has an important role in 2024, says Babul Supriyo
India
Ghosh was allegedly pushed by TMC workers when he went inside a vaccination camp at Jodubabur Bazar area in the constituency, where bypoll will be held on 30 September
Politics
Earlier on Saturday, the home ministry reduced Supriyo's security category from the 'Z' to 'Y' category