Banwarilal Purohit, Satyapal Malik among six new governors appointed: Brief profiles of the appointees
Ram Nath Kovind appointed governors Tamil Nadu, Bihar, Arunachal Pradesh, Meghalaya, Assam and Andaman and Nicobar Islands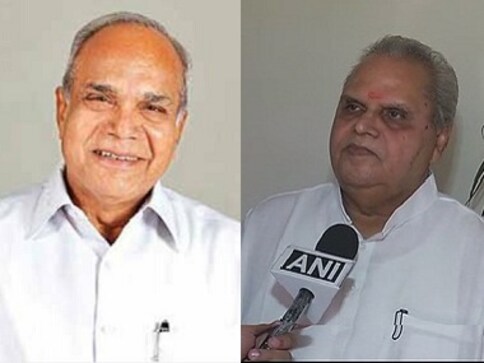 President Ram Nath Kovind on Saturday appointed governors for five states — Tamil Nadu, Bihar, Arunachal Pradesh, Meghalaya and Assam — and the Union territory of Andaman and Nicobar Islands, said a press release issued by Rashtrapati Bhavan.
Banwarilal Purohit was appointed as Governor of Tamil Nadu, while Satyapal Malik would be the new Governor of Bihar; Jagdish Mukhi would be Governor of Assam; former member of Bihar legislative council Ganga Prasad has been appointed as Governor of Meghalaya, while Brig (Retd) BD Mishra will be given charge of Arunachal Pradesh. Admiral (Retd) Devendra Kumar Joshi would be appointed as Lieutenant Governor of Andaman and Nicobar Islands.
Here are brief profiles of the six newly appointed governors:
Banwarilal Purohit, Governor of Tamil Nadu:
Maharashtra governor C Vidyasagar Rao was holding additional charge of Tamil Nadu and there had been demands for the appointment of a full-time governor in the state, in view of the political situation there.
Purohit, 77, who was holding additional charge of Governor of Meghalaya, was a public personality inseparably involved in social, political, educational and industrial fields of Vidarbha in Maharashtra. He plunged into active politics in 1977 and won an election in Maharashtra Assembly for the first time in 1978 from Nagpur east. Purohit is also credited with revival of The Hitavada, an English daily founded by Gopal Krishna Gokhale, the mentor of Mahatma Gandhi.
Purohit holds the position of managing editor of The Hitavada. Under his leadership, the newspaper, according to The Hindu became a leading newspaper of central India, having editions in Nagpur, Jabalpur, Raipur, and Bhopal.
According to The Indian Express, Purohit was elected twice from Congress, in 1984 and 1989, and once from BJP, in 1996. The report added that Congress had ousted Purohit from the party for taking part in the Ayodhya agitation in 1991.
In 2007, Purohit courted a controversy by claiming that Rajiv Gandhi had forged a secret deal with the RSS in 1989 to permit construction of a Ram temple in Ayodhya in exchange for RSS' support to the Congress in the general elections, says The Indian Express report.
Purohit served as as a member of the parliamentary consultative committee on home affairs, member of standing committee on defence and member of public sector undertaking committee after he was re-elected to Lok Sabha from BJP in 1996, said a report in The New Indian Express.
According to a report in The Times of India, Purohit has excellent relations with RSS chief Mohan Bhagwat. Purohit had left BJP in 1999 as he developed differences with Pramod Mahajan. The reports added that in 2003, Purohit formed his own party — Vidarbha Rajya Party (VRP) — and contested Lok Sabha elections from Nagpur in 2004, but lost badly. He rejoined the BJP in 2007.
Satyapal Malik, Governor of Bihar:
Malik, a former MP and BJP's national vice-president, has been appointed Governor of Bihar, since the post had fallen vacant after Kovind was nominated as the BJP's presidential candidate.
Malik is in charge of the BJP's Kisan Morcha and has held many important positions at both the Centre and state. According to Hindustan, Malik is a law graduate. The report added that Malik had contested elections from Samajwadi Party from Aligarh constituency in 1996, but was defeated.
He was Union minister of state, parliamentary affairs and tourism from 21 April 1990 to 10 November 1990. Malik has been a Member of Parliament (Rajya Sabha) for two terms, from 1980 to 1984 and from 1986 to 1989. He was also a Member of Parliament (Lok Sabha) and was also the member of Uttar Pradesh Assembly from 1974 to 1977.
Jagdish Mukhi, Governor of Assam:
Mukhi took to active politics after the Emergency was clamped in 1975 by then prime minister Indira Gandhi. He has won seven times from Janak Puri Assembly constituency in Delhi. Mukhi, who was a professor at Delhi University, had been a minister and Leader of Opposition in the Delhi Assembly.
He has also served as minister of finance, planning, excise and taxation, and higher education in the Delhi government, said The New Indian Express report. It adds that he was honoured as the best planning minister of the nation. He has also written a book titled Company Law and Secretarial Practice.
According to Mukhi's official website, he was born in Dera Gazi Khan district of modern-day Pakistan in 1942 and later migrated to Gurgaon in Haryana. In 1963, he was elected president of the students' union at Raj Rishi College in Alwar as an ABVP candidate, said a report on NDTV. The report added that Mukhi holds Masters in Commerce from Delhi University and has worked with the Reserve Bank of India in the past.
According to a report in The Indian Express, Mukhi came under the spotlight in the last Delhi Assembly elections, when AAP posters showed him alongside Arvind Kejriwal, declaring Mukhi as BJP's chief ministerial candidate to rival Kejriwal.
Ganga Prasad, Governor of Meghalaya:
Ganga Prasad was elected for the first time as a Member of legislative council in Bihar in 1994 and was an MLC for 18 years. He has served in various capacities, such as leader of BJP in the legislative council. A special invitee to BJP's national executive, Prasad has also been leader of Opposition for five years in the legislative council.
Brig (Retd) BD Mishra, Governor of Arunachal Pradesh:
Mishra was the commander of the NSG (Black Cat commandos) counter hijack task force that was involved in rescue operations after an Indian Airlines aircraft was hijacked in 1993. He had received the prime minister's appreciation for his role in the operation in which all 124 travellers and crew members were rescued safely while all hijackers were eliminated, a report on NDTV said.
He has served in various wars and operational roles for the country. He also volunteered for the 1999 Kargil war after his retirement and has received commendations for a gallant role in counter-terrorist operations.
Mishra, according to a report on The Hindu, also fought in the 1962 war against China and the 1971 war against Pakistan. According to The Indian Express, Mishra played a role in tackling the Naga insurgency movement in 1963-1964 in Nagaland. Between 1987 and 1988, he fought against the LTTE as a leading brigade commander of the Indian Peace Keeping Force in Sri Lanka.
The report added that Mishra holds a MA and MSc degrees, from Allahabad University and Madras University respectively. He also has a PhD from Gwalior's Jiwaji University.
Admiral (Retd) Devendra Kumar Joshi, Lieutenant Governor of Andaman and Nicobar Islands:
Joshi was Chief of Naval Staff from August 2012 to February 2014. He had resigned after taking moral responsibility for the fire on the submarine INS Sindhuratna, according to official records.
Joshi has also served as Deputy Chief of Naval Staff, commander-in-chief of the Andaman and Nicobar Island Command, and chief of the Integrated Defence Staff to the Chairman of the Chiefs of Staff Committee, according to The Hindu. He was a defence adviser in the Indian High Commission in Singapore from 1996 to 1999, adds the report.
Joshi is an alumnus of the National Defence Academy and was commissioned on 1 April, 1974, in the Executive Branch of the Indian Navy. He has been awarded the Param Vishist Seva Medal, the Ati Vishist Seva medal, Yudh Seva Medal, Nau Sena Medal and the Vishist Seva Medal.
With inputs from PTI
India
As rescue operations continued for several hours, information on the condition of those trapped in the rubble remained unclear
India
Nirmala Sitharaman said Prime Minister Narendra Modi was also encouraging the party workers, leaders and legislators to work for the welfare of the people
India
This will be the first visit by the head of state of India to these two countries and shows the country's commitment to Small Island Developing States & CARICOM, said Saurabh Kumar