Banned from Anandpur, told to stay quiet: BJP puts Vasundhara Raje in the dog house
After being banned from Anantpur and told to be quiet, Vasundhara Raje's troubles with the BJP are just beginning.
Rajasthan Chief Minister Vasundhara Raje has begun to symbolize everything Narendra Modi stands against. In the 2013 campaign, Modi had roared against dynastic politics, Maa-Bete ki Sarkar, 50-crore ki Girlfriend; he had promised, na khaunga na khane doonga, kala dhan wapas aayega.
Allegations against Raje and her foe-masquerading-as-friend Lalit Modi make a mockery of the PM's pre-poll phrases. Raje is the only BJP chief minister with a dynastic history. She and her son are perhaps the only Maa-Beta duo in the party that has survived in the Narendra Modi raj.
The controversial transaction of Rs 11 crore between Lalit Modi and Dushyant Singh's companies is strikingly similar to the "50-crore" jibe against Shashi Tharoor and the charges against Robert Vadra. The circuitous route the money has taken before reaching Singh's company suggest that its source may be questionable. To complicate matters, Raje is accused of supporting a fugitive's immigration plea and trying to hide it from Indian authorities.
The Raje-Lalit Modi controversy is an embodiment of all that the PM railed against. No wonder, the PM and his team have preferred maun over any attempt to defend Raje.
But the Rajasthan BJP is trying its best to defend the indefensible.
Since early morning on Thursday, Vasundhara Raje was huddled with health minister Rajendra Rathore to manage the fallout of the damning revelations of her links with Lalit Modi. Rathore was once Raje's right-hand man and staunch supporter. But he was dumped from her coterie when Raje became the CM in 2013. Raje's inner clique was taken over by her personal staff and a few bureaucrats.
When Raje's name first emerged in the Modi scandal, there was sudden panic in her coterie. Most of them realised that they did not have the stature or the experience to deal with the crisis. So, on Wednesday night, Raje remembered some of her old loyalists and sweet-talked them into coming to her rescue. A few hours later, her 13, Civil Lines residence in Jaipur was converted into a war room, with Rathore in command.
The Raje loyalists first tried to rally some MLAs to her support. Many of them were exhorted to go to Delhi and lobby for Raje and her son with the high command. But, when news of the marshalling of Raje forces to put pressure on Amit Shah became public, the plan was abandoned. A press statement was hurriedly put out to deny that MLAs were being sent to Delhi.
Late on Thursday night, another statement was issued by her team, saying Raje will go to Anandpur Sahib to participate in a function. This was a red-herring, whose purpose was to create the impression that Raje will speak to Shah and Rajnath Singh, who were also invited to the function.
According to reports, Raje has received a one-line fiat from the high-command: 'Lie low, do not speak to the media." Obviously, there was no question of going to Anandpur Sahib, where her presence would have attracted further controversy, media attention and lots of uncomfortable questions.
An old ailment was trotted out to explain the change in plan. "She has back pain, won't go to the function," a statement on Friday morning from her staff said. Only a day ago, Raje was attending marathon sessions to review government programmes with bureaucrats. The sudden onset of back pain, a rather fortuitous happening under the circumstances, helped her wriggle out of a hopeless situation.
Later in the day came the mother of all cover-ups: the defence of Dushyant Singh's financial transactions with Modi's companies. Between 2008 and 2009, Modi's Ananda Heritage purchased 965 shares in Niyant Heritage, owned by Raje's son and daughter-in-law. The total investment by Raje's son and daughter-in-law is just one lakh. The company had accumulated losses of 39 lakh. Niyant Heritage hasn't earned a penny ever but it managed to sell its shares for nearly Rs 9.28 crore to Modi's companies at an eye-popping rate of 96,200 per share.
But Raje's team put up a defence that was meant to confuse and obfuscate. Niyant Heritage hasn't filed its balance sheet since March 2010. When asked the balance sheet, her advisors gave details of Dushyant's personal Income Tax record. They argued—without documentary evidence—that Dushyant had transferred his ancestral property to Niyant Heritage and their high value justified the share price paid by Modi.
Raje's war-room games tell us two things.
One, she has run out of people to defend her; and those who are batting for her have a weak defence. The Rajasthan BJP has several stalwart leaders like Gulab Chand Kataria, Ghanshyam Tiwari and Om Mathur. But all of them are watching Raje deal with the crisis from the sidelines, perhaps with barely-concealed glee.
Two, the BJP doesn't want her to speak up. The high command believes that the evidence against her isn't conclusive. A few more things could stumble out of her and Modi's closets. So, it would be better to let the storm recede, assess the damage and then take appropriate action.
Only Modi and Shah know if they are willing to back her. Several reports indicate the PM is worried because of the fall-out of the controversy. Others within the party believe it would be difficult to silence the opposition in the Parliament if the PM doesn't act fast and practice the phrases he preached. Her supporters are confident that the BJP will brazen it out and let her continue till the case against Raje is proven.
Raje's in the middle of a grim battle for survival. If the party's decision to ask her to stay away from the Anandpur Sahib function is an indication, the purported back pain may just be the beginning of Raje's political troubles.
India
Amit Shah said BJP would end minority reservations in Telanagana and increase the quota for STs, SCs and backward classes
Politics
The home minister's public meeting assumes political significance as BJP is making a bid to emerge as an alterantive to the ruling TRS in next year's Assembly elections in the state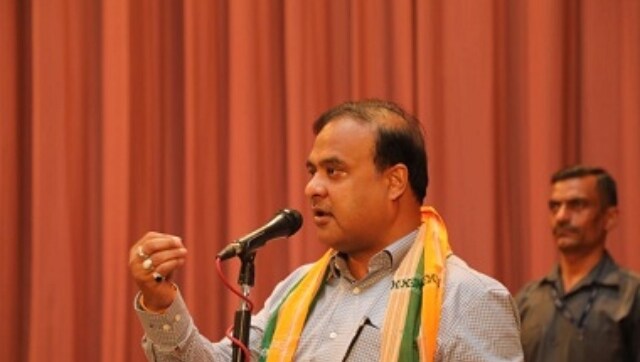 Politics
The BJP maintains it was a 'human error', while the Opposition smells conspiracy to 'promote' Amit Shah as the next prime minister