Badals trying to scare me away from Punjab: Arvind Kejriwal
Arvind Kejriwal alleged that Tuesday's attack on his vehicle was an attempt by the Badals to scare him away from Punjab.
Dhuri: AAP national convener and Delhi Chief Minister Arvind Kejriwal on Wednesday alleged that Tuesday's attack on his vehicle, when he was going to Nihal Singh Wala to address a rally, was an attempt by the Badals to scare him away from Punjab.
"They can never break my resolve to work for the welfare of Punjab which has been ruined during the misrule of Akalis and Congress," he said while addressing a rally here on the fourth day of his 11-day tour of poll-bound Punjab.
Blaming the SAD-BJP government for the "deliberate" breach in his security, Kejriwal alleged, "It was an attack on me by the Badals to scare me away from Punjab."
"I myself saw a police officer indicating towards a group of 15 to 20 people, who came rushing towards me and started attacking my vehicle with canes," he claimed and asked, "Can someone dare to do that with the Badals in Punjab? I think it was a deliberate attack".
"I don't need security by the Badals, I have come here to sacrifice my life for the sake and cause of Punjab. I am ready to fight till my last breath for the people," Kejriwal said.
Hitting out at Prime Minister Narendra Modi for causing inconvenience to the people through demonetisation, he alleged, "It is the farmers, shopkeepers, women and government employees who have suffered the most and are forced to stand in the queues to withdraw their own hard-earned money."
He alleged that Modi was only making fool of the people as demonetisation has actually benefited business tycoons.
"If Modi really has brought back black money, then the black money amassed by the Badals and those stashed by Amarinder in foreign banks should have been brought back," he said.
On the attack on Preacher Ranjit Singh Dhadrianwale, Kejriwal asked, "If religious preachers are openly attacked, how can Badal ensure safety and security of the common man?"
He alleged that the SAD-BJP government, which claimed to be panthic, has "failed" to arrest the culprits in a series of sacrilege incidents in the state and assured that if AAP forms government in the state the culprits will be nabbed.
Alleging that Punjab Congress chief Amarinder Singh and the Badals are contesting the Punjab assembly polls jointly, he said, "I have learnt that many hoardings of Congress across Punjab have actually been funded by Badals."
"Similarly, they (SAD and Congress) are seen together waving black flags at me wherever I go. I have never seen Akalis showing black flags to Congress leaders and vice versa," Kejriwal said.
Speaking at Dirba he alleged, "A month ago the Badal government withdrew a corruption case against Amarinder. It was a favour reciprocated to him for opposing the CBI probe against Revenue Minister Bikram Singh Majithia for his involvement in the multi-crore drug racket."
Similarly, when Amarinder was the chief minister, from 2002 to 2007, he had never acted on the corruption cases against the Badal, the AAP national convener alleged.
"Everybody knows Amarinder and his family have stashed ill-gotten money in Swiss Bank accounts. But Badal, in his 10 year as the Chief Minister, never acted against him," Kejriwal alleged.
Asserting that AAP forms government in Punjab, it would not tolerate corruption, he said, "AAP has always worked against corruption. When I came to know an AAP minister was trying to seek a Rs 6 lakh bribe, I threw him out of my Cabinet immediately."
However, Badal has failed to take action against his ministers Tota Singh and Majithia, who have been accused of corruption and drugs, Kejriwal said.
He claimed that Badal instead of acting against corrupt leaders was filing "false" cases and lathi charging Anganwadi workers and teachers, who peacefully protest for their rights.
"Congress too failed to take action against Sajjan Kumar and Jagdish Tytler who were involved in the 1984 anti-Sikh riots," he said, adding Amarinder has given clean chits to Tytler and Kamal Nath.
Accusing both SAD and Congress of surrendering Punjab's right on river water, senior AAP leader H S Phoolka said the party will not allow a single drop of water to be taken from the state.
"The SAD-BJP combine and Congress have misled people on Sutlej-Yamuna-Link canal issue. The notification of acquiring land for it was issued by the then Prime Minister Indira Gandhi and Amarinder had supported it," he alleged.
Politics
The former Punjab chief minister in his press conference said that he had applied for a party name and a symbol and awaiting the Election Commission's approval to make a formal announcement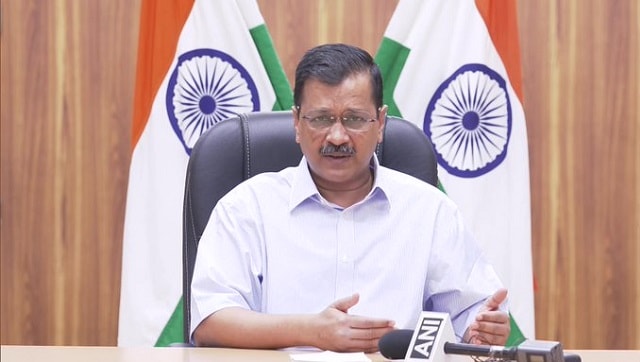 India
The Delhi chief minister had announced a similar kind of winter action plan to combat air pollution last year too, but to no avail
India
The countrywide vaccination programme was launched on 16 January by Prime Minister Narendra Modi with the aim of covering all of India's 944 million adults this year