Badals mess up Punjab's finances, opposition says state will take 15 years to recover
Former finance minister and Congress MLA from Sanour, Patiala, demanded that the government immediately announce a financial emergency in the state.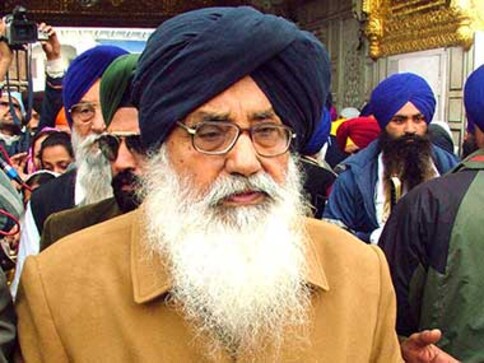 Chandigarh: Just before Assembly elections, chief ministers in India love to open their purse strings and roll out a spate of sops and welfare schemes to impress voters.
But, Punjab Chief Minister Parkash Singh Badal will be deprived of the luxury of hitting the campaign trail in a blaze of glory because of an economy that resembles a mess, most of it created by his own government. Forget sops, the Punjab government doesn't even have enough in its coffers to pay salaries.
Punjab's total debt is around Rs 1.02 lakh crore at present. By the end of next fiscal, it is expected to rise to more than Rs 1.24 lakh crore, according to state's own admission. The debt burden will more than double from Rs 61,850 crore in 2007-08, when the Akali government took over the government from the Congress.
The total debt is now almost 30 percent of the state GSDP, a figure that is much higher than the national average of 21 percent. The huge debt has led to the creation of a committed interest liability of Rs 9,900 crore per year. This forces the state to spend almost 21 percent of the revenue receipts on payments of yearly interests alone.
Other indicators point to poor financial health. The state's revenue deficit now stands at 1.8 per cent of GSDP. Though this has come down marginally since 2012-13, it is alarming because most Indian states are now revenue surplus.
Earlier Punjab used to borrow money from the markets heavily, but over a period of time the banks grew wary of lending money because of its poor record of payback. So three years ago when Punjab tried to borrow around Rs 2000 crore, the nationalized banks refused point blank, saying they could lend money for infrastructure development, but not for daily expenses of the government. This forced the state government to sell government owned land to raise funds to tide over the acute financial crunch. In many cases the government even mortgaged land and properties of the state government at a heavy interest rate.
In the last three years (2013-15), the Badal government has been forced to mortgage 12 prime properties of the state to raise around Rs 2100 crore to run the government, pay salaries to 4.5 lakh staff, money to 1.5 lakh pensioners and make financial arrangements for various subsidies and finance government schemes.
The mortgaged properties include Punjab Urban Development Authority (PUDA) building, Mohali, PUDA Enclave Jagraon and Patiala, Jail site property, Jalandhar and Mental hospital, Amritsar, Gandhi Vanita Ashram for widows in Jalandhar, PWD department-Patiala, Old District Courts, Ludhiana etc. The properties have been mortgaged to Punjab National Bank, Canara Bank, Bank of India, Bank of Baroda and Punjab and Sind Bank.
Defending the Punjab government's move to mortgage property, Manvesh Sidhu, chief administrator, Punjab Urban Development Authority, said it was nothing unusual and many governments follow the same procedure. "We are using this routine method (mortgage) for the right purpose and to meet the expenses. We have raised Rs 2,100 crore from banks, but we are not defaulting on repayment. We are paying back money on the right time at 10 to 12 percent interest rate. We have already paid back around one fourth of the loan money taken for seven years. Mortgaging is always better than selling land outright," Sidhu told Firstpost.
Interestingly Manpreet Badal, leader of Punjab People's Party (PPP) and former finance Minister of Punjab, had cautioned the government about the dwindling financial position of the state when he was part of the government.
Manpreet, who is related to the chief minister, had suggested measures like cuts in various subsidies and ways to raise resources, but the Badals had opposed his move on the ground that these were anti-people. In protest Manpreet Badal had quit his post and the Akali Dal.
Talking to Firstpost, Dharamvir Gandhi, AAP MP from Patiala said the Akalis are to be blamed for the financial crisis. "Punjab is financial mess today. It is bankrupt because the Akalis financially ruined the state. Even if a new party comes to power, it will need at least 15 years to set things right," rued Gandhi.
"All the revenue earning resources have been usurped by the Akalis to fill their personal coffers, even as the state treasury remains empty. The state could have earned profit from the transport department, but it is Badals' private bus service which is making all the money. The Badals have monopoly over the sand and gravel mines of the state. The cable network is owned by the Badal family. There is so much of corruption in the state. All these private enterprises have deprived the treasury of revenue," Gandhi told Firstpost.
Former finance minister and Congress MLA from Sanour, Patiala, demanded that the government immediately announce a financial emergency in the state. "The Akalis have sold and mortgaged government properties to raise Rs 2,100 crore. The state is totally bankrupt today because of financial mismanagement. There is no development work anywhere, roads are broken except in Bathinda (pocket borough of the Akalis) , power supply is poor, there is no money to pay salaries to staff. Wary of financial mismanagement, the BJP government at the Centre has not given it any special package to Punjab," he said.
Finance Minister Parminder Dhindsa, however, denied there was any financial crisis in the state. Dhindsa told the media in Chandigarh that the Punjab government was clearing more than Rs 4,000 crore bills every month and was trying its best to release salaries and bills on time.
India
Navjot Singh Sidhu, who has been sentenced to one year in prison in a 1988 road rage case, will be trained for the job of a clerk for the first three months during which he won't be getting any remuneration. He will be working in two shifts - 9 am to 12 pm and 3 pm to 5 pm
Politics
Sandeep Tanwar, Former Delhi PCC member Rajkumar Sharma, Youth Congress Committee office bearers of Karolbagh district Suryansh Tanwar and Rajneesh Tanwar as well as Dinesh Nirman were inducted into the AAP on Saturday
India
Congress leader Navjot Singh Sidhu surrendered before a court in Patiala on 20 May and will be serving his one-year sentence in the central jail