Backtracking on Modi's Rambo rescue: Too little, too late?
After days of silence, BJP aides have finally clarified that Modi's rescue effort is indeed fiction. But it won't undo the damage wreaked by the fairytale.
It was an odd story that read more like Faking News than political PR. A single article in Times of India sparked off a furore about Narendra Modi's 'Rambo' rescue effort which deployed 4 Boeing jets, 25 buses, and 80 Toyota Innovas to allegedly save 15000 Gujarati pilgrims stranded in Uttarakhand.
The facts were unsourced and mostly unconfirmed by official Modi or BJP aides except for one quote from an obscure BJP leader, Anil Baluni. (A recent Firstpost story with similar problems has since been taken down.)
Congress flacks Manish Tewari and Ajay Maken quickly swung into action, jeering at the sheer incredibility of the claim. A story that aimed to make Modi look heroic soon became a gift for his detractors. After days of conspicuous silence, the Modi camp today seems to have stepped up to decisively squelch the tall tale.
"At no stage, we made any claim before the media that we saved 15,000 people. Our vehicles also brought back many people from other states too...Where's the question of spin doctoring?" an unnamed BJP aide tells Hindustan Times.
According to this new version, the aircraft, buses etc have been readied to ferry pilgrims once they have been rescued from the mountains. "No Gujarat chopper was involved in any rescue bid," he says, adding, "Our efforts were only to take our people back to Gujarat after they brought from the upper reaches."
No, Mr Modi has no desire to play Rambo, and is motivated instead by the "deluge" of appeals for help from his Gujarati constituents. "That is his image and people frantically call up for help," says yet another unnamed official, "This time, those stranded in Kedarnath shrine and other places which are high on any Gujarati religious schedule called up."
It's too little, too late. Such "clarifications" are unlikely to undo the damage done by a spate of news stories meticulously debunking the Rambo story  -- and tarring Modi as a politician willing to lie for political mileage in the midst of a national tragedy
Sujan Dutta's "In the crosshairs of Rambo's para-truths" in The Telegraph points out that, "Even the army is not 'para-dropping' its paratroopers. The special forces are either trekking through the hills or slithering down from hovering helicopters. There isn't a drop-zone in the hills in which paratroopers can land. The army and the air force would have done it if there was one."
Worse, Modi's faux-heroics were marshaled by his supporters to criticize the military forces who were engaged in real, hazardous rescue efforts, notes Dutta:
An officer in army headquarters was stupefied when someone responding to the army's official Twitter account handle sent a direct message asking why the army cannot replicate what Narendra Modi has done. Such tales of Himalayan 'Feku'-ness risks taking the attention away from those who are actually conducting the rescue and saving lives at the risk of their own even if they are paid to do so.
Political rivals like the Congress party may be fair game, but a PR stunt that overshadowed the nation's own armed forces inevitably backfired -- and paved the way for scathing opeds like that of Abheek Barman in the Times of India.
Barman blames the Rambo stunt squarely on Modi's PR firm APCO Worldwide, an unsubstantiated claim he uses to lump Modi with APCO's less illustrious clients: Kazakhstan dictator Nursultan Nazarbaev, Nigerian tyrant Sani Abacha, the American tobacco lobby, pariah regimes in Azerbaijan and Turkmenistan et al.
He goes one step further than Dutta to brand Modi as an inveterate liar, citing a 2005 announcement "that state-owned company GSPC had made India's biggest gas discovery: 20 trillion cubic feet (tcf) valued at more than $50 billion, off Andhra Pradesh." A claim that has since been definitely unsubstantiated, argues Barman who then concludes: "In every area the Modi narrative is a tale of bluster and bluff. But his Himalayan miracle is a barefaced, cynical lie."
The personal indictment is a bit of a stretch since both Barman and Dutta acknowledge the fact that Modi never once claimed to have rescued a single pilgrim, leave alone 15,000.
His Twitter feed and website have not breathed a word to confirm -- or, more damagingly -- to deny the story. And that's the problem the latest 'clarification' cannot fix. The Rambo story may well have been the work of overzealous PR flunkies, but Modi could have easily nipped it in the bud. Why let it float around except in the hope that it may help burnish his superhero image?
It is easy enough to make fun of Congress honchos desperately trying to spin PR gold from Rahul's banal encounter with a newspaper seller. But if you must lose the PR game,  it is less damaging to appear desperate than shameless -- more so, when it involves a natural disaster that has claimed hundreds of lives.
It's all the more foolish to encourage such fairytales at a time when Modi is trying to rehabilitate his credibility regarding his role in the Gujarat riots. But that's with the fence-sitters: people leaning toward him but have reservations about his past record. The Rambo stunt, however, is unlikely to damage Modi's image with his base. What it proved instead is that the people who support Modi will do so irrespective of the facts. And that doesn't help either.
Explainers
IEDs kill more people each year than any other explosive ordnance - accounting for 43 per cent of all global civilian casualties from explosive weapons. The IED used in Mangaluru was made by placing explosive material inside a pressure cooker and fastening a blasting cap to its lid
India
On 25 November, Ravindra Jadeja conducted a road show to campaign for his spouse Rivaba.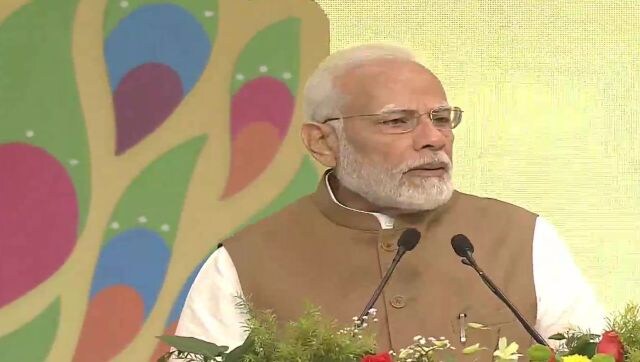 India
In September, PM Modi's carcade stopped to make way for an ambulance en route to Gandhinagar from Ahmedabad