Ayodhya suit: Kapil Sibal in a soup of his own making, but recipe prepared by too clever by half Congress
The trouble with lies is that one begets another, and then one gets caught within a vortex of falsehoods. It is painful to see the way senior Congress leader Kapil Sibal has tied himself up in knots, and a little amusing to think that the Congress believed it could get away with its strategy of running with the hare and hunting with the hounds.
The trouble with lies is that one begets another, and then one gets caught within a vortex of falsehoods. It is painful to see the way senior Congress leader Kapil Sibal has tied himself up in knots, and a little amusing to think that the Congress believed it could get away with its strategy of running with the hare and hunting with the hounds.
But then Congress was just being Congress. Congress "supreme leader" Rahul still resides in the 1980s. His politics remains tied to his grandmother's apron strings. He still swears by 80s-style failed socialist policies, reviles big businesses and indulges in homilies to pose as messiah of the masses. Rahul's 'killer blueprint' of resisting BJP involves doing an extensive temple run in Gujarat and blocking the temple run in Ayodhya.
The impossibility of this position may not have occurred to the dynast but in any case a Congress leader shall always be around, ready to be martyred at the larger cause of saving a Gandhi if matters go out of control. Sibal appears to be the 'chosen one' this time.
The soup that the senior advocate finds himself in right now is partly his own cooking, but the 'secret' recipe was prepared carefully at 10 Janpath which aimed to be too clever by half.
As this writer has argued before, Congress' biggest problem is that of bankruptcy of ideas: A failure to find an ideological space or a political positioning. Consequently, it tries to occupy all sorts of spaces—liberal, conservative, subaltern, casteist, classist, pro-minority or majoritarian—and often the inherent tension between these spaces makes its position untenable.
It is evident that Rahul felt the need to delve in soft-Hindutva ahead of Gujarat elections and went out of his way to do a round of temples and pose as a Brahmin poster boy.
'Blessed by all Gods' and the 'Prime Minister of India-to be', claim Cong's posters about 'Pandit' Rahul Gandhi https://t.co/Ng5c3Wkq2R

— Republic (@republic) December 5, 2017
Once Gujarat is over, however, Congress's need for a soft-Hindutva positioning is exhausted, and it even becomes counter-productive ahead of the Ayodhya verdict where its ambiguity contrasts unfavourably with BJP's clarity on Ram Temple. Hence Sibal's submission in court that Ram Temple verdict should be postponed till after 2019 general elections.
Two motivations prompted this act. One, deny Narendra Modi ahead of his reelection the fruits of polarisation that will inevitably accompany any Supreme Court decision. Two, buy time to decide on Congress's own political position depending on the existing scenario.
It is difficult to believe that Sibal—a senior leader of the party and a former Union minister in UPA government—was acting "on his own" as a professional in defiance of party line when he submitted before the court that "decision of this case will have repercussions outside the Court… and since the BJP has the issue of Ram Mandir in their election manifesto, the Bench must hear the matter only after July 2019."
Congress' counter, that BJP's senior lawyers in the past had taken professional assignments beyond party lines is a specious argument, because Sibal's pleadings before the three-judge Bench headed by the Chief Justice of India were less legal and more of a political nature.
"I do believe that any decision in this case will have very serious ramifications and the appeals should be referred to a five or seven judge constitution bench. Do not say 'no, no, no'. Please hear the matter keeping in mind the ramifications... Please fix the matter in July 2019 and we assure that we will not seek any adjournments...", said Sibal, who was appearing for his clients, the Sunni Waqf Board.
This could have been a clever ploy, had it not been for one Haji Mehboob, the Babri Masjid Action Committee coordinator and a key member of Sunni Waqf Board which is one of the appellants in the Ram Janmbhoomi-Babri Masjid case.
Principal litigant Mehboob's criticism of Sibal's position and clear iteration that Sunni Waqf Board is in favour of an "early settlement" of the case instead of deferment till 2019 destroyed Congress' flimsy defence, took Sibal from frying the pan to the fire and set forth a chain of events which Congress might find difficult to emerge from unscathed.
Yes Kapil Sibal is our lawyer but he is also related to a political party, his statement in SC yesterday was wrong, we want a solution to the issue at the earliest: Haji Mehboob,Sunni Waqf Board #Ayodhya pic.twitter.com/CMN8MXr5ta

— ANI (@ANI) December 6, 2017
Sibal has since issued statements that are easily refuted and are at odds with his stature as a senior, seasoned lawyer. He claimed that he never represented the Sunni Waqf Board in court. He told ANI: "The prime minister did not check the fact that actually I never represented the Sunni Waqf Board in the Supreme Court. And yet he thanked Sunni Waqf Board for a statement on the basis that I represented them. I request the prime minister to be a little more careful."
Documents widely available in public domain clearly show that he was, in fact, representing the Sunni Waqf Board in Supreme Court. The SC order sheet listing him as an advocate in the 2011 case has since been circulating freely in social media, and it didn't take long for BJP leader Subramanian Swami to seek Sibal's apology for "maligning the PM".
Sibal in more trouble. Thanks to Gaurav Bhatia of BJP, and SC lawyer, I find that SC Order of 5/12 lists Sibal as Advocate for Sunni Wakf Board. Apologise to Namo, Sibal!

— Subramanian Swamy (@Swamy39) December 7, 2017
Swamy was referring to the following tweet from BJP leader and Supreme Court advocate Gaurav Bhatia:
Hon'ble Supreme Court order shows that Mr Sibal did appear for Sunni Waqf Board.
Please see the marked section
Civil Appeal No 004192/2011
Party Name Sunni Waqf Board pic.twitter.com/qYkQYmAYvS

— Gaurav Bhatia BJP (@gauravbh) December 6, 2017
Case number 4192 (as marked in the document) where Sibal's name is mentioned in the SC order sheet, refers to the civil appeal (No 4192/2011) filed by the Sunni Central Waqf Board, according to the Supreme Court of India website.
Other documents also surfaced that demolished Sibal's defence that he wasn't appearing for the Sunni Waqf Board.
Exclusive : This is the appearance slip of @KapilSibal for appellant Sunni Waqf board in Ayodhya case at Supreme court . Rare copy with me @indiatvnews CC @Swamy39 @narendramodi @jgopikrishnan70 @BJP4India pic.twitter.com/9gyFcP55kD

— Manish Jha (@manishjha4u) December 7, 2017
The events took a curious turn a day after on Wednesday when Zafaryab Jilani, convenor of the Babri Masjid Action Committee (BMAC), threw his weight behind Sibal and claimed: "Whatever Sibal has said has been stated with prior consultation with all advocates including leaders of the Muslim Personal Law Board. Sibal had discussed this. With full confidence, we can say that we completely endorse what Sibal said."
The ANI report also quoted Haji Mehboob, who now seemed to be backtracking from his earlier statement. "If Jilani saab is saying that what Kapil Sibal said yesterday was right, then I agree with him. I don't want to say anything else."
Finally on Thursday, the Uttar Pradesh Sunni Board chairman Zufar Ahmed Farooqi claimed Sibal wasn't representing them. He was "representing one of the private parties involved in the suit."
It is not difficult to imagine what may have conspired behind the scenes within a span of 24 damaging hours for the Congress. The protestations and denials issued since are designed to absolve Sibal of all responsibility for his statement, leading one to wonder whom exactly was the senior lawyer representing while making that submission on Tuesday. Congress, however, felt that Sibal has done enough damage for the day and reportedly asked him to stay away from the Gujarat polls.  The senior leader may understand soon enough that nobody but the family is indispensable in Congress.
The larger questions from Sibal's flippancy pertain to the trust that defines a client-lawyer relationship and the gravitas of the Supreme Court. The apex court is a temple of justice and it should under no circumstances be allowed to become an arena for politics. One hopes Sibal will come prepared with a better defence next time.
Click here for detailed coverage of Gujarat Assembly Election 2017
Entertainment
Kaveree Bamzai's new book on Shah Rukh, Aamir, and Salman benefits the most from its timeliness, given the rising conversations around Islamophobia, the streaming vs theatres debate, and the Khans' own complacencies.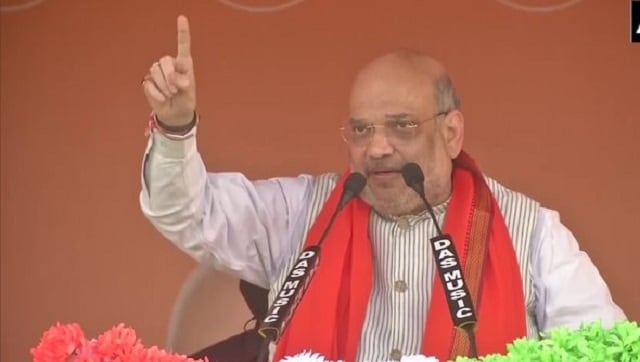 Politics
The home minister further said that Uttar Pradesh has secured the second position in terms of economic growth. The state's economy grew from 11 lakh crore to 22 lakh crore in the last four years
Politics
People of Assam have voted for the BJP for the second consecutive term as they have realised that there is no place for 'aatankwad' (insurgency) and 'andolan' (agitation) in the state, Shah asserted