Attacking Hamid Ansari on Yoga Day: Dear Ram Madhav, deleting your tweets isn't enough
Ansari is perhaps the only Vice President to have his credentials questioned by those supporting the government on two different national occasions in a calender year for completely nonsensical reasons.
Hamid Ansari has many unique achievements to his name. He's only the second Vice President to have two consecutive terms and he will have presided over 10 years of what some would say is the most raucous sessions of the Rajya Sabha ever. He is also perhaps the only Vice President to have his credentials questioned by those supporting the government on two different national occasions in a calender year for completely nonsensical reasons.
Just under five months after questions were raised over him not saluting the Indian flag at the Republic Day event while Prime Minister Narendra Modi and President Pranab Mukherjee did, the latest person to target Ansari was no faceless troll but the RSS leader-turned-BJP national general secretary Ram Madhav.
Madhav chose to hit out at the Vice President and Rajya Sabha TV channel over the telecast of the Yoga Day celebrations taking place at Rajpath on Twitter.
So he first tweeted:
Then he suddenly  deleted his first tweet, and  then issued a new tweet :
But there was egg on the face awaiting Madhav. The Vice President's office issued a terse statement saying it wasn't illness that kept him away from Rajpath or any of the hundred other events that had been organised to mark the day.
"Vice President was not sick. He was never invited for the yoga programme," it said, adding, "the Vice President only attends those programmes in which the Minister concerned invites him as per protocol".
Even Rajya Sabha TV's editor-in-chief Gurdeep Sappal tweeted, denying Madhav's allegations calling them a 'baseless' rumour and 'absolute lie':
एक बार फिर RSTV के ख़िलाफ़ बेबुनियाद अफ़वाह - कि हमने योग दिवस का ब्लैक आउट किया। सरासर झूठ। आज राजपथ और योग कान्फ्रेस से RSTV पर लाइव रहा।

— Gurdeep Singh Sappal (@gurdeepsappal) June 21, 2015
He pointed out there were two live event telecasts, three documentaries and a special report on AYUSH to mark International Yoga Day.
Madhav then quietly deleted his second tweet as well, but not before he managed to hit a bitter note that marred another successful PR event for the Modi government. What should have been a celebration of Indian culture on the world stage became about petty politics, and aimed at one of the most prominent Muslim leaders in India.
However, the outrage on Twitter was hard to miss and here are some samples:
Idiots like Ram Madhav are a shame in the name of human being. And what else to say about his mentor narendra modi! #IStandWithHamidAnsari

— Vinod Mehta (@DrunkVinodMehta) June 22, 2015
#IStandWithHamidAnsari What worsens error is that it isn't a loose cannon from BJP's Rt flank but Ram Madhav, prima donna linking BJP/RSS.

— K. C. Singh (@ambkcsingh) June 22, 2015
Just a short, polite note of apology from Ram Madhav & BJP Pres to VP Hamid Ansari will cut the losses. This needs more than a mere delete

— Shekhar Gupta (@ShekharGupta) June 21, 2015
Ram Madhav should try not to practice bigotry. #RamMadhavIsAnIdiot https://t.co/FLtZKbRCDO

— APSC (@ambedkarperiyar) June 21, 2015
Now some on Twitter are defending Madhav saying that making this an issue about communalism is unfair. Unfortunately, nothing could be further from the truth.
When he was seen not saluting the flag, the venom against the vice president was difficult to miss. As we'd noted at the time, among the many things he was called included derogatory terms like 'anti-India', 'jihadi-sympathiser' and 'traitor'. Perhaps the only smart thing that Madhav did do in his tweets was that he didn't make it obvious why he was targeting the Vice President and gave himself enough wiggle room to escape being called a communalist.
Madhav may have targeted the Rajya Sabha Television channel because they've been accused of running up expenses even in the time of austerity. And the RSS leader-turned-BJP secretary may also have chosen to target the Vice President because the government sees him as not playing ball with them in curbing the opposition in the Rajya Sabha where a lot of its legislation is stuck. But whatever his reasons may have been, after the manner in which Ansari was targeted over the Republic Day non-salute, it becomes a little difficult to believe the BJP leader wasn't also targeting the Vice President because of his religion.
Ansari managed to stay above the fray by sticking to a statement and not indulging in the muck raking unlike Madhav. Madhav's acknowledged that the office of the Vice President deserves respect and he'd do well to show it by issuing an apology to Ansari. It's perhaps the only route left for him to show that he was just being a reckless and foolish on Twitter and not a bigot.
Find latest and upcoming tech gadgets online on Tech2 Gadgets. Get technology news, gadgets reviews & ratings. Popular gadgets including laptop, tablet and mobile specifications, features, prices, comparison.
India
The Indian Army on this day in 1999 declared an end to "Operation Vijay" and announced victory after the nearly three-month battle in the icy heights of Kargil.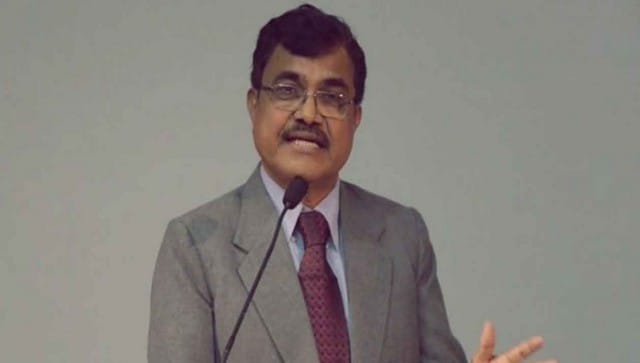 India
Anand Teltumbde's family is anxiously awaiting his test results. The high court directed the state to inform the family on 1 August.
India
The National Education Policy, (NEP), approved by the Union Cabinet on 29 July, seeks to implement reforms from 'toddler to college' and thus overhaul the education system