Atheists criticise Andhra Pradesh, Telangana for funding river fest with public funds
The Andhra Pradesh and Telangana governments have come under flak from rationalists and atheists for spending public funds on ongoing Krishna Pushkaralu river festival.
Hyderabad: The Andhra Pradesh and Telangana governments have come under flak from rationalists and atheists for spending public funds on ongoing Krishna Pushkaralu river festival.
They alleged that the governments in both the Telugu states were acting against the Constitution and promoting superstitions by spending people's money on the 12-day festival.
While Andhra Pradesh is spending over Rs 1,000 crore on the mega event, Telangana has released Rs 825 crore for providing amenities to the devotees during the festival which began on Friday.
Andhra Pradesh in particular has come under strong criticism for spending the public money despite the financial crunch the state is facing.
The authorities have built bathing ghats along the river to enable pilgrims to take holy dip.
They have deployed over 40,000 policemen for maintaining law and order during the event and employed thousands others for making and maintaining arrangements for the pilgrims.
Special buses and trains are being operated to transport pilgrims. Over 6.5 crore people are expected to take part in the festival.
Atheist Centre of Vijayawada's G. Samaram termed this as a waste of public money.
"Ours' is a secular state and celebrating one particular religion's event in such a big way is not at all good," Samaram told IANS.
He said Pushkar entering the river was a superstitious belief and by promoting this the government was going against the Constitution.
"The Article 51A(h) of the Constitution of India clearly states that the government should develop the scientific temper but the governments in these two states are promoting a superstition," he said.
Samaram, a physician by profession and former president of Indian Medical Association, also warned that people may contract infection by taking bath in Krishna river during the festival.
"During Godavari pushkaram last year, a large number of people suffered skin, eye and throat infection and the same will happen this year in Krishna as there is hardly any water in the river," he said.
Another well-known atheist G. Vijayam voiced concern that the distinction between state and religion was blurring.
"It's not just the money they spent but the very attitude of mixing state with religion is objectionable. They are religionising the politics and politicising the religion so that they have an advantage in elections," he said.
Vijayam believes that religion is a personal matter in a secular state and the state should be equal to all. "Religion is a personal matter while state is everyone's matter," he said.
He said no one denies that the government can make minimum arrangements for such events to maintain law and order.
"But encouraging people to come in large numbers, inviting religious heads and making this an agenda of the government for 10 to 12 days in a way that the governance comes to a standstill is not correct attitude," said Vijayam.
Telangana Chief Minister K. Chandrasekhar Rao and Andhra Pradesh Chief Minister N. Chandrababu Naidu are known for organising religious rituals and actively participating in them.
"They are deliberately confusing people and this is not good for the states. They can perform the rituals in their personal capacity. No one will have an objection to it," Vijayam said.
"Ours is a composite culture. People from different background live here. There is freedom of speech and religion but at the same time state is secular. We should not forget this and this character must be held," he added.
also read
India
A Special Investigating Team (SIT) reportedly found evidence that one of the accused individuals used this AI tool after gaining access to the leaked paper
India
The Chief Minister had warned occupiers of illegally built mazars (tombs) last month to remove those on their own and reiterated that his government would not allow "land jihad" in the state.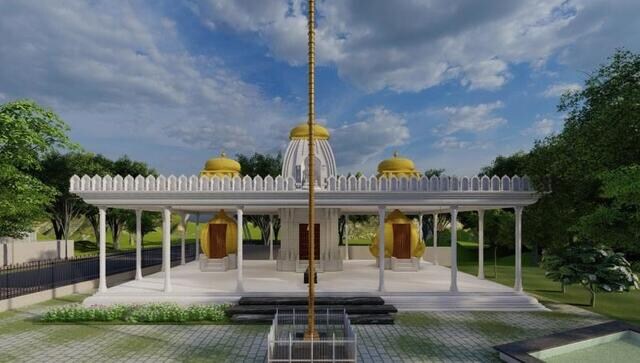 India
The temple is being constructed by Apsuja Infratech, a city-based company, in collaboration with Simpliforge Creations, a renowned 3D-printed construction firm