Assembly Election Results 2017 Counting LIVE: Akhilesh Yadav quits as chief minister, submits resignation
LIVE NEWS and UPDATES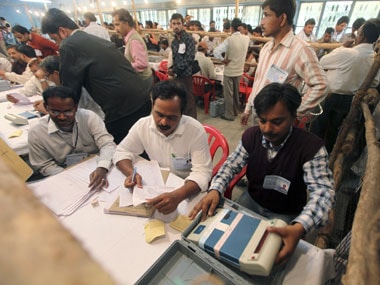 18:39 (IST)

Uttar Pradesh Chief Minister Akhilesh Yadav submits resignation of Governor Ram Naik.

Party? What party? Where is the party?

All this talk of this party, that party is really giving me an appetite. Pity it had to be a dry day. I think I will pick up some good stuff from the Congress headquarters at the Chowk. And have it on the rocks!

I like to see myself as the Queen. And though some might point to today and say monarchs don't often fare well in a democracy, I would like to believe some day I will win. And that's the day I will sing this.

17:22 (IST)

Our fight continues and will not end till we win the hearts & minds of people

— Office of RG (@OfficeOfRG) March 11, 2017

17:21 (IST)

To all Congress workers across India: We stand resolute & committed to our values & our belief in an India united in strength & purpose

— Office of RG (@OfficeOfRG) March 11, 2017

17:20 (IST)

My heartiest congratulations to Capt Amarinder Singhji & all our party workers who worked tirelessly @capt_amarinder

— Office of RG (@OfficeOfRG) March 11, 2017

17:19 (IST)

I thank everyone in Punjab for their immense faith and support. This is a mandate for a brighter future for Punjab and it's youth

— Office of RG (@OfficeOfRG) March 11, 2017

17:19 (IST)

I congratulate Shri. Narendra Modi and the BJP on their victory in Uttar Pradesh & Uttarakhand

— Office of RG (@OfficeOfRG) March 11, 2017

Feni is getting upset

This is starting to get tension men. It's Saturday and Feni got big plans. That bugger Peter from Porvorim has party at his place and all the chicks are gonna be there men. But bleddy if counting doesn't end, how will Feni go for party? Must tell these idiots to hurry up.

17:17 (IST)

You can get votes by misleading, not by explaining, says Akhilesh Yadav

"Alliance with Congress will continue. Alliance was in our favour. You can get votes by misleading, not by explaining," says outgoing Uttar Pradesh Chief Minister Akhilesh Yadav.

BJP winning will make Rahul Gandhi sad

Rahul Gandhi has refused to address the media all day, and it is nigh impossible to truly know what he is feeling at the moment. But my highly placed sources tell me the Congress vice-president is not ecstatic about BJP winning. The sources, who are hardcore analysts with an ear to the ground, have also said BJP's win could possibly result in Congress losing. How true these are, one may never know.

16:32 (IST)

Every moment of our time, everything we do is for welfare & wellbeing of the people of India. We believe in the power of 125 crore Indians.

— Narendra Modi (@narendramodi) March 11, 2017

16:32 (IST)

Congratulations to @AmitShah, party office bearers & state units for their exemplary work in taking the party to new heights.

— Narendra Modi (@narendramodi) March 11, 2017

16:30 (IST)

I salute the hardwork of BJP Karyakartas. They have tirelessly worked hard at the grassroots level & won the confidence of the people.

— Narendra Modi (@narendramodi) March 11, 2017

16:29 (IST)

Am overjoyed that BJP has received unprecedented support from all sections of society. Huge support from the youth is gladdening.

— Narendra Modi (@narendramodi) March 11, 2017

16:29 (IST)

I thank people of Punjab for giving @Akali_Dal_ & @BJP4Punjab the opportunity to serve for 10 years & for the support we got in these polls.

— Narendra Modi (@narendramodi) March 11, 2017

16:28 (IST)

उत्तराखंड की जीत बेहद खास है। देवभूमि के लोगों का आभार। मैं विश्वास दिलाता हूं कि भाजपा पूरी तत्परता और कमर्ठता से लोगों की सेवा करेगी।

— Narendra Modi (@narendramodi) March 11, 2017

16:27 (IST)

काशी के सांसद के रूप में काशी की जनता का अटूट विश्वास और अपार प्रेम पाकर मैं आज अभिभूत हूं। काशी के लोगों को शत-शत नमन।

— Narendra Modi (@narendramodi) March 11, 2017

16:26 (IST)

मैं उत्तर प्रदेश की जनता को हृदय से धन्यवाद देता हूं। भाजपा की ये ऐतिहासिक जीत विकास और सुशासन की जीत है।

— Narendra Modi (@narendramodi) March 11, 2017

16:25 (IST)

Gratitude to the people of India for the continued faith, support and affection for the BJP. This is very humbling & overwhelming.

— Narendra Modi (@narendramodi) March 11, 2017

16:23 (IST)

Spoke to @capt_amarinder & congratulated him on the win in Punjab. Also wished him a happy birthday & prayed for his long & healthy life.

— Narendra Modi (@narendramodi) March 11, 2017

15:57 (IST)

Accept defeat in Punjab: Shah

"We accept defeat in Punjab. Prime Minister Narendra Modi has already congratulated Captain Amarinder Singh," says Amit Shah.

Counting is tough bizness bugger

What men you talk like you can count like Einstein bugger. Bleddy nobody could count anything in school. Half the idiots failed Maths in school men. And dis is fancy EVM, that bugger Elroy can't even switch on his mobile phone. What he will count.

15:48 (IST)

BJP workers to accord grand welcome to Modi on Sunday

"BJP workers have organised a grand welcome for Prime Minister Narendra Modi tomorrow at the BJP national headquarters. The question of leadership in the fours states would be finalised in a meeting on Sunday. Won't have CMs based on caste, performance will matter," says BJP national president Amit Shah.

Can't they count faster?

Incoming chief ministers of most states have already moved into their new bungalows, but Manipur is still waiting for counting to end. Why is counting of votes taking so much time?

15:45 (IST)

Amit Shah refuses to comment on Mayawati's allegations on EVMs

"I can understand the mental condition of Mayawati. I would not like to comment on her comments on EVMs," says Shah.

15:43 (IST)

Uttar Pradesh now embarks on a double-digit growth path, says Shah

"There was always the belief that India cannot have a double-digit growth until Uttar Pradesh embarks on a double-digit growth. Now the results have paved the way for a double-digit growth in Uttar Pradesh," said Shah.

What happened to the SAD-BJP in Punjab? This:

15:39 (IST)

Historic mandate for the BJP: Amit Shah

"This is a historic mandate for the BJP. It is a victory of the people, victory of the leadership of Narendra Modi. This is the result of the more than 93 schemes for the downtrodden at the grassroots level. The results have shown a complete faith of the people in Modi's leadership," BJP national president Amit Shah said in his address to the press at the BJP headquarters in New Delhi.

Rawat to tender his resignation

They tell me Chief Minister Harish Rawat will tender his resignation now. Which is ironic, because the elections have been brutal on him. Tender and brutal are opposites.

Irom Sharmila's done with this election business

If elections constitute the so-called 'dance of democracy', a clearly dejected PRJA founder Sharmila says she's never gonna dance again. I understand.

14:08 (IST)

Here's why Mayawati's loss is significant

- She has been out of power for 10 years and will now be out for the next five years; this will raise questions about her political future.

- The defeat may create further divisions in her loyal Dalit base, with non-Jatav's already gravitating towards the BJP.

- This is the first time in many years that neither her party will neither be in power nor be the Leader of Opposition in the Assembly.

- Power is glue. Five more years out of power could dishearten and demoralise the cadres. The party may a witness exodus.

- At 61, age too isn't on her side. An absence of 15 years is too long in politics to mount a comeback.

- There's no succession plan in place and no one in the BSP has been nurtured to take her place.

Cometh the hour...

There's very little happening in Uttarakhand, but my phone is ringing off the hook.

You know what they say, even a small man casts a massive shadow.

Cashless? Paperless? No thanks, says Mayawati

While the world is going digital, paperless, cashless, BSP supremo Mayawati wants EVMs done away with and ballot papers to be reintroduced for elections.

No, really.

Facts of life

The BJP candidate from Karong constituency R Yuh Jonathan Tao is a lot of things. But there's one thing he isn't. And that's this:

13:41 (IST)

Tampering with EVMs in Uttar Pradesh?

BSP supremo Mayawati is claiming that the election was rigged because EVMs had been tampered with. Regardless of the button pressed by the voter, Mayawati claims that the machine would count it as a vote for the BJP.

Goa setting new standards

Feni was about to nicely have a nap, when that Elroy came back. Ringing bells loudly and all. Feni aksed him why he's such a stupid fellow. Elroy said he went to a counting centre and this is how fast it was going. Shameless b*ggers.

Punjab CM ready to resign

Parkash Singh Badal is going to resign tomorrow. It reminds me of the time I resigned from my old job after throwing a stone through the shopfront window. Okay, so there was some broken glass, some injury-shinjury etc. But I resigned. I did the right thing.

Is it Vijay Bahuguna? Is it Roose Bolton? Is it Brutus?

Remember the Red Wedding when Roose Bolton betrayed the Starks, pretending to be their friend but actually wiped out their entire family? Vijay Bahuguna is the Bolton of Uttarakhand. He led Harish Rawat to believe he's a friend before turning his back on the Congress party and escaping in the middle of the night with 10 MLAs.

One can only hope he knows what happened to Papa Roose later in the story.

13:21 (IST)

What this means for the Rajya Sabha

The way things are going, the BJP will at least have 34 (31 for Uttar Pradesh and three for Uttarakhand) more Rajya Sabha seats, which will give it a lot more heft in the Rajya Sabha

Enough is enough

This counting is going nowhere. The leads have been the same for what feels like many hours. Feni needs his nap. You watch this.

A word of warning to political parties: Take Congress as a partner at your own peril

Let's look at the poll trends objectively.

The Congress is not the biggest loser in this round of elections. It is winning in Punjab; it is likely to have the upper hand in the smaller states of Goa and Manipur. If the final results follow the trend, it can look at its performance with some satisfaction. In Uttar Pradesh, it was already a marginal player. The only challenge for it was to win a few seats more than the 28 it had earlier. But that's not the whole story.

The party may run out of friends soon. The Congress is earning quite a negative reputation as an electoral ally. Whoever takes it on as a partner, loses the election badly. In West Bengal, it teamed up with the Left. The result was disastrous for the latter while the Congress itself managed a respectable performance with around 40 seats. Akhilesh's poor show in this election reveals again that Congress votes hardly get transferred to its allies.

It does not help the party that it has a poor leader in Rahul Gandhi, who is also the party's star campaigner. He cannot convince Congress sympathisers to vote tactically. The point of interest here is, after dying slowly in states, it is pulling down other non-BJP parties too. The Samajwadi Party may take a while to recover from the blow it received. It won't be a surprise if no party shows any interest in a pre-poll tie-up with the Congress. From the next election onward it will have to go it alone. Aln aliance, if any, will be a post-poll affair.

Cricketer-turned-politician Navjot Singh Sidhu would like to believe that the party's revival will begin in Punjab. There's little point getting into his remark at this point, but the fact remains that it will be a lonely trudge back for the party. It will have no regional parties to fall back on. A decent performance in this round of election thus does not mean much. A lot of hard work lies ahead.

13:03 (IST)

Let the celebrations begin

Narendra Modi will address BJP workers at the party's Delhi headquarters at 4 pm.

How the BJP pulled off a win that will change contours of national politics

What appeared to have got the goat of BJP strategists was the realisation through internal surveys that the alliance may have been able to swing over 90 percent of Muslim voters in its favour — given the fact that a slight deviation in percentage points of voters would make a substantial change in terms of seats. Of course, the Samajwadi Party was seen sitting pretty with 30 percent of the Muslim-Yadav (MY) combination.

And there was a fear that if a section of traditional Congress voters could transfer their votes to the Samajwadi Party, its kitty would go high. Thus began the BJP's counter moves that proved to be quite effectively in checkmating Samajwadi Party-Congress politics.

Chin2Leaks Introspection Intercept

11:54 (IST)

Uttarakhand chief minister loses

Chief Minister Harish Rawat loses from Haridwar, capping off a pretty poor day for the Congress

Goa CM Laxmikant Parsekar has lost the Mandrem seat

Laxmikant Parsekar was defeated by Congress' Dayanand Sopte — once a close confidant of Parsekar. Sopte had defected from the BJP and was rewarded with nomination by the Congress. Sopte has won by a margin of 3,500 votes.

Afspa issue hijacked by Congress and BJP


The dismal defeat of Irom Sharmila in Manipur Assembly election with only 90 votes in her hand marks the reality that the issue of repealing Afspa is hijacked by both the national parties Indian National Congress and Bharatiya Janata party.

Irom Sharmila's defeat is seen in the light of both the national parties taking up the issue of Afspa with much importance in their manifestos.

When the iron lady took to elections with only 5 candidates renouncing her path of agitation against Afspa, her close associate Babloo Loitongbam said to Firstpost that it was not about the number of candidates that matters but the issue.

"One can see that after Irom Sharmila appeared in the poll fray other parties have also taken the issue seriously," he said.

Irom Sharmila's defeat in the election marks the reality that the national parties hijacked the issue of repealing of Afspa.

Irom Sharmila brings the noise... slightly

As it turns out, we were wrong. Sharmila isn't going out without a fight. She now has 90 votes and is in a strong position to break the 100 barrier. She's bringing the noise alright.
New Delhi: Counting of votes in Assembly polls in five states will take place on Saturday amid tight security with the most riveting contest in Uttar Pradesh, seen as a game changer and a virtual referendum on Prime Minister Narendra Modi's popularity and his reforms agenda. The Samajwadi Party-Congress alliance in Uttar Pradesh is hoping to stop the BJP juggernaut, which had earlier stumbled in Bihar and Delhi, and lead the way for opposition unity in the run up to the 2019 general election.
Congress is claiming it will wrest power in Punjab and retain its hold in Uttarakhand and Manipur. The election is also important for the nascent Aam Aadmi Party, which is hoping for success in its maiden outing in Assembly elections outside Delhi and has put up a spirited fight in Punjab and Goa. Counting of votes will start at 8 am on Saturday. Tens of thousands of central forces personnel were being deployed at the polling centres, including 20,000 personnel in Uttar Pradesh.
In Uttar Pradesh which has a 403-member Assembly, 78 counting centres have been set up in 75 districts. Fifteen counting centres have been established in Uttarakhand where the Assembly strength is 70. Votes will be counted at 54 centres in 27 locations set up for election to 117-member Punjab Assembly. In Goa, votes will be counted at two centres in North and South Goa to declare the winners in 40 seats. In Manipur, counting of votes will be held for 60 seats.
The Election Commission has issued strict guidelines on security arrangements for counting of votes and has prohibited mobile phones inside the counting halls. In addition to general observers, a micro-observer will be deputed at each and every counting table. A three-tier security arrangement has been made in and around the counting centres. Only central forces will be deployed inside the counting centres while local police will be deployed in the outer circle and forces from other states will be around the centres to prevent entry of any unauthorised persons.
A senior magistrate will be posted at the entrance to control the crowd and regulate the entry. The 100-metre area around a counting premise or campus is to be demarcated as pedestrian zone and no vehicles shall be allowed within this perimeter. Additional CCTV cameras will be installed at locations from where the carrying of EVMs from strong rooms to the counting hall can be effectively monitored. Exit polls have projected a hung assembly in Uttar Pradesh and Goa, with BJP likely to lead the table. They forecast a close fight in Punjab between the Congress, which is seeking to return to power after a hiatus of 10 years, and Arvind Kejriwal's AAP. The Shiromani Akali Dal-BJP combine could be in for a drubbing in the state.
They have predicted victory for BJP in Uttarakhand. A good show by the BJP, especially in Uttar Pradesh, will be seen as a reaffirmation of Modi's standing among the masses and popular endorsement of his agenda, especially demonetisation. It will also boost its president's Amit Shah's authority as capturing power in Uttar Pradesh has been a dream project for the party after it was reduced to the margins of the state politics that it ruled for much of the 1990s.
Shah has been seen as the architect of the party's outreach to various social groups, mostly OBCs and sections of Dalits, and some experts believed that it might have antagonised its core support base and also old loyalists, who were passed over by him in the distribution of tickets. A BJP win in the state polls will also boost its strength in the Rajya Sabha where the Congress-led opposition has been able to block the government's legislative agenda due to its numerical superiority.
Despite grim exit poll projections in Uttar Pradesh, Uttarakhand and Goa, the Congress put up a brave face on Friday saying it will win all five states. The Congress also sought to insulate party vice-president from any negative fallout saying poll results are never a referendum on any single individual. Senior Congress leader and party's UP general secretary Ghulam Nabi Azad said, "The SP-Congress alliance will win UP elections despite exit poll claims." Asked if Rahul Gandhi, who spearheaded the party campaign in UP, would be responsible for the loss or victory on Saturday, Azad said, "Elections are not a referendum on individuals. "
The bellwether state of UP sends 31 members, maximum among all states, to the Rajya Sabha and the saffron party has presently only three from there. Four other states -- Punjab, Uttarakhand, Goa and Manipur -- have together only 12 members in the Upper House. The Congress with 59 members is the largest party in the 245-member Rajya Sabha followed by the BJP with 56. However, a defeat will be a big loss of face for Modi who has invested a lot of political capital in these polls, especially in Uttar Pradesh where he addressed close to 24 rallies and often sought votes in his and his government's name.
If the alliance forged by UP Chief Minister Akhilesh Yadav and Congress vice President Rahul Gandhi, seen as the BJP's main rival, outscores it, then it will embolden opposition ranks unlike any other time since Modi stormed to power in 2014. If BJP's debacle in Bihar gave opposition the belief that the saffron march can be slowed down, its loss in UP will be seen by the Congress and other rival parties as an evidence of public anger with the Modi government and a beginning of its downfall in 2019 Lok Sabha polls.
With inputs from PTI
Your guide to the latest cricket World Cup stories, analysis, reports, opinions, live updates and scores on https://www.firstpost.com/firstcricket/series/icc-cricket-world-cup-2019.html. Follow us on Twitter and Instagram or like our Facebook page for updates throughout the ongoing event in England and Wales.
Updated Date: Mar 11, 2017 18:40:24 IST