Assembly elections 2018: Lack of focus on women's issues, reduced spending on welfare angered female voters in MP, Rajasthan
Marginalisation of women can be seen in the dip in women's representation in the Assembly elections in Madhya Pradesh and Rajasthan.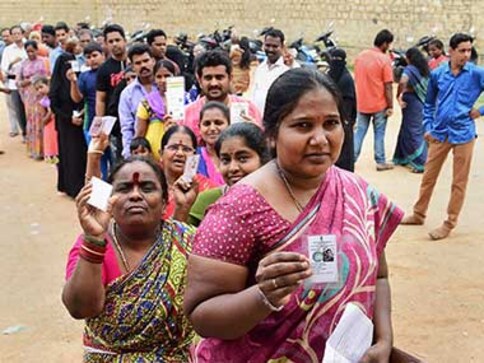 A palpable air of optimism marks the mood in the Jaipur office of the Nari Chetna Sangathan, which was founded by Renuka Pamecha, who has been at the forefront when it comes to raising women's issues since 1973. Her spirits have been buoyed by the recent defeat of Vasundhara Raje, who had taken over power in Rajasthan thanks in no small measure to women voters. These voters believed that Raje, being a woman, would be able to find a solution for the spiralling crime graph.
Rajasthan, once considered one of the safest states, now has the dubious distinction of having one of the highest crime rates against women.
"It is terrible what they are doing to women," said an indignant Pamecha. She was referring to the sharp increase in cases of rape, molestation and sexual harassment which are being registered across the cities of Rajasthan. Jaipur registered 300 rape cases in 2016, while Jodhpur registered 162 cases, as per NCRB data. The number of cases of molestation and sexual assault is much higher.
An interaction between Pamecha and state government ministers had led to the setting up of "Mahila Salaah Aur Suraksha Kendras" in police stations, where aggrieved women received immediate assistance.
"Imagine our horror when Raje slashed the funding for this scheme, as she did for many other women-oriented initiatives. She did not stand with women. She showed no sensitivity towards their sufferings. She never intervened on their behalf, and so, the women decided to strike back. The elections have shown that like farmers, women also came forward in large numbers to vote out the BJP government. Our biggest grouse against this government was that it showed no sympathy for the downtrodden and aggrieved women," said Pamecha.
Former Madhya Pradesh chief minister Shivraj Singh Chouhan was much more adroit when it came to handling women's issues. During Rakshabandhan earlier this year, he sent out two crore letters to women of the state, promising that if they voted their "brother" back to power for the next five years, he would provide them an atmosphere of "economic prosperity and safety."
There is no denying that Chouhan had launched a slew of schemes for women and girls, including the Ladli Laxmi Yojana, the Kanyadan Yojana and the Janani Suraksha Yojana.
However, a woman activist from Bhopal said, "The last term of his fifteen-year tenure saw a trend similar to Rajasthan. Funding for pro-women schemes was slashed. Government schools were shut down one after another so that privatisation could be pursued. As a result, young girls in villages could no longer attend school. Worse, with the central government determined to privatise health services, even the Janani Suraksha Yojana was put into cold storage."
Bhopal-based Nirmala Buch, who heads the Chetna Vikas Manch, said, "Women's safety is a prime issue in Madhya Pradesh. The state tops the graph for crimes against women. The problem with the BJP government was that they did not want to conduct a dialogue with civil society. If the government doesn't talk to civil society, what kind of feedback will it receive about social problems?"
Buch quotes NCRB statistics to reinforce her point of view. "In 2015, 3.3 lakh cases of crimes against women were registered, and the number rose to almost 3.40 lakh in 2016. What is most alarming is that Madhya Pradesh has the highest number of rape cases in the country. The state accounted for 4,882 rape cases in 2016, as per the NCRB. It also recorded 2,479 cases of rape of minor girls in 2016."
Activists have also highlighted several other issues.
Amarjeet Kaur, general secretary of the AITUC, said, "Health issues are of prime importance to women. After the Narendra Modi-led government came to power, the budget for the Janani Suraksha Yojana was slashed. The Indira Vikas Patra, which entitled a girl to one lakh rupees when she turned 21 years of age, was fiddled with. The Vikas Patras were taken back, and the girls were given bonds instead. That created fresh apprehension in the minds of the public. The government has not filled vacancies of 4,000 university-level teachers in colleges. This is because of their thrust towards privatisation of school and college education."
Kaur added, "The legislation providing for the possibility of capital punishment to those who rape girls below the age of twelve is again a half-hearted measure. What women want is regular policing and an assurance of safety in their own homes."
The IG Police, State Crime Records Bureau, Mohammed Shahid Absar, said that 90 percent of the accused in crimes against women in 2016 were chargesheeted. However, this assurance helped very little to dispel the atmosphere of lack of safety across the state.
BJP spokesperson and former state minister Vishwas Sarang said that in many cases, rape victims know the perpetrators, and thus, this is a social problem and has to be dealt with by society at large.
Congress leader Kumari Selja feels that the trust of women in her party is justified. "Rahul Gandhi has always supported the cause of women. In all our internal discussions, he has been pushing for women to be given more space, and has encouraged them to participate in larger numbers, both in politics and other spheres of life."
Dr Syeda Hameed, a member of the Planning Commission during the Manmohan Singh regime, believes women's issues have been put on the backburner under the present dispensation. "The Nirbhaya fund was created to ensure a one-stop rape crisis centre is set up in every district and sub-district. This entire process was halted, and the funds allocated were not spent."
This marginalisation can also be seen in the dip in women's representation in the Assembly elections. The New Delhi-based Centre for Policy Research has found that the number of women candidates who won in Rajasthan declined from 14 percent in 2013 to 11.6 percent in 2018. In Madhya Pradesh, the share of women candidates dipped from 13 percent in 2013 to 8.7 percent in 2018. The data on their winnability shows that they have performed as well as the other candidates, but the perception is that they do not bring the money and muscle power that male candidates can muster.
Ranjana Kumari, who heads Centre for Social Research, during her interactions with young women, found that the new generation seeks change. They also see their votes as a political weapon to be used against those who do not support women-centric issues.
also read
Explainers
Tipu Sultan, the 18th Century Mysore ruler, slept in a hammock suspended from the ceiling of his locked bedchamber with this sword by his side. Found in his private apartments after his defeat at the battle of Seringapatam in May 1799, it was previously owned by Vijay Mallya
Explainers
Bernand Arnault, who owns LVMH – which includes luxury brands such as Louis Vuitton, Moet & Chandon, and Christian Dior – saw a considerable drop in his fortune after shares of the conglomerate declined five per cent on Tuesday. Arnault's net worth is currently at $192 billion
Explainers
The term 'comfort women' has been given to people that were forced to work as sex slaves by the Japanese Army during World War II. It comes from the Japanese word ianfu – which combines the Chinese characters 'comfort or solace' (i-an) and woman (fu)